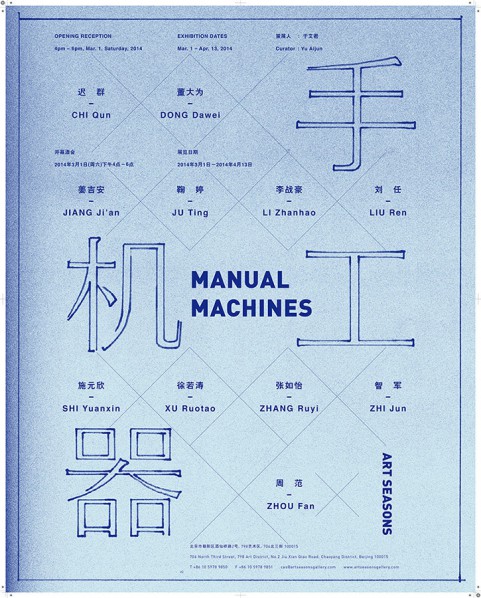 On March 1, 2014, group exhibition "Manual Machines: Confrontation or Sharpness" was presented at Art Seasons, Beijing, featuring works and texts by Chi Qun, Dong Dawei, Jiang Ji'an, Ju Ting, Li Zhanhao, Liu Ren, Shi Yuanxin, Xu Ruotao, Zhang Ruyi, Zhi Jun and Zhou Fan.
In the preface, for the title "Manual Machines" curator Yu Aijun wrote: seeking to have their values represented in art, people would say when presented with cold and complex machinery: no, this is not what I wanted. However, when they are face to face with visual products that appear to be machine made products but are actually hand crafted they tend to say, "Wow, handiwork can achieve such precision!" Indeed works of the extremely rational, constrained techniques remind me of the manual labor the artists are creating and the pure belief and awe that radiate from the labor. It is a pleasing, quietening and ego-stripping state and feeling: orderly, controlled and inspirational. To me, the artists have the ultimate manual dexterity akin to machine's color control. First, art is a "labor intensive enterprise", especially as seen in the works of Li Zhanhao, Shi Yuanxin, Zhang Ruyi and Zhou Fan. Through it, the artists become "introspective" or achieve what Confucians termed "self-inspection" and "self-discipline". Jiang Ji'an thinks that this discipline is the basic moral threshold by which art comes into the society. In an age in which machines are so highly developed and hard to contain, this technique is not solitary; instead it is becoming an expansive scene encompassing the globe. It rests between public interpretation and art school education, between people's individual sense of touch, the temperature and their understanding of machine aesthetics. As a result, the composition naturally acquires ambiguous art ethics. I have to say that ambiguity is the most distinctive feature of this age.
11 representative artists participated in the exhibition, with their works and texts, to showcase the art group creating and thinking in the above way, and combing through the related theories, so that it is possible to explore the potential of handiwork in visual art, and the conceptual boundary and medium between handiwork and machines. Ju Ting uses pigments as the object of her carving; Dong Dawei is employed in the unique practice of doing "material painting"; Jiang Ji'an integrates delicate silk painting into medieval-style installations; Xu Ruotao restores ready oil paintings that have been tarnished by reckless lines. With their Zen-like work style and unquenchable will to win, the artists suggest that their meditation or work experience can be seen as channels, and even their bodies can be seen as machines. Ordered by date, repositioning objects and the baseless traces, like silkworms, thinking about material that is about to be woven to create visual wonders. Their art practice, be it an attitude or a methodology, while retaining textual neutrality, is clearly indicative of a sort of aesthetic sharpness. This sharpness vividly contrasts with the sensation of scribbling on the material, and with somewhat generalized sentimental or promiscuous art. It also indicates that addressing sociology and social phenomenon is not the only path to contemporary art.
The exhibition will continue to April 13, 2014.
Courtesy of the artists and Art Seasons, translated by Chen Peihua and edited by Sue/CAFA ART INFO.
Related posts: