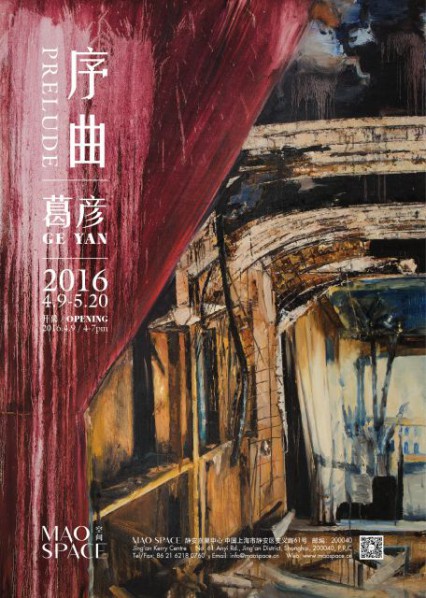 Mao Space Jing'an Kerry Centre is proud to present Ge Yan's solo exhibition Prelude on April 9th 2016. The exhibition will feature Ge's oil paintings from the last three years (2014 – 2016), including works he specifically prepared for this solo exhibition.
Ge's paintings conceived strong symbolic meaning of time and narrative language. The works in the exhibition will present to the viewer a multifaceted pictorial intersection between time and space that allowed the viewers to pave their way into a phantom world under another dimension. Ge artfully captured objects with the essence of time, interwove them as three-dimensional compositions in the original space to re-invent and re-build the space in a restrained yet narrative language in order to mobilize the viewer's vision. Based on the real world but with a twist, the visual elements are connected to each other as Ge intended to achieve the mystery. The combination of various objects seems intriguing thus triggered the viewer's interest to imagine beyond. Ge explored the infinite possibilities in the visual effectiveness of oil painting although it is considered as a traditional media. His works represent his opinions about himself and the world that revolves around him. No matter it is pure imagination or reality, the viewers will all longing to stay in the fascinating visual stage he created.
Ge Yan was born in Anhui in 1984 and graduated from the Oil Painting Department at China Academy of Art in 2010 and 2013 with both a bachelor and master degree. He received the 2nd Phoenix Art Scholarship and E•LAND Awards from China Academy of Fine Art. Ge Yan is considered as one of the most representational figures among the new generation of artists who used oil painting as their creative medium in today's Chinese contemporary art. His works have been shown in renowned exhibitions across China and overseas, including Art Stage Singapore, Shanghai ART021, and ART Beijing. Ge Yan currently lives and works in Shanghai.
Mar 30, 2016
About the exhibition
Date: April 9 – May 20, 2016
Opening: April 9, 16:00, Saturday
Venue: Mao Space
Courtesy of the artist and Mao Space.
Related posts: