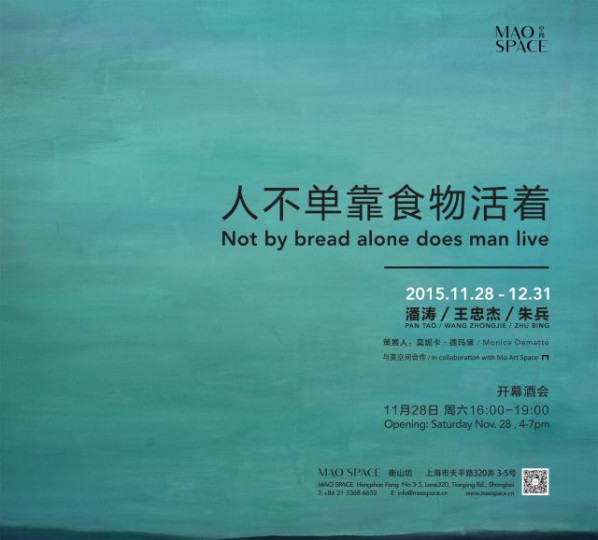 MAO SPACE Hengshan Fang announces a group exhibition entitled "Not by Bread alone Does Man Live" will open on November, 28. Curated by Monica Dematté, this exhibition features works from three Henan-born artists – Wang Zhongjie, Zhu Bing and Pan Tao. They threw themselves into painting and see it as self-understanding when finding their own ways in life.
Wang Zhongjie is a self-taught artist. Maybe for this reason his whole life seems to be devoted only to artistic practice, to the extent that his daily confrontation with the canvas is a 'conditio sine qua non'.
His early works were bold and figurative. At present they are abstract and sometimes ethereal, and at times disquieting, in the obsessive repetition of a colorful frame that includes surfaces emanating or absorbing light. Layers of paint, and subtle nuances of colour transform Zhongjie's feelings in lacteous zones where the viewer can face the infinite… or nothing.
Zhu Bing is a poet of pessimism and self-restrain. His creation expresses the frustration of being on the border between what he would like to be and what others would like him to be. Each time he begins a new body of work, he feels he is becoming closer to a more relaxed state of mind. Colours have become evocative, either darker or more brilliant than reality, the atmosphere is suspended and frozen in the depiction of a particular event that by being 'the absence of any event' goes beyond time and space. There is much disquiet in these works, as if nervously waiting for something to happen.
Pan Tao is a female painter and a mother. She is especially good in conveying a particular mood through stylized movements. A slight curving of the head, the tension in an arm, the arch of a back, create the overall, unique feeling that pervades her works. Sometimes she might indulge in more detailed description. But even in these cases the objects portrayed are but a way to reply to an inner question, related to the meaning of her daily life. The ability to convey poetry, humor, uniqueness, love, affection, calmness, or rather despair, restlessness…depicting the simple objects and persons that surround her is her way of expanding her innerself to imbue it with her entire life.
About the exhibition
Dates: Nov 28, 2015 – Dec 31, 2015
Opening: Nov 28, 2015, 16:00, Saturday
Venue: Mao Space
Courtesy of the artists and Mao Space.
Related posts: