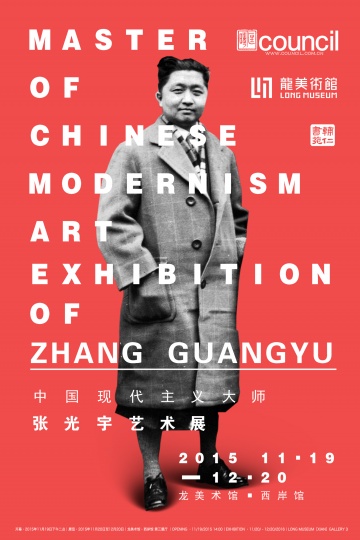 Zhang Guangyu (1902-1965) was a native of Wuxi, Jiangsu Province. From 1918 on, Zhang studied in Shanghai and designed advertising for the Nanyang Tobacco Company, the British American Tobacco Company and others. He designed covers for Shanghai Cartoons (Shanghai manhua 上海漫画) and other journals in 1928-1929. He went to Hong Kong in 1937, and spent most of the Anti-Japanese War period in West China. He produced the famous anti-Guomindang cartoon series Journey to the West (Xiyouji, 西游记) in 1945. Zhang was head of the Decorative Art Department of the Central Art Academy from 1949-1963. Zhang was the chief cartoonist for the cartoon film based on the original Journey to the West.
Taking "Chinese Modernism" as its theme, the exhibition on the one hand intends to look back the developments of Chinese Modernism from the cultural perspective of modernism, with the academic outlook facing the world and the future, to present Mr. Zhang Guangyu's achievements in Chinese modernism and unveil the brilliant career of this master; on the other hand it hopes through this exhibition Zhang Guangyu and his age can be reinterpreted, as well his valuable and meaningful position in the history of fine arts and his contributions to the Chinese Modernism Art and Culture can be under revaluation. The exhibition is divided into seven thematic, multi-perspective sections including: Life in Shanghai, New Sound of Era, Arts Fighter, China Bauhaus, Oriental Disney, New Chinese Art Designer, Guangyu Style.
Sources:
Michael Sullivan, Modern Chinese Artists – A Biographical Dictionary (Berkeley, etc: University of California Press, 2006)
Zhongguo meishuguan (ed.), 中国美术年鉴 1949-1989 (Guilin: Guangxi meishu chubanshe, 1993)
About the exhibition
Dates: Nov 20, 2015 — Dec 20, 2015
Organizers: Beijing Council International Auction Company, Long Museum
Venue: Gallery 3 Long Museum West Bund
Co-Organizer: FU REN Shuyuan
Courtesy of the artist and Long Museum, partly translated and edited by Sue/CAFA ART INFO.
Related posts: