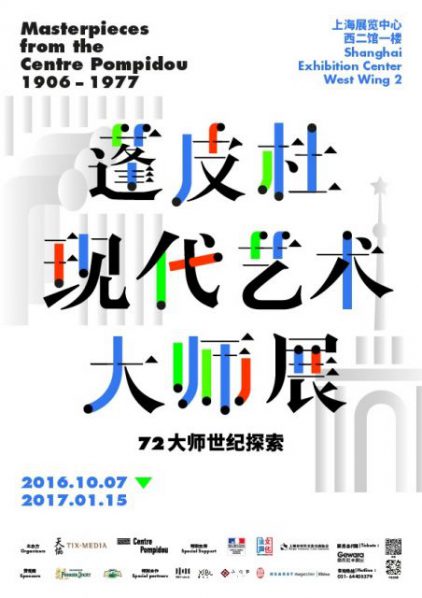 The Centre Pompidou, Paris and Shanghai Tix Media Co., Ltd. are happy to announce the presentation in Shanghai of the exceptional exhibition Masterpieces from the Centre Pompidou 1906-1977. This touring exhibition will take place at Shanghai Exhibition Center from October 7, 2016 to January 15, 2017, after a first stop in Japan at the Tokyo Metropolitan Art Museum from June to September 2016.
A unique exhibition, Masterpieces will showcase a panorama of art in France from 1906 (date which marks the advent of Fauvism) to 1977 (the year the Centre Pompidou opened to the public), with one work per year and per artist, including world famous masters such as Picasso, Matisse, Chagall, etc. to lesser known though very important names. It will be a celebration, an opportunity to share the wealth of the collections of the prestigious Centre Pompidou with the Chinese public in all breadth and variety: from sculptures and installations to paintings and drawings, photography, film or design.
Masterpieces will also be a unique opportunity for the public to discover or to explore Western modern art history, through a variety of documents and explanations, screenings, talks and conferences, educational programs and family tours.
About the exhibition
Dates: Oct 7, 2016 – Jan 15, 2017
Venue: Shanghai Exhibition Center
Curator: Claire Garnier, Laurent Le Bon
Artists: AGAM, Pierre Albert BIROT, Giacometti Alberto, Calder Alexander, Jean Arp, Genevieve Asse, Richard Avedon, Pierre Bonnard, Edouard Boubat, Constantin Brancusi, Georges Braque, Victor Brauner, Bernard Buffet, Gilles Caron, Henri Cartier-Bresson, Auguste Elysée Chabaud, Marc Chagall, CRÉPIN Fleury Joseph, Séraphine De Senlis, De Staël Nicolas, Robert Delaunay, Jean Dubuffet, Raymond Duchamp, Marcel Duchamp, Raoul Dufy, Armand Fernandez, Léonard Foujita, Otto Freundlich, Eugène Freyssinet, Pablo Gargallo, Albert Gleizes, Julio Gonzalez, Jean Gorin, Gudmundur Gudmundsson, Raymond Hains, Halász Gyula, Hantaï Simon, Alain Jacquet, Christo Javacheff, Charles-Edouard Jeanneret, Vassily Kandinsky, KERTÉSZ Andor, Roger de La Fresnaye, Marie Laurencin, Henri Laurens, Leger Fernand, Alberto Magnelli, Robert MALLET-STEVENS, Albert Marquet, Andre Masson, Georges Mathieu, Henri Matisse, Gordon Matta Clark, Henri Michaux, Adolphe Mouron Cassandre, Aurelie Nemours, Jean Julien Olivier, Pablo Picasso, Serge Poliakoff, Jean Pougny, Jean Prouvé, Man Ray, Martial Raysse, Piano Renzo, Richard Rogers, Georges Rouault, Albert Seeberger, Victor Vasarely, Claude Viallat, Jacques Villegle, Maurice de Vlaminck, Zao Wou-ki
Organizer: TIX MEDIA
Sponsors: Champagne Perrier-Jouët, JIA ZHI RUI Culture & Communication, MB Projects, Perrier, Shanghai XIBU Culture & Communication
Courtesy of the artists, the Centre Pompidou and Shanghai Exhibition Center, for further information please visit www.centrepompidou.fr.
Related posts: