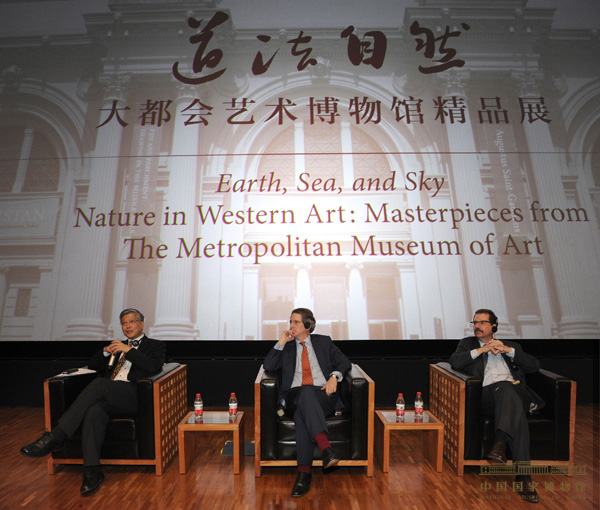 An extraordinary selection of 127 works from the Metropolitan Museum's famed collection is on view at the National Museum of China(NMC). The exhibition Earth, Sea, and Sky includes loans from 12 of the Metropolitan Museum's 17 curatorial departments. Because a goal of the exhibition is to present works of art from traditions that may be less familiar to Chinese audiences, loans were selected only from those departments with holdings of art of the Western tradition.
Earth, Sea, and Sky: Nature in Western Art—Masterpieces from The Metropolitan Museum of Art, provides a new audience with direct access to highlights of the collection. Although the Metropolitan's holdings of Asian art are among the finest anywhere, it was decided that this exhibition would feature Western art drawn from twelve of the Museum's curatorial departments. Because the checklist was to include paintings, sculpture, and a broad range of decorative arts from four millennia, it became clear that a chronological survey would be too diffuse to draw the works together in an engaging way. Indeed, the Museum's encyclopedic reach is so vast in date, geography, medium, and method that it was necessary to frame the selected works in the broadest manner possible. The theme of nature was chosen for its relevance to all of the periods and cultures in the great scope of the Metropolitan's collection of Western art as well as in acknowledgement of the prevalence of the motif in Asian cultures. The Eastern eye, accustomed to seeing nature in art ranging from cherry blossoms to cranes to mountains, will find much that is similar and much that is different in the works presented here. But this selection of treasures attests that people throughout history and around the globe have taken inspiration from forms in the natural world.
The works of art on display, which date from the third millennium B.C. to the 20th century, are organized thematically in the exhibition and accompanying catalogue, in order to bring out engaging and informative juxtapositions. The sections are: Nature Idealized, The Human Presence in Nature, Animals, Flowers and Gardens, Nature in the Camera Lens, Earth and Sky, and Watery World.
About the exhibition
Date: Feb 1, 2013 – May 9, 2013
Venue: Galleries S2-S3
Hosted by National Museum of China and The Metropolitan Museum of Art
For further information please visit www.met2013.com or en.chnmuseum.cn.
Related posts: