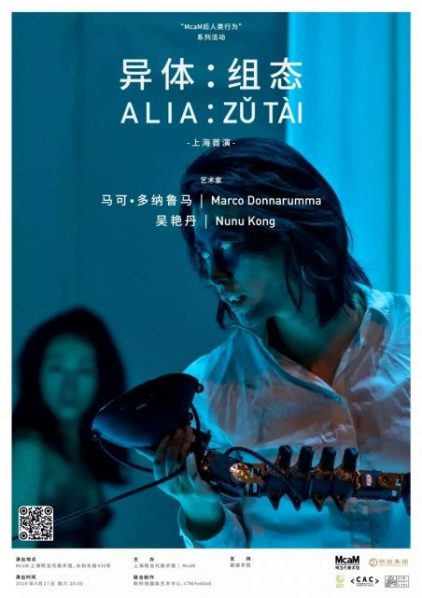 Far from being passive commodities, 'intelligent' software, body sensors and robotics drastically affect the physiological, psychological and cultural basis of human life.
Which kinds of identities do AI and robotics produce? How do those technologies influence the way we understand and discriminate human bodies? Who is 'normal' and why?
Alia: Zǔ tài is a piece combining dance theater and biophysical music with state-of-the-art AI robotics. Three humans and two AI robots inhabit an aseptic space, whose uncanny whiteness is interrupted by neatly ordered computer screens, cables and circuit boards.
The quietness is only a prelude. Hidden hostilities soon start to surface. Biosensors on the performers' bodies amplify their muscular activity into a sound storm, a fleshly sound attack manifesting to the audience the straining tension of their desires.
Alia: Zǔ tài is a portray of hybrid identities and mongrel relationships, where both utopia and dystopias are shattered by the psychological power and dangers of technology. Should those identities find a landing spot after the madness of this power play? And where to land?
An international co-production by Chronus Art Center (CN) and CTM Festival (DE). Funded by Goethe Institut's International Ko-produktion Fund. Co-funded by Berlin University of the Arts, Graduiertenschule, Einstein Stiftung and Berlin Center for Advanced Studies in Arts and Sciences.
About the exhibition
Date: Apr 27, 2019
Venue: Ming Contemporary Art Museum
Courtesy of the artists and Ming Contemporary Art Museum, for further information please visit https://marcodonnarumma.com/works/alia-zu-tai/ or www.mcam.io.
Photo @ Dario J Laganà | norte.it
Related posts: