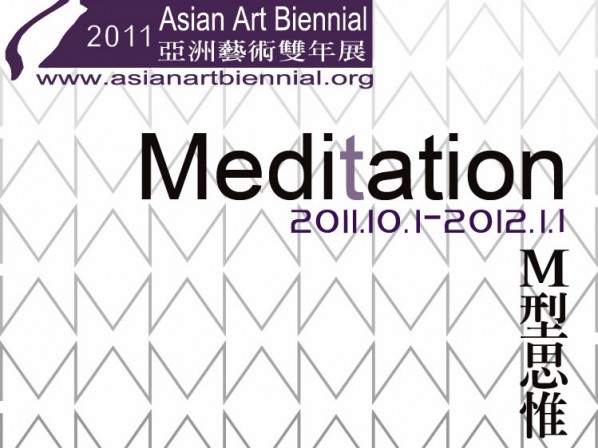 The 2011 Asian Art Biennial kicks off on October 1 in National Taiwan Museum of Fine Arts. This biennial features 40 artists and collaboration groups from 21 Asian regions, including Taiwan, Japan, Korea, China, Hong Kong, Russia, Vienna, Indonesia, Philippines, Cambodia, Singapore, Malaysia, India, Australia, New Zealand, and artists from Central and West Asia as Iran, USA/Iraq, Kazakhstan, Turkey, Israel, and Pakistan. Presenting works in form of installation, painting, video, sculpture, onsite projects, performance, and interactive workshop to enrich the perspectives of Asian Art.
Curator Iris Shu-Ping Huang uses the two key concepts of "mediation" and "meditation" to explain the creation of "M-Shaped Thinking" in contemporary Asian art. The theme Medi(t)ation is a concept that reflects the trend across Asia towards an M-shaped societal structure and the related threats it poses, while presenting a strongly communicative Asian cultural stance and stressing methods for mediating conflicts and tensions.
Medi(t)ation, emphasizing conciliatory elements such as mediation and self-awareness, attempts to seek balance between the extreme disparities inherent in the age of Mobility. Considering present-day Asia in transition from a cultural perspective, it is apparent that religions and societies throughout the Asia-Pacific region have become diverse and complex, defying categorization into to a single context or discourse. In the process of cultural development, therefore, adaptive aesthetics from everyday transformation and linguistic styles with a conciliatory flair demonstrate that artists are experiencing the meeting of historical traditions and contemporary changing realities amidst division and conflict. This year's exhibition explores and examines the structural threats that Asian societies face: the extremity fostered by "M-ification" and ecological change; fluid lifestyles; unsettled and anxious pysches; collapse of security systems; and conflict between cultures. Asia's current cultural state must confront the uncertainties and contradictions within its self, while wrestling with the division and evolution of its self as impacted by external global and regional forces amid interlinked worldwide crises. Through discussion of Medi(t)ation, one hopes to explore how, in the current flux of multinational, complex, cultural exchange, we can create a space to commune with self and group, despite our respective struggles between tradition and modernity, and to develop an attitude of tolerance.
The 2011 Asian Art Biennial have had its opening ceremony at National Taiwan Museum of Fine Arts on the night of September 30. The exhibition officially opened to the public on October 1. The biennial's opening has be accompanied by an international Forum and Artist Talks dedicated to discussing Asian contemporary art. The participating artists at this year's Biennial have be invited to the Artist Talks on Oct. 1 for in-depth analyses on the links between their personal creations and the realities of present day Asia. "2011 Asian Art and Curator's Forum" have be held on October 2 and scholars and curators from China, India, South Korea and Central Asia have given insightful presentations about contemporary Asian Art.
Venue:
National Taiwan Museum of Fine Arts
Outdoor plaza and 1st floor exhibition hall
No.2, Sec.1, Wu-Chuan W. Road, Taichung
Taiwan R.O.C.
Participating Artists
Hamra ABBAS(Pakistan)
Bani ABIDI (Pakistan)
AIDA Makoto(Japan)
Alfredo & Isabel AQUILIZAN (Philippines)
BAE Young-Whan (Korea)
Guy BEN-NER(Israel)
Andrey BLAZHNOV (Russia)
Leslie DE CHAVEZ(Philippines)
E CHEN(Taiwan)
Aristarkh CHERNYSHEV(Russia)
Parastou FOROUHAR(Iran)
Shaun GLADWELL(Australia)
Nigel HELYER(Australia)
Penny HES YASSOUR(Israel)
HO Tzu Nyen (Singapore)
HUANG Ming-Cheng(Taiwan)
Dinh Q LE(Vietnam)
LIN Chuan-Chu (Taiwan)
MIN Jung Yeon (South Korea)
Wawi NAVARROZA (Philippines)
Ahmet ÖGÜT(Turkey)
OHMAKI Shinji(Japan)
PARK Chan-Kyong(South Korea)
Sopheap PICH (Cambodia)
Sara RAHBAR(Iran)
Michael RAKOWITZ (America/Iraq)
Raqs Media Collective(India)
SHI Jin-Hua (Taiwan)
SHINODA Taro(Japan)
Tiffany SINGH(New Zealand)
Tallur L.N. (India)
Tromarama(Indonesia)
TSANG Kin-Wah(Hong Kong)
Alexander UGAY (Kazakhstan)
Samsudin ABDUL WAHAB (Malaysia)
WEN Chih-Yi(Taiwan)
Related posts: