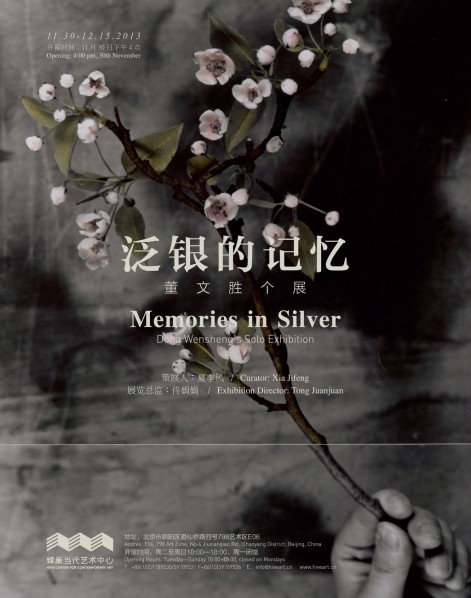 The title Memories in Silver basically sums up the form and content of Dong Wensheng's works presented in this exhibition: first, the photographic artworks are primarily made using silver salts; second, most of these artworks are connected to memory—to be precise, the visual fragments of a contemporary artist's memory.
Dong Wensheng's creations often alternate between the mediums of photography and video. The works possess individual aesthetic traits marked by elements of Chinese traditional culture, yet are also imbued with a poetic and oblique cinematic language. Many of his series, such as Backyard, Stone, Quiet Room, Tattoo and Skeleton, are well known. They are woven with an Oriental sense of mystery, solitude and even absurdity, which they use to draw the audience into a cinematic space that combines tradition and reality, existence and nothingness, steeping them in a unique aesthetic atmosphere of the artist's creation.
Strictly speaking, the works in this exhibition draw from surplus source materials from Dong Wensheng's everyday artistic activities. As the artist himself has said, these memory fragments from his earlier life and creations have become captives of time, confined in neglected negatives. Out of his reverence for time and his love of working in the darkroom, Dong Wensheng has sifted through large quantities of old negatives. He is using one of the most traditional approaches of photography, exposing, presenting and fixing evanescent memories in silver salt photographs. The manual darkroom production process gives these works the warmth of life.
For the thoughtful and diligent artist, time always brings generous rewards. Though many of these negatives are nearly a decade old, this temporal baptism often makes them radiate with an enchanting air. Such an effect is not attainable through effort alone. Because of their nature as artistic source material, the often rigid composition and layout of the artist's past works yields here to a more serendipitous and carefree side, much like the relaxed sincerity that sometimes shines through the skillful brushwork of the Song and Yuan dynasty literati painters. In these memory fragments that perhaps even the artist is hard pressed to explain, we can see his rich aesthetic threads and forking creative paths. We can also see the puzzles and challenges that continue to vex the artist to this day, but what we see more often are the traces of his skillful maneuvering around obstacles, traces glowing with a silver aura.
About Dong Wensheng
1970 Born in Jiangsu Province, China
Currently works and lives in Changzhou, China
Solo Exhibitions
2013 Memories in Silver—Dong Wensheng Solo Exhibition, Hive Center for Contemporary Art, Beijing, China
2011 Waves of Fantasy, GaoMagee Gallery, Madrid, Spain
2009 No World–view for the Face: Solo Exhibition of Dong Wensheng, Iberia Center for Contemporary Art, Beijing, China
2008 The Hermit's Prey, Magee Art Gallery, Madrid, Spain
2007 The Moment of Rock Sinking, Fun Art Space, Beijing, China
Selected Group Exhibitions
2013 International Ink Painting Biennale of Shenzhen, Shenzhen, China
West Bank Architecture and Contemporary Art Biennale 2013, Shanghai, China
2012 Lianzhou Foto, Lianzhou, China
The Interactions: 2012 Yixian International Photo Festival, Huangshan, China
2011 Bishan Project, Times Museum, Guangzhou, China
The Shape of Time , The Multi—narrative History in Contemporary Chinese Art, Iberia Center for Contemporary Art, Beijing, China
2010 Community of Tastes–Chinese Contemporary Art Since 2000, Museo de Arte Contemporary, Santiago, Chile
Community of Tastes–Chinese Contemporary Art Since 2000, Museo de Arte Contemporary, Sao Paulo, Brazil
Reshaping History–China art from 2000 to 2009, China National Convention Center, Beijing, China
AND Writers–Nan Jing Biennale 2010, Jiang Su Art Museum, Nanjing, China
Post–Tradition: The enlarged Slice – 4th Duo Lun young artists exhibition, Duo Lun Art Museum, Shanghai, China
2009 Europalia. China 2009, Brussels, Belgium
Pingyao International Photography Festival, Pingyao, China
Work in Progress: How Do Artists Work? Iberia Center for Contemporary Art, Beijing, China
2008 Shadows Chinese independent cinema, Centre Pompidou-Les Voûtes,Paris, France
Festival "Image de Ville", Aix-en-Provence, France
Time-Lag: The New Force of Chinese Contemporary Art, Magee Art Gallery, Madrid, Spain
The Dream Interrupted, Fun Art Space, Beijing, China
"55 Day in Valencia" Chinese art meeting Institut Valencia d'Art Modern, Spain
Poetic Reality, Tomasy Valiente Art Center, Madrid, Spain
Insomnia, Photographs Exhibition, BizArt Art Center, Shanghai, China
2007 Empty, Marella Gallery, Beijing, China
Filming East Festival, Ultimate Picture Palace, Oxford, UK
Chinese Video Now, John Hansard Gallery, Southampton, UK
ROTATION, Qinghe Current Art Center, Nanjing, China
Dragon's Evolution: Chinese Contemporary Photography, China Square, New York, USA
Strange Encounters: Video of the month #25: China Kompilation, Vienna, Austria
The 4th China Independent Film Festival, RCM Art Museum, Nanjing, China
2006 The ThirTeen: Chinese Video Now, P.S.1 Contemporary Art Center, MOMA, New York, USA
Poetic Realism: A Reinterpretation of Jiangnan, RCM Art Museum, Nanjing, China
Potential Dialogue: The party of Sino–Austria young artists, Nanjing, China; Austria
2005 Mahjong: Contemporary Chinese Art from the Sigg Collection, Kunstmuseum, Bern, Switzerland
Living in Interesting Times: A Decade of New Chinese photography, The Open Museum of Photography, Tel-Hai Industrial Park, Haifa, Israel
About the exhibition
Curator: Xia Jifeng
Exhibition dates: 2013.11.30 – 12.15
Vernissage: 16:00 Nov.30 2013
Venue: Hive Center for Contemporary Art
Courtesy the artists and Hive Center for Contemporary Art.
Related posts: