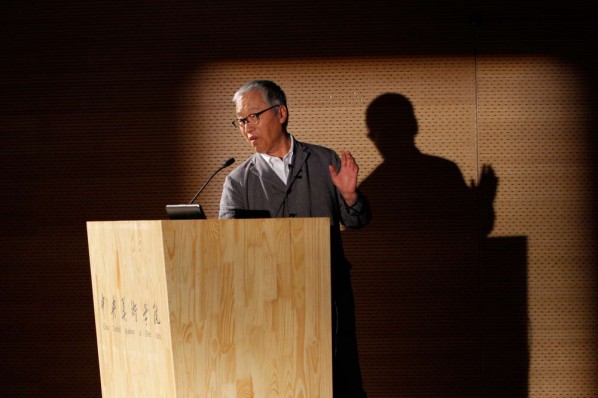 Organized by the CAFA Art Museum in collaboration with Pace Beijing and School of Photography in Central Academy of Fine Arts, Memories of Origin—Hiroshi Sugimoto the Contemporary Artist made its debut at the auditorium of CAFA Art Museum on May 11th.
Directed by Yuko Nakamura, Memories of Origin—Hiroshi Sugimoto the Contemporary Artist is the first documentary that closely tracks Sugimoto's life and career over a long period as he travels from Japan to New York, southern France and Sydney. It was nominated for an international Emmy award in the Art Programming Category in 2011. The works that propelled Hiroshi Sugimoto into the limelight were his Dioramas and Theaters series which he began in the latter half of the 1970s. In Theaters, a series which make visible the essential at of looking, Sugimoto used long exposures to capture the light of entire movies as they were project onto the movie screen. In his Seascapes series, which he began in 1980, he photographed the world's seas using the same proportion of sky and water in each image in order to explore the question: Can modern humans see landscapes as primitive humans once did in the same way? With three series, Sugimoto established his international reputation. Thereafter, he produced a rich variety of photographic works, including his Architecture series, which extracts the form and essence of modernist architecture with deliberately out-of-focus images, and Lightning Fields, which forgoes the use of the camera altogether to produce images through the direct application of an electrical charge to the film. Furthermore, in the first decade of the 21st century, Sugimoto further expanded his range of activities by delving into the fields of architectural design and the theater arts, including Bunraku puppet theater and Noh theater.
After the documentary, Hiroshi Sugimoto began his statement which did not focus on his art, instead, he has made the photographs of his private collections into slides through which he talked about what kind of feelings and inspiration they have brought him. Among them, there's no contemporary products, many of which were not even art works such as fossil of millions of years ago, lunar meteorites that had fallen from the sky, tools from the Paleolithic and Neolithic ages, samples from the Bronze Age, the ancient Egyptian cat mummy, jade of ancient China, Buddha's relics from Tang Dynasty, silk fabric introduced to Japan during the Tang Dynasty, French anatomy in the 18th century, aviation food consumed by the Apollo astronauts, etc. Sugimoto laid great emphasis on the role of tools for artists and for him the process he bought these original collections was his precious learning experience. Besides, he took a great deal of pleasure in collecting ink paintings of Ma Yuan and Mu Xi of the Nan Song Dynasty. The touch and grasp of the grand landscapes in traditional Chinese paintings have exerted a great influence on his photography for Chinese paintings portrayed seas from early times. He also joked that he had spent all his money on antiques. Wang Huangsheng thought Hiroshi Sugimoto's documentary has revealed the secrets behind the artistic creations while his lecture gave us an opportunity to understand what an interesting guy he is. Wang believes that Hiroshi reminded the audience of the relationship between creative thinking and collection.
Being one of Japan's leading contemporary artists, Hiroshi Sugimoto combines the use of photography as a conceptual medium with extensive experience as an antique dealer and a deep knowledge of art history. In recent years, Sugimoto has also been active as a producer and curator of traditional Japanese performing arts, designing sets and props for Noh Theater.
Hiroshi Sugimoto was born and raised in the old downtown area of Tokyo, Japan. He graduated from Saint Paul's University, Tokyo in 1970. In 1974, he received his BFA from Art Center College of Design, Los Angeles. Afterwards, he settled in New York City. As an important contemporary artist, he has held many solo exhibitions at major art museums throughout the world. In 2009, he founded the New Material Research Laboratory in Tokyo and helped design the Izu Photo Museum which opened in Nagaizumi, Shizuoka prefecture. In 2009, Sugimoto founded the Odawara Art Foundation and Sugimoto bunraku: Sonezaki shinju tsuketari Kannon meguri ("Kannon Pilgrimage from The Love Suicide at Sonezaki) was presented at the Kanagawa Arts Theatre (KAAT) in 2011 as part of its activities. His many honors include the Mainichi Art Prize in 1988, an honorary doctorate from the Parsons School of Design, New York in 2000, the 21s Praemium Imperiale in 2009; the Medal of Honor with Purple Ribbon in 2010. His publications include New Material Research Laboratory, Magazine House and Origins of Art, etc.
For further information please visit http://www. sugimotohiroshi.com
Related posts: