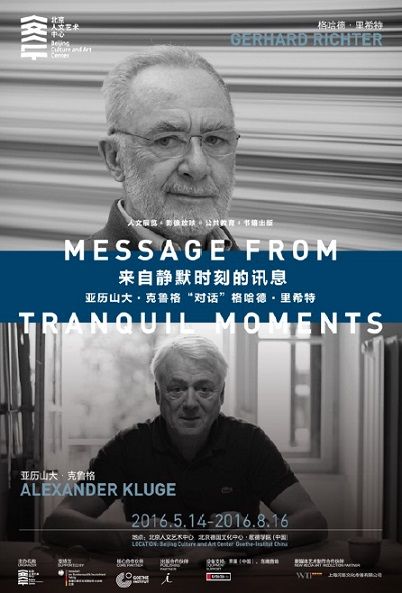 Gerhard Richter and Alexander Kluge represent national treasures of German art and culture. Both were born in February 1932, with a difference of five days between their birthdays. They have witnessed and experienced firsthand the changes in German society and culture over the years, and through their artistic creations – Richter's paintings, Kluge's films and writing- they have responded to these changes in both history and their own lives. The Beijing Culture and Art Center (BCAC) has received the gracious support from these two masters in setting up a special physical installation of their "dialogue" as an exhibition, the first of its kind in the world.
The works in this exhibition have been taken from two books that Richter and Kluge collaborated on between 2010 and 2013: December and Dispatches from Moments of Calm. In these two books, the painter Richter used photo images, while the director Kluge used text to engage in a dialogue that was both full of unseen tension and tacit understanding. 'Images' and 'text' interspersed with one other, seeming neither close nor distant, as two entirely different forms of expression. The interplay between intense collaboration and creative tension represented a "comforting" form of an aesthetic split between their two styles. This interplay allows the audience to become a "third person" between the two artists and to feel the "dispatches" from moments of calm by walking, reading, watching, listening, thinking, and sharing at the exhibition space. During the exhibition, the Chinese versions of these two books will be introduced, by BCAC and imaginist, a Beijing-based publishing house well known for publishing quality books on culture and arts.
This exhibition has received strong support from the Embassy of the Federal Republic of Germany. During the exhibition, BCAC will also work closely with its core partner Goethe-Institut China as well as Imaginist and other arts and cultural institutions to put on related events such as pop-up exhibitions, lectures, film screenings and workshops.
About the exhibition
Date: May 14 – August 16, 2016
Opening: Beijing Culture and Art Center
Courtesy of the artists and Beijing Culture and Art Center.
Related posts: