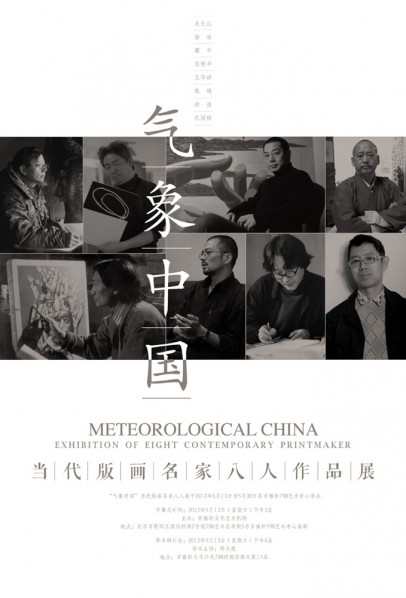 Sponsored by the Baiyaxuan Cultural & Arts Organizations, Meteorological China—the Exhibition of Eight Contemporary Printmakers is going to be held from May 13th through to 30th, 2012.
This exhibition features representatives of eight contemporary masters in printmaking including Wu Changjiang, Xu Bing, Tan Ping, Su Xinping, Wang Huaxiang, Chen Qi, Hong Hao and Kong Guoqiao all of which have systematically obtained professional training from top art institutions in China. Moreover, they are courageous in overcoming all kinds of limitations and find their own unique language in their separate art careers. As Mr. Shao Dazhen, the academic who presides over this exhibition has described their artistic achievements and characteristics in the preface, "These eight middle-aged artists who has grown with the Reform and Opening up can well represent the new generation of printmakers. They have their own expertise in printmaking with different species of technology, skills and even their own aesthetic trends. Although they share something in common with their reflections of the modern meteorological China, that is they present profound descriptions of the essence of contemporary human and social reality rather than the superficial phenomena of society. They deeply explore the innovative resources from national cultures and traditions rather than hunting for the novelty of traditional symbols of art. They learn from the advantages of foreign modern art through their analysis rather than blindly copying others and making oneself look foolish. They hide their cultural thinking into their unique language of art rather than playing with the idea or form."
It is reported that the opening ceremony will be on May 13th, 2012 and it will be accompanied with a seminar.
Baiyaxuan 798 Art Center is directly affiliated to Baiyaxuan Art & Cultural Institute and is a flagship gallery of Baiyaxuan's program of chain galleries. Opened on December 18, 2010, Baiyaxuan 798 Art Center is located at an intact historical building in the northern part of Beijing 798 Art Zone. The building, constructed with assistance by architectural institution of German Bauhaus school, was previously public communal dining hall and auditorium of 718 Joint Factory (predecessor of 798 Art Zone) and is one of the few landmark buildings in 798 Art Zone.
Baiyaxuan 798 Art Center, based on the value orientation of being "subject" & "venue", "classic" & "creative" and "diversified" & "open", is committed to building an important art promoting platform and influential art market position in Contemporary China and is devoted to domestic and foreign cultural exchange and innovative practice of art industrialization.
About the Exhibition
Duration: May 13th–30th, 2012
Venue: Baiyaxuan Art Center
Opening Ceremony: 4:00 p.m. on May 13th, 2012
Artists: Wu Changjiang, Xu Bing, Tan Ping, Su Xinping, Wang Huaxiang, Chen Qi, Hong Hao and Kong Guoqiao.
Tel: 86-10-5762 3018
Fax: 86-10-5762 3058
Courtesy of the artists and Baiyaxuan Cultural & Arts Organizations, for further information please visit www.art100.org.
Related posts: