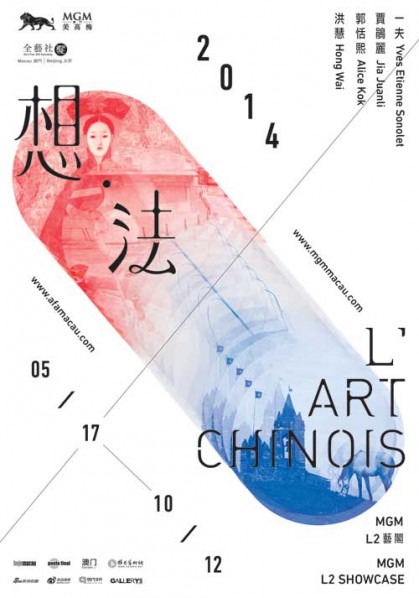 To collaborate with the 50th anniversary of diplomatic relations between China and France, MGM Macau and AFA have jointly organised the exhibition with the theme of Sino-French exchange, displaying 30 works of art in various styles by four Chinese and French artists from Macao, Mainland China and France.
Born in Shanghai, raised in Macao and settling in Paris, Hong Wai is currently a graduate student of CRAL-EHESS (Centre de Recherches sur les Arts et le Langage, École des Hautes Études en Sciences Sociales) in France. The nine paintings showcased in this exhibition embrace her creative style of recent years, which are applied with rice paper and ink-colour that are common for Chinese traditional media, in the context of Western women's lace lingerie. The form of cross-cultural expression she uses reinterprets Chinese traditional ink painting with a pop art approach, with which the exhibition-goer associates the exchange and collision of the cultural differences between China-France and East-West.
Alice Kok, who is from Macao, studied at Ecole Supérieure des Beaux Arts de Toulouse in Paris some years ago, where she met Yves Etienne Sonolet, a French artist who also studied there. After living and working in Paris for several years, they decided to settle in Macao a few years ago. The new works by Alice Kok in the exhibition also embrace the main interest of her solo exhibition Nothing Happens last year; she applied her usual approach to show the changes of Macao in her eyes with video art media – gradually transforming from the black and white streets to colourful cityscape. What the artist presents is the changes of time and the living environment. Whether it is 'nothing happens' or 'something happens' in these changes, exhibition-goers could judge for themselves.
For the nine photographic works by Yves, they are his latest series of works created during the period he resided in Alentejo, Portugal early this year, namely Fairy Tales. Alentejo like the Historic Centre of Macao, has many historic ruins that are listed in UNESCO World Heritage; there are historical successions over the past four hundred years between Macao and Portugal. Looking at the old appearance of ancient castles and city walls in this series of photographic works, exhibition-goers can feel like they are returning to an ancient European city several hundred years ago, right at the time when a number of churches and temples were built in Macao. Looking back on the establishment of new casinos and buildings now, contrasting the old and new, true and false, where exactly is Fairy Tales? It is thought-provoking.
Last but not least, Jia Juanli, the invited artist of the exhibition from Mainland China, graduated from the oil painting department of Sichuan Fine Arts Institute. She then continued her education in France in 1996, since when a subtle relationship between her and this country has developed. Her paintings are like dreams or imagination, depicting palace scenery or ladies in ancient times, obscure images which provide people with tranquillity as if searching for a dream in another lifetime. Exhibition-goers will be fascinated, like a clock being turned back, to return to the China of over a hundred years ago.
These four artists, who have been travelling between Sino-French culture, apply different media and approaches, integrating the traditional and modern, as well as Eastern and Western cultures, travelling between the contemporary and ancient, as if history and reality are entangled like complicated love. The brilliant artwork they create is meaningful, presenting the idea that cultural integration is not only the spirit of different countries, mutual communication and understanding in nations or the seeking of common ground but also represents the most valuable cultural wealth of the 50 years of diplomatic relations between China and France for people in both places.
About the exhibition
Duration: 17 May – 12 Oct 2014
Venue: MGM MACAU – L2 Gallery
Opening Hours: Monday to Sunday (Open 24 hours)
Tel: 853-88028888
Add: Avenida Dr. Sun Yat Sen, NAPE – Macau
Courtesy of the artists and MGM MACAU, for further information please visit www.afamacau.com.
Related posts: