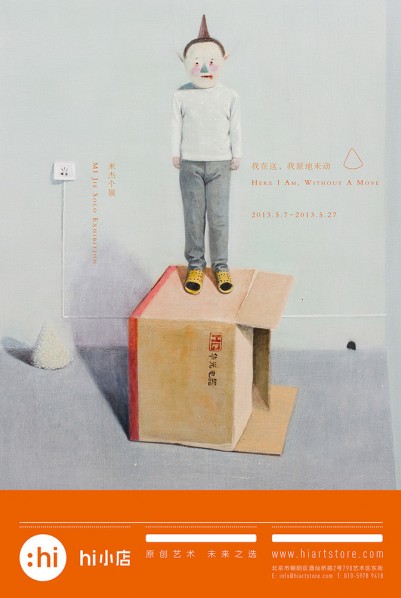 Someday at the end of 2011, out of sheer boredom, I created a small portrait painting with the frame I had ordered 6 months earlier. I transferred a scene in my studio onto the painting, although without too much passion, the creative process is peaceful, steady and sure. Unexpectedly, I seemed to have found the feeling I have been searching for. In the following days, I became more and more interested in portraying the objects and corners around the painting–I observed them from different perspectives every day, gazing at it from different angles with a trace of the unfamiliar. I ought to portray my own life, I think. Compared with the incomprehensible and profound theories, I prefer to summarize my own creations using an approachable language.
Actually, I would like to be a "Minor Poet" according to renowned Japan contemporary writer Yoshiyuki Junnosuke, a sincere and backboned minor poet–I might not be a first-class poet, though I should not be overlooked. Although as tiny as the subject matter of creation is, I sincerely expressed my comprehension of society and life. Thematic figures in my paintings have always been painted following my inclination, not tied to a particular subject but coming from an image in my heart. Almost every one of them dresses up in a suit which seems always so uncoordinated that their pathetic restless expressions expose everything. How could the colors underneath of a Nobody be covered up by an handsome wardrobe?! He is well-nourished but pale with a gorgeous appearance and a cruel reality that disconcerts them. Occasionally he might have thought he would be deceived or fooled but immediately he was pulled back by rationality-this is a silly question for the answer is definitely yes. Or he should stand at the corner? That might be a more secure thought. After they were completed, friends said that every piece looked like a self portrait. A striking resemblance! They are nervous and helpless, they remain as a nosebleed symbolizing a small appetite, raising aphtha(mouth sores) and acne. I combine my own physical experience with the images, just to express my inner struggle and perverse character.
Admittedly, the vast majority of us have been classified into vulnerable groups, yet the development of the country seems to indicate that we'll remain weak, what shall we do about it? This series of paintings can be taken as both the depiction of my current life and the result of thinking of its root causes. The answer is not readily available and it does not seem realistic to answer it in an artistic way. However, the persistence of questioning will become the responsibility I have to face.
– Mi Jie, "Here I Am, Without a Move"
About the exhibition
Duration: May 7 – May 27
Opening: May 7, 2013, 17:00-19:00
Venue: hi Shop
Address: Chaoyang District, Beijing Road, 798 East Street
Courtesy of the artist and CAFA ART INFO.
Related posts: