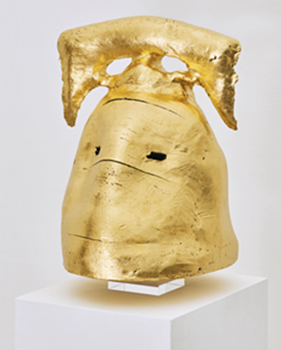 Galerie du Monde is pleased to present prominent German artist Michael Müller's (b. 1970, Ingelheim am Rhein, Germany) first exhibition in Hong Kong and East Asia from 8 March to 21 April 2018. An Exhibition as a Copy will showcase more than twenty conceptual multimedia works that are emblematic of Müller's artistic pursuit for exploring the intrinsic relationship between the original and the copy. The newly-created works on show, which come in the form of drawing, painting, sculpture and 3D print, are made from a wide spectrum of unconventional materials, such as blood, urine, hair, egg yolk, fat, bone and semen, among others.
Entitled An Exhibition as a Copy, Michael Müller's exhibition consists of four pairs or groups of similar exhibits that investigates the duality of the original and the copy. The juxtaposition of the
peculiarities of the artworks' surfaces underscores the form as well as instigates a dialogue with each other; it also allows for deviations to stand out. The relationship between model and reproduction, original and copy thus becomes increasingly unclear.
The meticulous pairings of works will focus on the relationship between the original and the copy in an exemplary way: two almost identical, monumental though intricate drawings depicting a stain on Michael Müller's studio floor (Differenz, Atlas and Differenz, Antiatlas), irreproducible in detail; a small, pastose relief and its adjacent 3-D printed copy (Das Bild als Objekt); and a figurine of a wolf-like monster including a 3-D printed duplicate (Keramisches Frühwerk (Monster) and Rekonstruktion (Keramisches Frühwerk). For this occasion, the gallery will specially transform its space to replicate the exhibition setting where Müller's works typically incorporate elements of surface and ground. For instance, Do it! (Setting Up History) #7 and #8 consist of monochrome, pastose paintings that are painted in the shade of the gray wall on which they are presented.
The Himmelheber (sky-bearer from the mythical tradition of the Titan Atlas) is a new series that Michael Müller has been working on since 2017, in which he also strives to unveil more extensive details of this new form of life in the coming years. According to Müller, the Himmelheber have died out and been reborn innumerable times. Consequently, many of their artefacts are preserved in multiple versions, copies and adaptations. The little information Müller provides on the Himmelheber compels the visitors to their 'free' interpretation.
Covered in a dark, coarse paste, the five groups of Himmelheber exhibits displayed in the show are: Hoover Generation Future Smart Pure White & Luxor Black / Smokey Grey Transparent,
Stripping the Force (Chapter 1. Mourn), Stripping the Force (Chapter 2. Lonely Rest), Feldforschung (New African Kono) and Kopfgeburt. The paste consists of blood, urine, bone
meal, hair, and sperm among other things – materials that derive from the vulnerable, 'open' body. A neon-lit, duo part acrylic glass cabinet displays quasi-ethnographic exhibits reminiscent
of vacuum cleaners, standing one on top of the other. The objects are coated in their entirety, reduced in shape and contour, ultimately reaching a uniformed appearance. The paste marks
them out as 'chosen' sacred artefacts.
Besides the vacuum cleaner forms in the two-part neon-lit acrylic glass vitrine, a series of small animal-like sculptures, Feldforschung (New African Kono), and two helmet-like sculptures are
on display, Stripping the Force (Chapter 1. Mourn). The helmet-like sculptures are positioned in front of a photo wallpaper, which reduplicates the work, integrating it into a complex scenic
context. The aforementioned groups of works exemplify the pictorial language of the Himmelheber and lend the other works in the exhibition an ethnographic impression.
On 7 March 2018 from 5:30 – 6:30pm, Galerie du Monde will host a talk between Michael Müller and Vivienne Chow, the Hong Kong-based art and culture journalist and critic, as well as
Founding Director of Cultural Journalism Campus. The talk will cover specific aspects of the show, Michael Müller's career and his artistic practice.
"We could not have presented Michael Müller's exhibition as part of our GDM Projects at a more opportune moment. His endeavour to blur the line between the conventional and the
unorthodox art practices speaks volumes about his pioneering contributions to challenge the boundaries of art. Michael Müller belongs to a generation of brilliant contemporary German
artists, and we are pleased to present his works for the first time in East Asia, during one of the most dynamic art festival months in the region."
– Fred Scholle, Founder and Chairman of Galerie du Monde
About the exhibition
Artist Talk: 5:30 – 6:30 pm, 7 March 2018 (Wednesday), *RSVP* Essential
Opening Reception with Artist Attendance: 6:30 – 8:30 pm, 7 March 2018 (Wednesday), *RSVP* Essential
Exhibition Dates: 8 March – 21 April 2018
Venue: Galerie du Monde, 108 Ruttonjee Centre, 11 Duddell Street, Central, Hong Kong
Courtesy of the artist and Galerie du Monde, for further information please visit www.galeriedumonde.com.
Related posts: