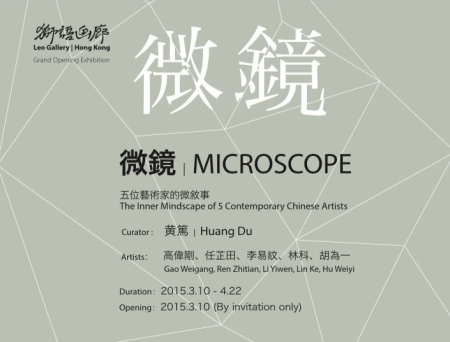 This March Leo Gallery will be featuring works of 5 Contemporary Chinese artists of different ages and experiences: GaoWeigang, Ren Zhitian, Li Yiwen, Lin Ke and Hu Weiyi, each displaying their individual aesthetic and philosophy through diverse works via different mediums.
The title of this exhibition "Microscope" was chosen as a way to reflect the current developments of Chinese contemporary art. In the past decade, the growing diversity of Chinese contemporary art in many ways is similar to the development in Chinese society and its economy, where artists turned from the ideological narratives and collective expressions, to become more individualistic in their artistic style, depicting personal experiences from daily life. This newly evolved artistic language can be found in different artgenres including painting, sculpture, installation, moving images and mixed media artworks.
This joint exhibition is a small showcase of the current developments of the Chinese contemporary art scene, where the contemporary artworks reflect the new values of the changing society in China.
About the exhibition
Opening Reception: 2015.03.10 (By invitation only) (Tuesday), 6:00 pm – 10:00 pm
ART GALLERY NIGHT: 2015.03.12 (Thursday), 11am – 10pm
Exhibition period: 2015.03.10 – 2015.22.04
Address: Leo Gallery HK – 189 Queen's Road West, Sheung Wan, Hong Kong
Courtesy of the artists and Leo Gallery, for further information please visit www.leogallery.com.cn.
Related posts: