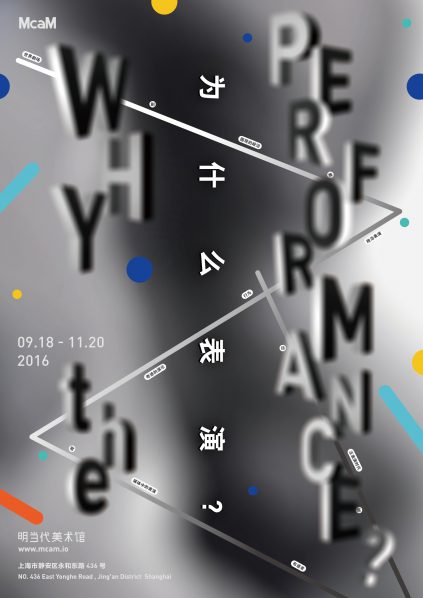 WHY THE PERFORMANCE?
Since the foundation in 2015, Ming Contemporary Art Museum (McaM) has been committed to support and promote the contemporary experimental art with performance at the core. McaM has brewed and hosted a series of exhibitions and performances that attracted extensive attention: from 30 Years of Experimental Theater to Maywa Denki: Nonsense Machine, from Jan Lauwers: Silent Stories to the 20- hour durational performance The House of Our Fathers.
The past year witnessed the practice in tracing back the exhibitions in the forms of performance and theatre in the historical context and now McaM focuses its curatorial perspective on the concept of the performance itself. The exhibition "Why the Performance?" explorers the various forms of performance in daily life and approaches a series of questions arising from it. How could the performance become a kind of politics when politics became a form of performance? What is the meaning assigned by the performance to our daily life when it acts as a strategy of propaganda and presentation of miracles? How the performance becomes a means of de-significance that has been unexpectedly reduced to entertainment at such a pan-performance epoch featuring an overflow of social media and the popularity of histrionic personality? How to reinterprets the power of the audience and the onlooking type politics in the relationship between watching and being watched?
The works presented by this exhibition are closely linked to the performance and are produced by more than 30 artists worldwide in different phases in forms of installation, moving image, performance art, theater, dance, sound, poetry, etc. questioning (answering): Why the Performance?
About the exhibition
Dates: 2016.09.18 Sun – 2016.11.20 Sun
Venue: Ming Contemporary Art Museum (McaM)
Artists: Ali Al-Fatlawi & Wathiq Al-Ameri, Cao Fei, Cao Yu, Chen Chenchen, Chen Chieh-jen , Geng Jianyi , Grass Stage, Guido van der Werve, Han Qin, Hao Jingban, He Zike, Hito steyerl, Hu Xiangqian , Huang Fangling, Huang Songhao, Jon Rafman, Katarzyna Kozyra, Li Haiguang & Zhang Yunfeng, Li Ming, Lu Yang, Ma Qiusha, Miao Ying, Niao Collective, No survivors, Olivier Herring, Payne Zhu, Peter fischli & David Weiss, Qiu Chuangwei, Roman Signer, Shao Ze, Shi Qing, Song Gewen, Sunteck Yao, The HAPPENING, Tsang Tsou Choi, UFO, Wang Chao, Wang Jianwei, Wang Yuyang, Weng Jie, Wu Junyong, Wu Meng, Xi Chuan, Xu Zhen, Yang Jian, Yuan Gong, Yuan Keru, Yunyu "Ayo" Shih, Zhang Congcong, Zhang Qing, Zhang Yue, Zhao Bandi, Zhao Jingyan, Zhou Xiaohu
Courtesy of the artist and Ming Contemporary Art Museum.
Related posts: