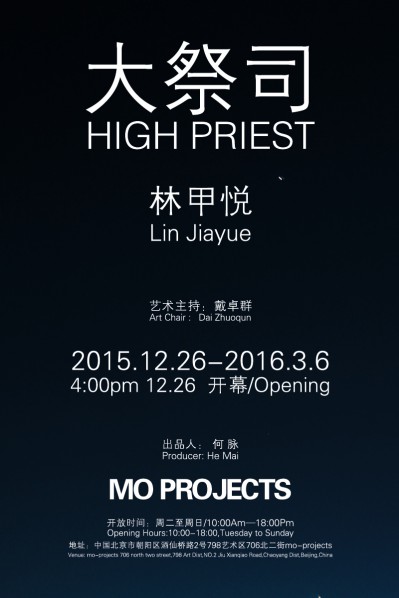 Mo Projects is proudly to present Lin Jiayue's new exhibition on December 26th 2015: "High Priest". This is Lin's first solo exhibition in Beijing, and it will be on view until March the 6th 2016.
In this exhibition, the artist Lin has used the gallery's long and narrow space to present her work. It is a site-specific installation that's made of a combination of sealed space, LED light, glass, water, metal, and wind flow. In the entrance, the artist has built a large wall and sealed the room with only a square window opened for the outside. She has created a "room" inside the wall, through which you could see a phenomenal scene of the "sunset". It is a view that's both familiar and bizarre. The work is self-contained, in the same time, functions when juxtaposing with our daily spectacle. Psychological experience was integral in this work, which was completed by the actual distance, and distance seen, but not our physically being in the removed space.
About the artist
Lin Jiayue was born in Zhejiang, China, 1988. She graduated from the High School Attached to China Academy of Fine Art in 2006, and she obtained her BFA of oil painting major in the Central Academy of Fine Arts in 2010. In 2011, she has gained the master's degree of art in the Wimbledon College of art in London, and in 2014, she acquired another MFA from School of Visual Arts in New York. She is currently living and working in Beijing. The selected exhibitions she has shown: "Front and Center", SVA gallery, NYC in 2014, "Ruminate and Reflect", Art Lot, Red Hook NYC in 2013, "Home", Ground Arts Gallery, NYC in 2013, "To The End", public installation, Beijing in 2012, "Trace", SVA gallery, NYC in 2013, "Futura Bold/ Futura Oblique", The Nunnery, London in 2011. The residencies she participated are NARS Foundation, October 2016, NYC (selection of artists was finished in early 2015), Vermont Studio Center, March 2015, Vermont, and the Ox-Bow, Fall Artist Residency 2014, Grand Rapids, MI.
About the exhibition
High Priest: Lin Jiayue
Art Chair: Dai Zhuoqun
Exhibition Time: 26th Dec 2015—6th Mar 2016
Opening: 4:00 PM, Dec 26th, 2015
Producer: He Mai
Organizer: Mo Projects
Courtesy of the artist and Mo Projects.
Related posts: