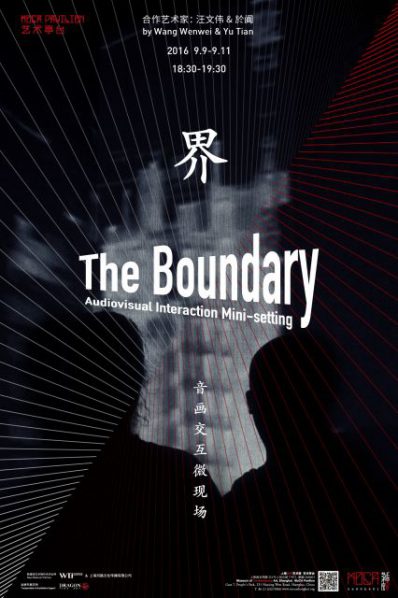 In one of his books, Hyperspace, Japanese-American physicist Michio Kaku mentions some of his considerations from his childhood visits to a Japanese tea garden. It is about how a carp in a pond sees the world outside, how it gets to know the reason why the floating lily pads vibrate on the pond's surface, and how the description of the outside world given by a carp who has jumped above the water is not believed by its fellows.
In our minds are there also some preconceived ideas that may impede us from accessing the world we live in? The idea of the "boundary" lurking within our thinking may insensibly and ceaselessly do the job of distinguishing, expelling, and demarcating.
The performance venue this time is a semi-enclosed space that faces the pedestrians in Nanjing road, a section of the most bustling downtown area in Shanghai city. The guitar music played is an atmospheric alternative to the ambiance of the busy road, encouraging the pedestrians to pause and pay attention. The interactive images on the glass can be the "boundary" between the inner and the outer world. It looks as if the people outside are staring at and listening to the fish swimming in the pond, but it would be harder than you might imagine to tell who is in the pond and who is outside, who is the pond fish and who is the viewer.
About the exhibition
Dates: Sep 9, 2016 – Sep 11, 2016
Opening: Sep 9, 2016, 18:30, Friday
Venue: MoCA Pavilion
Courtesy of the artists and MoCA Pavilion, for further information please visit www.mocashanghai.org.
Related posts: