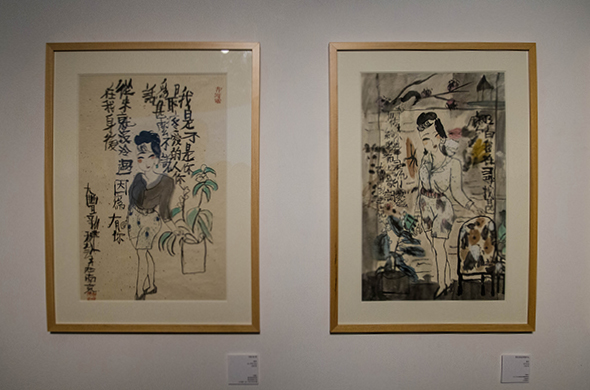 In the afternoon on April 12, 2014, "Modern Recluse: Hermit Spirits of Zhu Xinjian" the first major exhibition of Zhu Jianxin's works by the left handed artist opened at Today Art Museum, and it is jointly organized by Today Art Museum and Zhu Xinjian Art Center, Zhu's wife Chen Yan serves as the curator. About 150 works of calligraphy, painting, booklets, sketches, manual scripts, videos, documentaries and Chinese fan paintings are on display, and it is a review of his life and artistic achievements of the artist in the past year in Beijing.
Zhu Xinjian, born in 1953 in Nanjing, China, passed away in February 2014 in Beijing. This exhibition is given unusual significance since it is the first exhibition after the death of the artist. Zhu graduated from Nanjing Art Academy and his works of naked women with bound feet during the '85 New Wave of Art Movement in China aroused much controversy. The unique style and erotic element of women with bound feet was regarded as in conflict with the ideological convention at that time and even condemned as "sheer feudalistic rubbish". Art critic Li Xianting considers Zhu to be one of the representative figures of the Southern School of new painting of the neo-literati. The notion "hooligan culture" was thereby coined and it influenced the latter on "cynical realism" in China. He is also regarded as an irreplaceable initiator of the neo-literati painting, and he initially tried to use folk adages and even popular lyrics as the inscriptions, which "leads a fashion and opens up a new territory".
For Zhu Xinjian's art, famous art critic Jia Fangzhou once said: "Zhu Xinjian chooses an art attitude which is also the life attitude he has always adhered to. This true and sincere confession not only originated from his understanding of the art, but also from his understanding of life. It constitutes Zhu Xinjian's foundation attitude and value of life. This kind of attitude and value of life is based on the position of humanism. So that he is a natural artist refusing the temptation of many external vanities. He is not afraid of any gossip, living easily and magnanimously, without any sense of mission or mental burden, and less hypocrisy and sanctimonious." Neo-literati painter Li Jin presented at the exhibition and was interviewed by CAFA ART INFO, he said Zhu was an artist that came from '85 New Wave, but he didn't follow the West, instead by looking back to ancient China, to connect with the Chinese traditional context, we might see some erotic elements in Zhu's work at the beginning, but delicately looking at it, from Chinese calligraphy to brush and ink, facial expressions and postures of the characters, we could see the clean, elegant and beautiful mind of the artist.
The exhibition opening ceremony was also a memorial to the artist, Zhu Xinjian's wife Chen Yan, his son Zhu Sha and wife Wang Mi, Gao Peng, Executive Director of Today Art Museum, painter Chen Danqing, painter Bian Pingshan attended the opening ceremony. Wang Shuo's daughter Wang Mi was married to Zhu Xinjian's son Zhu Sha last year, Wang wrote a striking article entitled "Recalling of Zhu Xinjian"as a memorial to the artist, and it is on the wall at the entrance.
The title of the exhibition was decided and hand-written by the artist. As the artist passed away during the preparation of the exhibition in Beijing, the curator decided to add a small amount of the right-hand works and earlier left-hand works to the left-hand works as planned by the artist himself. The aim is to help viewers understand the overall artistic development and styles from different periods of Zhu Jianxin in a more complete retrospect. The exhibition also features video clips of interviews with the artist's friends. Here we are able to learn about the characters of Zhu not only as an artist but also as a person. The subject of "Portrait of a Beauty" was mostly used by Zhu Xinjian, and the exhibition showcases a series of "Portrait of a Beauty" finished using his left hand, in addition to "Jin Ping Mei Group Paintings" created in 2013 as well as "Hero Figure", "Four Screens of Flowers and Birds Painting", "Landscape Group Paintings", and other themes. Chen Yan said, Zhu Xinjian started to draw using his left hand in 2008, when he was seriously ill, his right hand failed to hold a brush, so he switched to drawing usinghis left hand. This reflects the sincerity of the artist, which is the most appealing part in the paintings of Zhu Xinjian.
The exhibition will last until April 22, and the Complete Works by Zhu Xinjian will also be gradually published.
Text by Zhang Wenzhi, Photo by Yang Yanyuan/CAFA ART INFO.
Translated by Chen Peihua and edited by Sue/CAFA ART INFO.
Related posts: