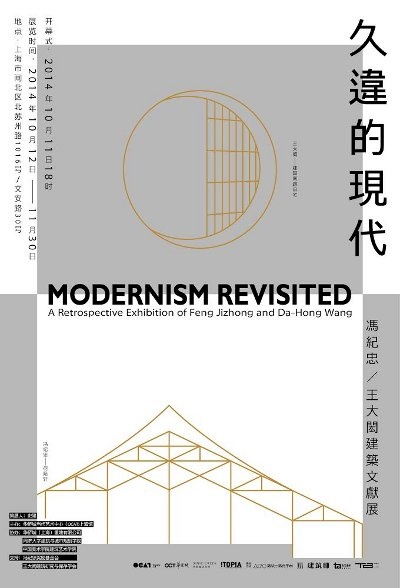 Arata Isozaki's essay "Before Metabolism" reflects the position of the Japanese architect, from an historical point of view, on China, Japan and the United States, three countries considered for a long time peripheral within the modernist movement, and carries on a comparison between different courses of modernization and "localization", with a focus on case studies represented by Liang Sicheng, Philip Johnson and Kenzo Tange. It also demonstrates how the core of modernization (and localization) of Chinese architecture lies within this particular context.
In fact, the Chinese word for "architecture" was first created in Japan and only later adopted by the Chinese and Koreans. Japan can be regarded as the pathbreaker, in East Asia, for the introduction, transformation and creation of modernity, and has ever since been a pioneer and a model, its experience and achievements in this field representing a fundamental resource for the East-Asian modern culture.
Yet considering East Asia exclusively through cultural models has considerable limitations. On the surface, it may seem aimed at avoiding more nuanced stances on politics and ideology, dealing instead with safer issues on the evolution of civilizations; however, it is a fact that for many countries in East Asia, modern history came into existence as an effect of the "forced modernization" introduced by Japan: this has somehow compromised the opportunity, for China and Taiwan, of a smooth transition into modernity. When this portion of history was "rebooted" after the war, the natural developments of modernity on the two territories have already taken very different paths, as the modernism combined with the experimental transformation of tradition by mainland's Feng Jizhong and Taiwanese Wang Da-hong show us.
In other words, the two territories could have produced many more diversified models of modernity, but due to historical and cultural resentments which have not been eased to date, spatial legacy could neither be faced nor researched, the result of this being the "dispersion" of an era of modern transformation. Untying this knot and crossing this boundary proves now to be a priority.
About the artists
Feng Jizhong
Feng Jizhong (1915-2009, Shanghai) was a famous architect and educator. He joined Tongji University in 1947, and hold a professorship in the same institution for more than sixty years. He was the founder of modern Chinese architecture and established China's first academic program in Urban Planning. Due to historical reasons, there are not many publications and projects by Feng left to date, but still, his project of Shanghai's Songjiang Square Tower Park can be regarded as representing a new theoretical approach and design concept in contemporary Chinese architecture. This profound philosophy gave rise to a solid system of education and dissemination of architectural culture, which had a profound effect on the development of Chinese contemporary architecture.
Wang Da-hong
Wang Da-hong (*1918, Taipei) is also a well-known modern architect. Since 1949, in Taiwan revivalism had gained more popularity than it had in mainland China, but the erection of the Sun Yat-sen Memorial Hall designed by Wang can be considered a turning point, inasmuch as it explored the ways in which modern architectural concepts and construction techniques could be organically integrated in the spirit of traditional Chinese architecture, breaking away at the same time from the historicistic style of the big public buildings which had come to a deadlock; so the focus shifted to a steady transition from classicism to modernism. Wang's modernist ideas became even more evident in the design of his own house on Jianguo South Road, and in the project for the National Palace Museum. The work of Wang can be seen as a paradigmatic, crucial contribution for the development of Taiwan's modern architecture and served as a link between past and future in the modern history of Chinese architecture, making him one of the most important architects of his era.
Due to ideological constraints in the early stage of their careers (when revivalism and eclecticism became mainstream) and the impact of market economy later on (with postmodern and commercial architecture as the most fashionable trends), Feng Jizhong and Wang Da-hong's intepretations of modernist architecture have remained marginal in the course of modernity in their respective territories, and progressively sunk into oblivion. The historical value of their ideas and practice has gained recognition only in recent years, when they were studied again by later generations and featured in exhibitions, undergoing a significant re-evaluation.
Modernism Revisited discloses the most important projects of these two fundamental architects, such as Feng Jizhong's Square Tower Park and Helou Pavilion, Wang Da-hong's Private Mansion on Jianguo South Road, Sun Yat-sen Memorial Hall and National Palace Museum, and includes drawings, models, archival material like photographs, texts and other documents. Through videos, installations and other contemporary forms of display, the legacy and the masterpieces by the two "neglected" masters of modernism will be presented to inspire the architectural community and instigate a continuos exploration of the philosophy of Chinese modern design.
The works will be displayed in the main halls of the OCT Contemporary Art Terminal Shanghai, to trigger a meaningful dialogue about modernist design across the two territories, so that what was buried will re-emerge, what was divided will be mutually confronted, what has remained unfinished will be taken over.
Among the renowned architects and theorists who have engaged themselves in the study of the work of Feng Jizhong and Wang Da-hong we can mention Wang Shu (winner of Pritzker Architecture Prize winner, Dean of the School of Architecture of the China Academy of Art), Chun-Hsiung Wang (editor in chief of Taiwan Architecture magazine), Wang Mingxian (Deputy Director of the Research Institute of Architectural Art of the Chinese National Academy of Arts), Li Xiangning (Deputy Dean of the College of Architecture and Urban Planning of the Tongji University), Huang Ju Zheng (editor in chief of Architect magazine) and many more. During the exhibition these architects and theorists will be invited to participate in a panel discussion on relevant issues, with the goal of fostering an in-depth research on modern architecture in – and between – mainland China and Taiwan.
About the exhibition
Duration: 12th October – 23th November 2014
Venue: OCAT – Shanghai
Opening: 18:00-20:00 11th October
Tel: 021-66085119, 021-66082033
Add: 1016 North Suzhou Road, Shanghai
Courtesy of the artists and OCAT Shanghai, for further information please visit www.ocatshanghai.com.
Related posts: