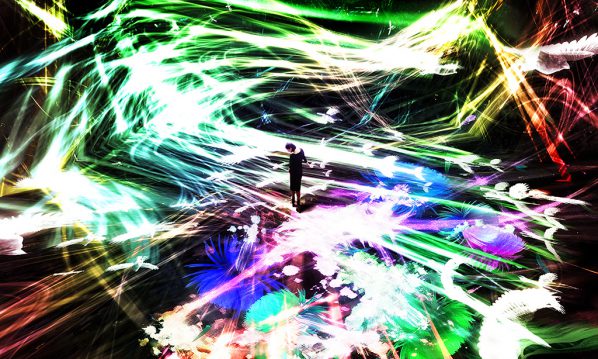 Our universe is of perennial interest, appearing in art all
around the world as an object of worship and study over the
centuries, and spawning countless stories.
"
The Universe and
Art,
"
comprising four sections of
"
How Have Humans through
the Ages Viewed the Universe?
" "
The Universe as Space-Time
" "
A
New View of Life
–
Do Aliens Exist?
"
and
"
Space Travel and the
Future of Humanity,
"
is an attempt to explore these questions
from artistic perspective. It offers a diverse selection of
around 200 items from across the globe and down the centuries,
in multiple genres, from meteorites and fossils to historic
astronomical material by Leonardo da Vinci and Galileo Galilei;
mandalas showing eastern cosmology; handscrolls of
Taketori
Monogatari (The Tale of the Bamboo Cutter)
which we may call
Japan's oldest sci-fi novel; installations by contemporary artists,
and the latest from the frontline of space development.
[
SECTION 1
]
How Have Humans through the Ages Viewed the Universe?
This section focuses on one part of historical cosmologies: human views of the universe down the millennia,
looking at myths and religious art objects from east and west, plus priceless astronomy material.
[
SECTION 2
]
The Universe as Space-Time
Black holes that suck up even stars; the fact that the starlight
we gaze on now comes to us from hundreds of millions of
light years away; the wonders of space – 11 dimensions of it
apparently – and astounding advances in astral observation
that have revolutionized our perceptions of space and time, all
presented as works of contemporary art.
[
SECTION 3
]
A New View of Life – Do Aliens Exist?
Starting with meteorites and fossils from a geohistory that extends far beyond the presence of homosapiens,
this section features artworks that reference images of aliens as imagined by people down the centuries,
plus the latest genetic engineering and A.I. technologies.
About the museum
In today's increasingly interconnected world we have the opportunity to be enriched by global currents of history and culture and to enjoy diverse lifestyles as a result of active contact with different peoples and ideas. The role of art in this environment is decisive, providing vital sources of inspiration for creativity and innovation.
The Mori Art Museum has developed its own distinctive approach to art activities, embracing the concepts of "contemporary" and "international" since its establishment. The Museum is committed to presenting a wide range of exhibitions and public programs that feature cutting-edge visual arts, architecture, and design in a global perspective.
The Mori Art Museum is positioned also as a center of contemporary Japanese and Asian art, able to present Asian art trends in a global context with profound expertise concerning specific cultural systems and structures.
The intention of the Mori Art Museum's continuing "Art + Life" principle is to realize an enriched society where art relates to all aspects of life.
About the exhibition
Exhibition Title:
"
The Universe and Art: Princess Kaguya, Leonardo da Vinci, teamLab
"
Organizers: Mori Art Museum, NHK, NHK Promotions Inc., The Yomiuri Shimbun
Curated by: Nanjo Fumio
(Director, Mori Art Museum)
, Tsubaki Reiko
(Associate Curator, Mori Art Museum)
Curatorial Collaborators: Ryukoku Museum, Kanazawa Institute of Technology Library Center
Grant: l
'
Ambassade de France au Japon / Institut franais
Corporate Sponsors: NEC, Obayashi Corporation, IHI Transport Machinery Co., Ltd.
Special Cooperation: Japan Aerospace Exploration Agency (JAXA)
Production Support: Panasonic Corporation
Support: Nippon Cargo Airlines Co., Ltd., Champagne Pommery
Period: July 30, 2016 [Sat] – January 9, 2017 [Mon]
Venue: Mori Art Museum, 53F, Roppongi Hills Mori Tower, 6-10-1, Roppongi, Minato-ku, Tokyo
Open Hours: 10:00-22:00 | Tue: 10:00-17:00 | * Admission 30 minutes before closing. | * Open everyday. |
* October 21 [Fri] open until 1:00 a.m. the following morning, and October 22 [Sat] open until 6:00 a.m. the following morning,
respectively, due to
"
Roppongi Art Night 2016.
"
Admission: Adult: 1,600 / University/highschool student: 1,100 / Child
(age 4 up to junior highschool student)
: 600
* All prices include tax.
|
* Additional entrance fee to the Tokyo City View observation deck, as well as the Sky Deck is required.
General Inquiries: +81-(0)3-5777-8600
(Hello Dial)
Media Contact from CAFA ART INFO: Egami Etsu
Related posts: