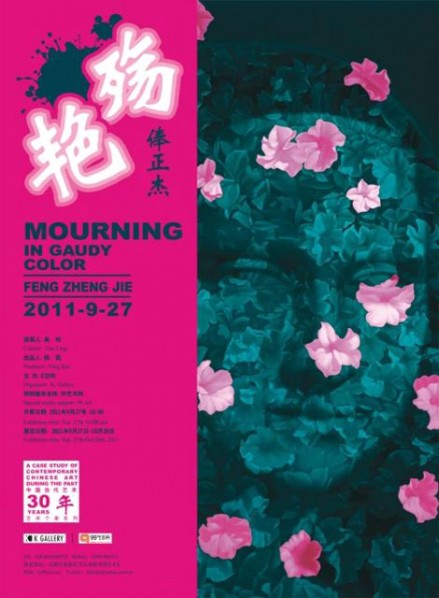 Feng Zhengjie's career, so far, spans over twenty years, from 1992 to 2011, during which his approach to art and life has matured considerably, from the earlier pain of "gaudy art", to the exploration of fate found beneath surface beauty we see today. Yet, in every painting he has ever made, we can detect the anxiety that characterizes his personal philosophy. The Chinese word "shang" encompasses a range of meanings from abortion, death in a battle, to and death outside of one's home. Together with "yan", which means bright, luminescent colors, Feng has given us a new phrase in Chinese, Yan Shang, a type of mourning in gaudy colors. This is the best possible way to describe the spirit of Feng Zhengjie's work.
The integration of life, death and flowers is fundamental to Feng Zhengjie's latest work. He has also painted a large number of beautiful girls with absent-minded expressions which puzzle and infatuate the viewer, and as images are hard to walk away from. However, these gigantic erotic goddesses are like flowers destined to bloom only briefly, because the vitality of spring and summer is doomed to fade during autumn and winter. In the triptych series "Women are like Flowers", flowers and skulls to the left and right hint at this life and next, while in the middle the beautiful stars radiate their youth in all directions. All that we take for granted will disappear like clouds and smoke, all that beautiful and good will fade away.
Art is neither life nor death, but a means for exploring the truth behind life and death, to show the decay behind the flashy surface, to differentiate between life and death, blooming and deterioration. Feng Zhengjie has combined his personal experiences with the metaphysical, which indicates that he has given himself over to the greater meaning of life.
Duration: Sep 27, 2011 – Oct 26, 2011
Opening: Sep 27, 2011, 16:00, Tuesday
Curator: Gao Ling
Venue: K Gallery (Chengdu, China)
Born in 1968, Sichuan Province, China, Feng Zhengjie graduated with his Master dgree of Fine Arts from the Sichuan Academy of Fine Arts, Sichuan Province, China in 1995. He currently lives and works in Beijing.
Selected Solo Exhibitions:
2011
Mourning In Guardy Colour, K Gallery, Chengdu
2008
Primary Color, Singapore Art Museum, Singapore
2007
New Works of Feng Zhengjie, Tilton Gallery, New York, USA
Feng Zhengjie: Recent Works, Galerie Frank Schlag & Cie. Essen, Germany
Paintings of Feng Zhengjie, Albert Benamou Gallery, Paris, France
2006
Paintings of Feng Zhengjie, Tokyo Gallery, Tokyo, Japan
Very Red and Very Green, Xin Dong Cheng Space for Contemporary Art, Beijing, China
A Beautiful Deception, Shine Art Space, Shanghai, China
2004
Kitsch As A Face of Chinese Society, Vanessa Art House, Jakarta, Indonesia; Soobin Art Gallery, Singapore
The Beautiful Poison, Suka Art Space, Korea
2003
Regards vers l'Est, Regards vers l"oust, Albert Benamou Gallery, Paris, France
2002
Paintings of Feng Zhengjie, M.K. Ciurlionis National Museum of Art, Kaunas, Lithuania Packaging,
Xin Dong Cheng's Space for International Contemporary Art, Beijing, China
2001
Coolness, Common Ground Art Gallery, Windsor, Canada
1996
Recounting of Skin, Art Museum of Capital Normal University, Beijing, China
Selected Group Shows:
2007
The Power of the Universe, Asia Art Center, Beijing, China
La Cina e' vicina, PAN – Palazzo delle Arti di Napoli, Napoli, Italy
China Contemporary Art, Museo d'Arte Contemporanea di Villa Croce – Genova, Italy
Pocheon Asia Biennale, Pochen Banweol / Art Hall, Pocheon, Korea
Red Hot: Asian Art Today, Mnseum of Fine Arts, Houston, USA
Thermocline of Art-New Asian Waves, ZKM, Karlsruhe, Germany
Giants in Illusion, Seoul National Art Museum, Seoul, Korea
The Alteration of Vision, Tang Contemporary Art, Bangkok, Thailand
From New Figurative Image to New Painting, Tang Contemporary Art, Beijing,
China Onward, Louisiana Museum of Modern Art, Humlebak, Denmark
Starting from the Southwest-Exhibition of Contemporary Art in Southwest China,
Guangdong Museum of Art, Guangzhou, China
Chinese Contemporary SOCART, The State Tretyakov Gallery, Moscow, Russia
2006
Varied Images Shanghai Art Museum, Shanghai, China
1st Annual Exhibition of Chinese Contemporary Art, The China Millennium Monument, Beijing, China
2005
Born in China, Goedhuis Contemporary, London, United Kingdom
2004
New Perspectives in Chinese Painting, Marella Art Contemporary, Milan, Italy Hua Jia Di, China Art Seasons, Beijing, China Chinese Contemporary Art, Marseille Contemporary Art Museum, Marseille, France Forbidden Senses, Espace Culturel Francois Mitterrand, Perigueux, France
2003
Image from Image, Shenzhen Art Museum, Guangdong Province, China Chinart, Ludwig Museum Budapest, Hungary Chinese Art Today, The Art Museum of China Millenium Monument, Beijing, China Femmes de Chine, Veronique Maxe Gallery, Paris, France
2002
Dialogue with Asia, Vika Gallery, Oslo, Norway The First Chengdu Biennial: Beijing Invitation Exhibition, Art Museum of China Century Monument, Beijing
Korea Contemporary Art Festival, Seoul, Korea
2001
The First Chengdu Biennial, Chengdu Contemporary Art Museum, Chengdu, China Who am I? Kempinsky, Beijing, China Dialogue With Dali, Shanghai Art Fair, Shanghai, China
Next Generation: East Asia Contemporary Art, Passage de Retz, Paris, France
2000
The Academic Exhibition of Beijing Oil Painting, Huanyu Sutra Gallery, Beijing China Plane, China Women Center, Beijing, China
Selected Collections:
The National Museum of Contemporary Art, Seoul, Korea
Fondazione Cassa di Risparmio in Bologna, Italy
Busan Museum of Modern Art, Korea
FC MOCA, Manchester, England
Musee Royal des Beaux-Arts du Luxembourg, Luxembourg
Musee d,Arts Contemporain d,Ivry-sur-Seine, France
The Estella Collection, New York, USA
Guangdong Museum of Art, Guangzhou, China
Shenzhen Art Museum, Shenzhen, China
The Olenska Foundation, Geneva, Switzerland
Related posts: