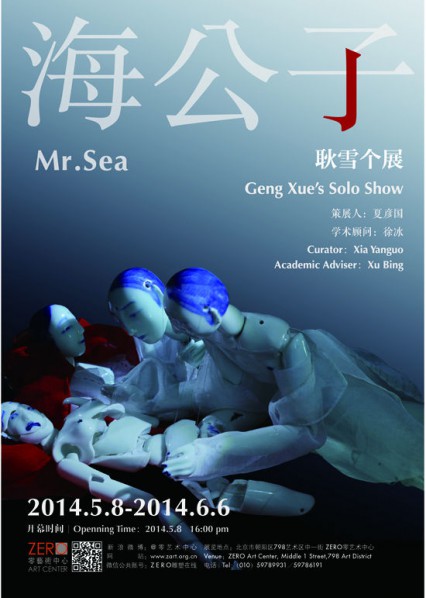 Curated by Xia Yanguo, Xu Bing serving as the academic adviser, "Mr. Sea" – Geng Xue's Solo Exhibition opened at Zero Art Center in 798 Art District on May 8, 2014. The exhibition will continue until June 6, 2014.
Geng Xue graduated from the Department of Sculpture, CAFA, as soon as the graduate work "Han Xizai Evening Banquet" was on display, it was focused, but it didn't make her speed up the pace for creation and life, she still works according to her own pace, seemingly "a recluse without a fixed abode" but actually hardworking, and never stopping her artistic exploration. She was invited to several countries to participate in artist residency projects towardsan exchange programme. After a few years of straying she returned to CAFA to study as a postgraduate student, now she is a graduate again and it is a new node for Geng Xue, and a summary and a new start.
In the process, Geng Xue was involved in drawing and shaping the "Porcelain World", she was obsessed with porcelain as much as her own life. Though her recent works are diverse, porcelain is still the most important thing for her to create. Porcelain is the material and language of Geng Xue, and also the object to pour over. At the same time, it also mixes the artist's perception of Eastern traditional culture and the traditional aesthetics, as well as the new form and new content in a contemporary artistic context, to show an ultimate concern about people and existence from a very small personal perspective in an unique artistic language.
The creation of the new work "Mr. Sea" by Geng Xue has taken a year, and it is a short film based on the novel of the same name in Pu Songling's "Strange Stories from a Chinese Studio". In the process of the shooting, she specially arranged the light and shot it one by one, in the porcelain world created by the artist – the forest of an island, a beautiful and erotic story unfolds in the changing of the light and shadow on the porcelain.
"Mr. Sea" is as the title says, the introduction, and also points out the significance of the exhibition. In addition, it also showcases other important works by the artist in the recent years, including other porcelain pieces, short films, photography, prints, manuscripts, documentaries, etc., whereby we can fully understand Geng Xue's artistic creative course, to see how she reflects her artistic conceptual changes in the conversion and docking between the painting, sculpture, video and other languages and methods, how to deconstruct and break through the traditional mode of thinking, to set up her own new "sculptural" language and form.
Courtesy of the artist and Zero Art Center, translated by Chen Peihua and edited by Sue/CAFA ART INFO.
Related posts: