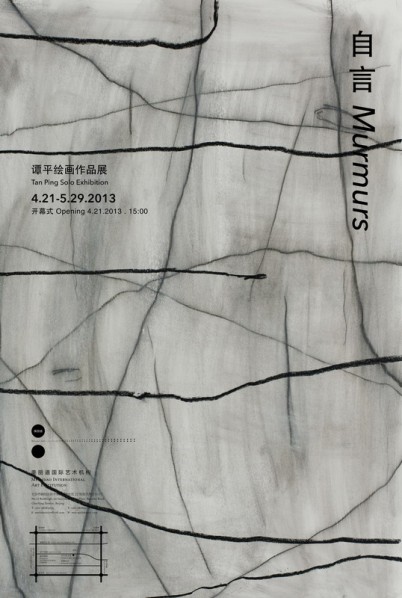 A new solo exhibition featuring Tan Ping's paintings entitled "Murmurs" is going to be held at Meilidao International Art Institution on April 21st. One of the most important artists of abstract art in China, Prof. Tan Ping serves as the Vice President of the Central Academy of Fine Arts. His works have gained wide attention from art circles at home and abroad.
Tan Ping's artistic creation has experienced a variety of periods from the domestic to the foreign, from the representational to the abstract, regardless of stages, periods, art creation remains a way for Tan to express himself, as he said, "The most important thing in painting for me is that hands respond with delicacy to whatever the mind directs. The animated motion of ideas and the vibration of the mind can always grow from the paintings through the control of the palm, discharged with the expression of brushes." Tan has multiple duties and teaching tasks and insufficient time to create. He has a unique way of expression on how to balance the relationship with all the tasks, social activities and creative desires. He makes use of his intermittently trivial time between his work to paint, the lines in his work as if the fracture of memories have been integrated with his sentiment of art and his experience of life. Accumulated by time, his secrets are silently told by the overlapping and pressed screens again and again.
Like whispers, these works look extremely abstract and private, which bring a extraordinarily real experience of emotions to visitors. The truth of this kind of feeling originates from the extremely personalized self expression of Tan Ping's disposition during his creations, "I enjoy every touch, facing the swoosh of brushes on the blank paper, colors and my temperament naturally collide while the lines are honest to my inner heart, which evoke my addressing unfeigned desire. This extremely personalized disposition has been changed into the lines born by accident in moments "encountering" the visitors, "growing freely without any predestinated direction until they come to an occasional instant encounter–thus staying there." Meanwhile it suggests the casual vitality of life, "every day human life is confronted with no repetition or choice at every moment."
The exhibition will be held from April 24 through to May 29.
About the exhibition
Murmurs: Tan Ping Solo Exhibition of Paintings
Artist: Tan Ping
Academic Host: Yi Ying
Organizer: Beijing Meilidao International Art Institution
Opening: 21 April, 2013, 3:00pm
Duration: April 21-May 29
Venue: Baiziwan Road 22 Art District 6-77, Chaoyang District
Related posts: