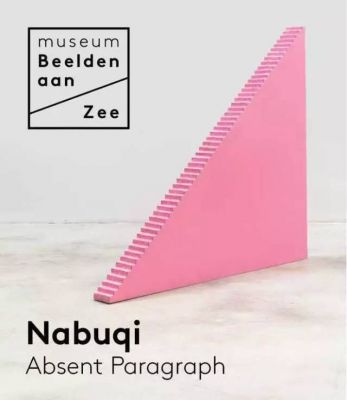 In this exhibition, the Chinese artist Nabuqi (born 1984) shows work from her most recent series A View Beyond Space, comprising steel and bronze sculptures varnished in bright colours. Landscape and urban elements loom up: architecture, a window, a stairway, a fence and hills. They slowly pass the eye as if seen from the window of a travelling car. The sculptures are like an unknown place that somehow seems familiar, or a familiar place that you want to flee from. As you get closer, the sculptures appear to be not completely finished, as if they are in a process of constant growth and change.
Nabuqi has a minimalistic approach. The shapes she uses are simple and abstracted. They are reminiscent of reality, yet not specific. For the artist, the sculptures have meaning purely because they exist, as an artistic expression of the artist's energy; they do not tell a story.
Nabuqi is an important representative of a generation of young Chinese artists whose work is more personal and non-narrative compared to the famous artists of the Chinese Avant-Garde, such as Ai Weiwei and Zhang Dali.
Departing from a focus on objects themselves, Nabuqi's work extends to the relationship between objects and the human body, as well as the variations of individual perceptions within different spaces and environments. The Objectseries focuses on the independence of the object, in particular its relationship of mutual influence and contrast with the body. A View Beyond Space juxtaposes two different types of spaces (one real and one imaginary) in order to observe the body's differing responses to these spaces. In her recent works, Nabuqi combines individual sculptural pieces to render a sense of fragmentation within space. Interested in extending these notions to the broader parameter of public space, Nabuqi aims to thereby address the individual's relationship with his or her environment.
About the artist
Nabuqi (b.1984) born in Inner Mongolia, graduated from the Central Academy of Fine Arts in 2013, and currently lives and works in Beijing. Her recent exhibitions include Absent Paragraph (Museum Beelden aan Zee, 2017); Any Ball (Central Academy of Fine Arts, 2017), The 11th Shanghai Biennale (2016) and The 10th Gwangju Biennale (2016). She has been nominated for the 2016 Art Sanya Huayu Youth Award.
About the exhibition
Dates: Aug 30, 2017 – Oct 29, 2017
Opening: Sep 1, 2017, 17:30, Friday
Venue: Museum Beelden
Courtesy of the artist and Museum Beelden, for further information please visit http://beeldenaanzee.nl.
Related posts: