We had a personal communication with Wang Shui-bo about films and animation at the Lecture Hall of CAFA Art Museum at 6:30pm on Wednesday December 5, 2012, part of the academic lecture series for the postgraduate study themed "Facing the Future": the first forum for the postgraduates from CAFA.
Wang Shui-bo initially put forward three questions to students to warm up: which three films affect your lives the best? Students stood to present and uttered their favorite and most expressive films, and expressed their views and thoughts. Chen Fei, an ace at producing special computer affects and computer games, was asked the same three questions by Wang Shui-bo, though he arrived late, and Teacher Chen Fei said the most impressive films for him were "The Last Emperor", "In the Heart of the Sun" by Jiang Wen and "Empire of the Sun", which were fabulous and classical, despite being old and commercial. Mr.Wang said his main job was to share films with students, and he screened a short documentary "Neighbours"(1952) by Norman McLaren, an experimental animation master from UK, who had been in China from 1946 to 1949, though he had been frightened by the tragic Chinese civil war which was worse than the majority of Western wars. Then he produced the film which has the strength to see big things from smaller perspectives, attributes and result of the war, this expressed his longing for world peace and human harmony. Wang Shui-bo said that it was the only animated short documentary to win both an Oscar and a Cannes Film Award. Following the screenings of a film "A Chairy Tale"(1958) by the master, discussing the relations between traditional culture and modern culture, local social changes and colonial culture, it was thought provoking. He was sorry that McLaren died before he went to the National Film Board of Canada, but fortunately, his assistant and colleagues were still working there. Thus, Wang Shui-bo had made friends with a lot of experimental film masters in the mid-1990s, which undoubtedly affected his film career.
The second film screening was "Mighty River" (Le Fleuve Aux Grandes Eaux), a short animated film by Fredric Back, a painter, in 1982, considered to be the best film made by the artist. When it came to the living, Wang Shui-bo could not help himself from talking about the stories of his acquaintance and cooperation with Master Back. He said he had a similar experience with his classmates growing up along with studying painting, and studying the major in comics and teaching in CAFA. However, he was not satisfied with the static painting creation, but wanting to learn about creating films. At that time, when he persuaded the Dean to buy a camera, he was bitterly vetoed, "You're telling a fantastic tale!"The department was obviously too poor at that time and it was too difficult to produce a film. After he had just arrived in America, he could not understand or speak English, while the old Harvard professor and students were interacting fiercely in the first artistic psychology class, he was totally deaf. During the trough period of his life, with no money, no language and in a different culture, he was fortunate to meet Fredric Back, a master animator with a blind right eye, he was introduced to him by his female artist friend, then he was Back's assistant and had three years of cooperation with him to accomplish great works. On his first sight of Back, he was too old and wicked as he was 68 years old but he seemed to be more than 80 years old, it reminded me of Michelangelo, who devoted himself entirely to painting the Sistine Chapel ceiling, making people full of deep respect.
In this film, we could clearly see the traces of the impressionism masters and his good drawing skills. As Wang Shui-bo said, it was hard labor to hand-painted more than twenty thousand sketches. In addition, it was hard for wicked Back to choose the themes. It proved his determination and perseverance by hand-painting the grand narrative and massive aerial effects, without reference to any documentary. As Back said, he hoped to accomplish a perfect work in the last period of his artistic career, he did. The film themed on the relationship between humans and nature, describes the destruction of a river by humans, expressing his deep sorrow at the loss of the natural environment. After the screenings, Wang Shuibo told us, "Art is a way to intervene in society", and had an in-depth exchange with students about the ideas on human civilization development and environmental protection, etc. He spoke of his experience in Inner Mongolian Grassland: when he steeped off a plane, he saw trucks crawling like a group of ants, instead of cows and sheep in the thick brushwood. He said nature would revenge humans, like Wenchuan Earthquake, the Three Gorges Dam…No, you could not talk about that, because the Three Gorges Dam supplied power for Beijing. How ironic the humor is!
Then there were the screenings of his two works. The first one was an animation named "Sunrise Over Tiananmen Square", a series connected with his personal experiences in childhood and development. After that, Wang Shui-bo began to create films, and the second one was a documentary named "They Chose China", describing the stories of prisoners of the Korean War from the US who chose to live in China after the war ended. The film was spliced by real footage, revealing the cruelty of the war, presenting the question about wars, his compassion for humanity and appeal to world peace, touching people as it is.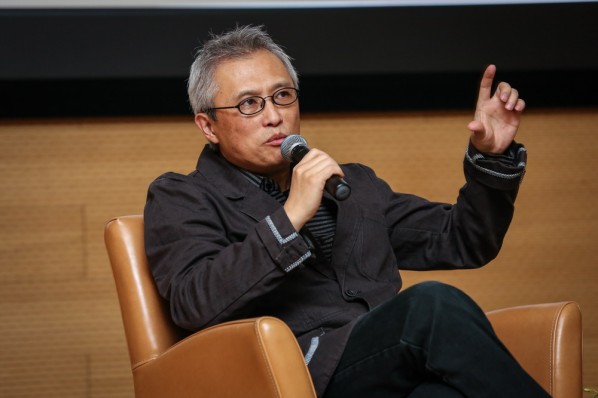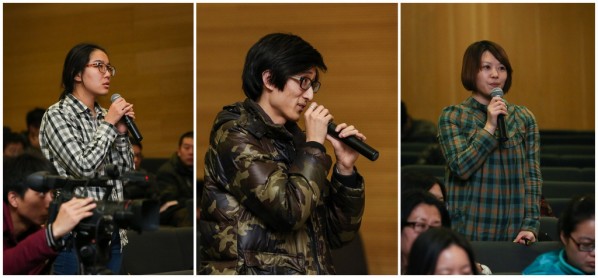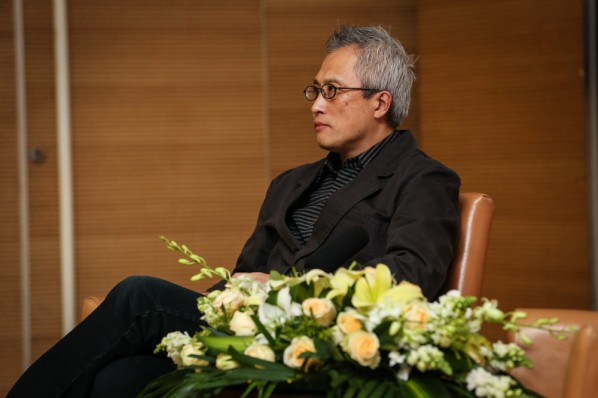 During the last part, a student asked: What are the good works? Wang Shui-bo gave an impressive reply, "A good film is disturbing." Just like the prisoners of war in the film, they were failed heroes. He said he would never produce an entertainment film to please the Chinese market and young audiences. In addition, it was time to test a good film. Then there was a warm applause for his interview and his long persistence and contribution to the film industry.
Text by Xue Jiayin/CAFA ART INFO
Photography by Hu Zhiheng/CAFA ART INFO
Translated by Chen Peihua and Edited by Sue/CAFA ART INFO
About Wang Shui-bo
Born in China on September 11, 1960, Wang Shui-bo studied visual arts at the Central Academy of Fine Arts in the early 1980s. After his graduation in 1985 he taught at the same university as an assistant professor. For further development, he came to Canada as a graduate student in the fall of 1989. He assisted the world famous Canadian animator Fredric Back on his last film, the Academy Award-nominated The Mighty River 1990 to 1993. He has been a director of the National Film Board of Canada from 1994 to today. Invited by his alma mater, Wang Shuibo returned to the Central Academy of Fine Arts in 2005 and has served as a visiting professor and the dean of the Department of Film and Video since then. Wang Shuibo gained the John Simon Guggenheim Memorial Foundation Fellowship for his academic achievements in 2006. He also served as the director of CBC's documentary—Protestant in 2007. His recent solo exhibition—Zen and Revolution took place in the Loft 3 Art Gallery, Beijing in 2008.
Selected works and awards
1998 "Sunrise Over Tiananmen Square" (awarded Oscar Nomination for Best Short Documentary, Gold Apple Award of National Educational Media Network, Golden Award of 1999 World Film Festival Houston, Gemini Award for Best History and Biography Documentary, Golden Sheaf Award of Yorkton Film Festival, etc.)
2003-2005 "They Chose China" (awarded Jury's 1st Prize of Black Maria International Film & Video Festival, Golden Gated Award of 49th San Francisco International Film Festival in 2006, Platinum Remi Award of 2006 World Film Festival Houston, Solver Chris Award of Columbus International Film & Video Festival, etc.)
Related Reports:
1. Wang Shui-bo
Related posts: