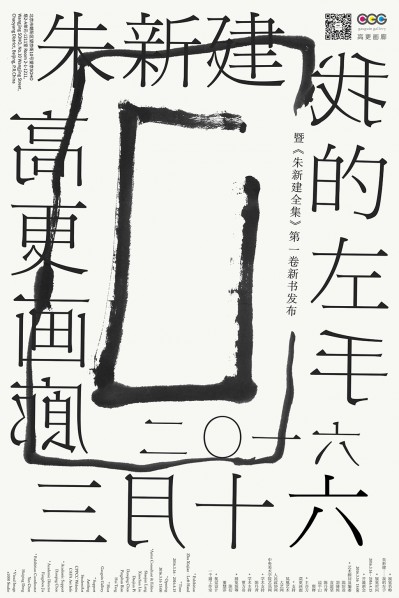 "My Left Hand–Zhu Xinjian" Exhibition & the launch of Volume I of The Completed Works of Zhu Xinjian will come to the Gauguin Gallery on March 16, 2016. This exhibition is hosted by the Gauguin Gallery, and it has invited Lang Shaojun, Liu Xiaochun, Pi Daojian, Chen Danqing, Bian Pingshan and Tang Hui as its art consultants and editorial advisory members. Academically supported by Mr. Chen Danqing, the exhibition has Mr. Jia Fangzhou as its academic chair and editor-in-chief, and it is coordinated by Chen Yan and Dong Huiping.
His Personality–In addition to eating, one should live like you are immortal.
In 1980s, Mr. Zhu Xinjian took the name for his studio: "The Studio that in addition to eating one should live like you are immortal," in response to his constant life pursuit of happiness. Renowned painter Chen Danqing once said that, in terms of motives of the painting and drawing state, I still could not find anyone like Zhu Xinjian. There's something spicy in his work, this kind of astringent satire I thought was endowed by age. Art critic Li Xiaoshan once wrote as follows, "His sensitive, and his sharp touch, his broad vision, are rarely seen. Zhu Xinjian's work can easily be recognized, as his uniqueness and schematization establish his unshakable position in the field of contemporary painting.
As Jia Fangzhou described in his preface for The Complete Works of Zhu Xinjian, "Throughout the history of Chinese painting, even until today among all his predecessors and contemporaries, his unique creation in art, is irreplaceable. His frank and straight attitude is without any taboos, his grasp of brushes with effortless artistry makes his art outstanding and unique."
Critic Li Xianting classified him into the representatives of "South Line" of New Literati Painting, and thus he put forward the concept of "Ruffian Culture", which further influenced later "Cynical Realism."
His paintings–the First Exhibition of His Swan Work "My Left Hand"
Planned and coordinated by Chen Yan and Dong Huiping for two years, this exhibition specially showcases Zhu Xinjian's work with his left hand after he had a serious illness, thus this exhibition was named after "My Left Hand", and this series of his swan work are shown to the public for the first time.
Just as Mr. Lang Shaojun has said, Zhu Xinjian's paintings are in pursuit of "naïve simplicity", "innocent and poetic" and he "senses the feeling that one cannot paint but he wants to draw well," this has similarities with the literati paintings described by Chen Shizeng as "pure and naïve, with no modifications", opera characters painted by Guan Liang, the "innocence" of Qi Baiqi, and paintings by Rousseau and Chagall. In other words, Zhu Xinjian's pursuit came not from a whim of chance, but it abode with the "regulated" artistic phenomenon. His unique feature lies in that, he used the form of classical ink and wash, portraying modern emotions and consciousness of concepts. The difficulty with this is how to treat the relationship between the pursuit of brush and ink skills and tendency to resist skills.
His book–the Launch of Volume I, The Complete Works of Zhu Xinjian
The Completed Works of Zhu Xinjian, was edited in chief by Jia Fangzhou, Lang Shaojun, Liu Xiaochun, Pi Daojian, Chen Danqing, Bian Pingshan, Tan Hui acted as its editorial advisory members, and it took them two years to discriminate and select nearly two thousand competitive works. The premiere of the book as well as the exhibition will be held and on this exhibition there are 100 books with a special version with "Xinjian Seal" for the collection by art colleagues.
"My Left Hand – Zhu Xinjian" Exhibition will remain on view till April 15th, 2016.
About the exhibition
Art Consultants and Editorial Advisory Members:
Lang Shaojun, Liu Xiaochun, Pi Daojian, Chen Danqing, Bian Pingshan, Tang Hui
Organizer: Gauguin Gallery
Supports: IFENG Art
CPPCC Network
Student.com.cn
CAFA ART INFO
Academic Support: Chen Danqing
Academic Director/Editor-in-Chief: Jia Fangzhou
Exhibition Coordinator: Chen Yan, Dong Huiping
Visual Design: x1000 Studio
Exhibition Date: March 16 – April 15, 2016
Exhibition Venue: Room 1211, Unit A, Tower No. 2 Wangjing SOHO, No. 10 Wangjing Street, Chaoyang District, Beijing
Opening: March 16, 2014, 3:00 pm, Wednesday
Courtesy of Gauguin Gallery, translated and edited by Sue/CAFA ART INFO.
Related posts: