Curated by renowned curator Mr. Huang Du, "My Mirrored Realm–Huang Ying's Solo Exhibition" is going to be held at Today Art Museum from December 31th, 2011 through to January 16th, 2012.
Huang Ying was born in Hunan. She was educated at the Beijing Film Academy and the Central Academy of Fine Arts. She lives and works in Beijing. Huang Ying always uses body and its images as the tool to portray her art. After her paintings were recognized, she devoted two years to art making using photographs and videos. Her creations, which combine scene shooting and post production, enable her to freely create her "virtual reflection of reality".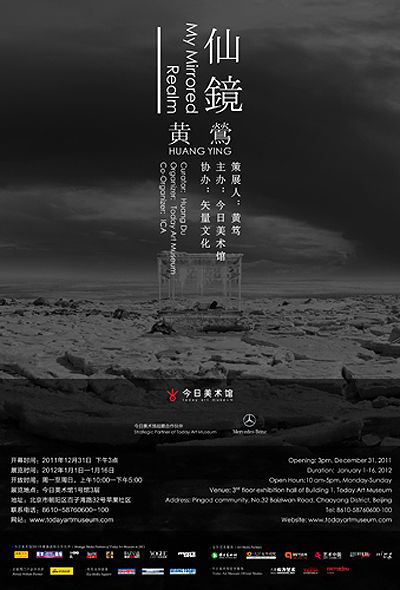 The art of Huang Ying is a process of self-exploration. In this show, Huang Ying will use photography and video to show us the possibility of multi-existence between the self and the environment. She puts the body in a virtual reality that she created, and tries to establish and secure the existence of self in a world where the self has vanished. The reality her works depict is more like a retreat from the real world, a place of happiness and peace. However, this imagined place is surreal, more lonely and a more merciless world. This demonstrates the artist's reflections on the reality of our commercial society, which is full of deceit and eagerness for money, profit, and materialism.
Huang Ying-Metamorphosis, 2011; Video, 5m50sec
In the world of Huang, the body has no particular identification, but rather is abstract and metaphysical. One will not resist or comply when he encounters reality, but rather look for a subtle balance in the endless conflict between himself and the environment, and even invade or infiltrate into the reality. All these interactions, adaptability and abstraction of the encounter between the individual and the environment reflect Huang's eastern aesthetics which is explicit in her works. However she abandoned the traditional forms in her works, which is always associated with eastern aesthetics, and utilized various kinds of modern art languages and methods, such as cinematic methods, montage, narrative suspension, collage and synthesis methods and 3-D animation, thus our perception of specific space and time changed, and achieved a unique combination of Chinese aesthetics and modern languages.
Huang Ying's self-exploration is purposing a question: what on earth is the relationship between man and nature, and between man and the real world? This relationship broadens the concept of "body" from natural body to social body, scientific body, and moral body, thereby showing us the fact that the situation of an individual actually reflects the situation of mankind.
Organizer: Today Art Museum
Curator: Huang Du
Opening: 3pm, December 31, 2011
Duration: December 31, 2011–January 16, 2012
Venue: 3rd floor exhibition hall of building 1, Today Art Museum
Address: Pingod community, No.32 Baiziwan Road, Chaoyang District, Beijing
About Huang Ying
Born in Hunan and lives and works in Beijing now;
Studied in Photographic Dept., Beijing Film Academy and in Oil Painting Dept., the Central Academy of Fine Arts, Beijing
Solo Exhibition:
2006 "Blooming", Huang Ying 's Exhibition, Liquor Factory International Art, Complex, Beijing
Group Exhibition:
2011 No Absence Inaugural Exhibition of Wenxuan Art Museum 2011, Chengdu
2010 2010 Screenage Art Document Exhibition, Songzhuang Art Museum, Beijing
2009 Remix and Share, Creative Commons Art Exhibition, Inter Gallery, Beijing
Enantiomorphous Art of Female, White Box Museum, Beijing
Park Art Fair International © Geneva 2009
2008 Art Basel Miami Beach 2008, USA
Olympic Fine Arts 2008, Beijing
"Chinese Situation" contemporary art exhibition, Beijing
The Documental Exhibition of China's Contemporary Art, Beijing
2007 Rich Colors, Invitation Exhibition of China's Contemporary Female Artist, Guan ShanYue Art Museum, Shenzhen
2006 Varied Image—Invitation Exhibition of China's Contemporary Paintings, Shanghai Art Museum, Shanghai
Related posts: