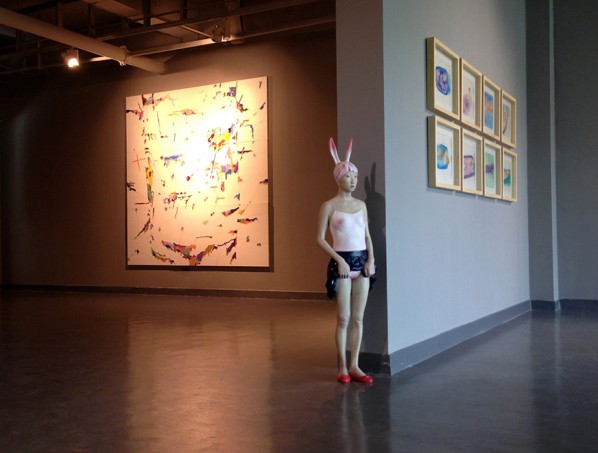 In the early summer of 2013, I saw the watercolor paintings "Beauty", "Hold a Cat Figure Series", and "Bath" by Zhang Chunyang. All on a common theme: women's body, the works were created in 2010, when the artist was pregnant. The plastic figures have no law under the pen, being arbitrary, the color is the strong contrast, a personal style; the characterization not only gets rid of previous self-indulged notions, Munch-style depression, but also reflects a kind of fairytale mood perspective, accompanied by an easy self-confidence. Since 2008, Zhu Peihong created the "Wall", "Dried Flowers" and "My space" series, including both acrylic on paper and digital print. "My Space" series is presented in an abstract form, but the artist strongly rejects the empty conceptual idea, instead, focuses on the creative process, in order to release the impetuous feeling of life, to pursue true self.
In 2011, Qin Weihong created a series of sculpture of "marginal fairy tales" such as "Bunny", "Dancer" series. In the traditional concept, the image of "Bunny" stands for openness, however, the artist creates a shy, conservative and weak female image, whose mind is filled with curiosity while also peeping into privacy.
Although the three artists above have their respective characters of shape and color, and different directions in their works, her / their works are references to aspects of human nature and reality, with the use of language, or by being easy to understand , or an humorous delusion. We look forward to more and more artists with "my shape my color" artists.
— Foreword of "My Shape My Color" Group Exhibition at UP SPACE
by Jin Hua
June 7, 2013
About the exhibition
"My Shape My Color" Group Exhibition
Curator: Jin Hua
Artists: Qin Weihong Zhang Chunyang Zhu Peihong
Duration: June 16 – July 31, 2013, 10:00 am – 20:00 pm
Opening Reception: 16:30 – 19:30 pm, June 22
Venue: UP SPACE, N2-46 Tai Koo Li, No.11 Sanlitun Road, Chaoyang District, Beijing, P.R. China
Translated by Chen Peihua and edited by Sue/CAFA ART INFO
Related posts: