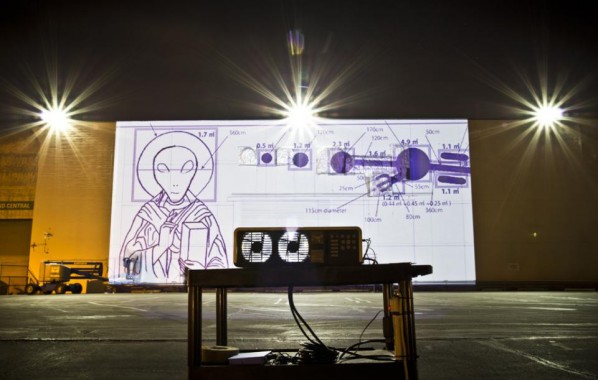 The exhibition opened with a public outdoor explosion event, Mystery Circle: Explosion Event for The Museum of Contemporary Art, Los Angeles, on the exterior wall of The Geffen Contemporary at MOCA (facing Temple Street) at 7:30pm on Saturday, April 7.
Mystery Circle, a site-specific work created for MOCA, contains four stages of special pyrotechnics. At the moment of ignition, 40,000 firework rockets formed a string of crop circles and launched perpendicular to MOCA's north wall, toward Temple Street, before falling onto the ground. Amidst a curtain of smoke, approximately 100 spinning pyrotechnic UFOs sporadically appeared from the parking lot grounds, while an imaginary alien – god figure on the left side of the wall was outlined from bottom to top by gunpowder fuses. When the burned fuses reach the "halo" of the figure, mini Titanium Salute rockets shot into the air followed by a grand finale. The rockets have created a burned imprint on the museum wall, leaving an outdoor drawing. While Cai's signature explosion events, Project for Extraterrestrials, have been dedicated to creatures from outer space, his new project at MOCA is the first time an imaginary alien figure actually appears.
Related Report: "Cai Guo-Qiang: Sky Ladder" features his new works at the Museum of Contemporary Art, Los Angeles
Courtesy of Cai Guo-Qiang Studio and the Museum of Contemporary Art, Los Angeles, for further information please visit www.caiguoqiang.com.
Related posts: