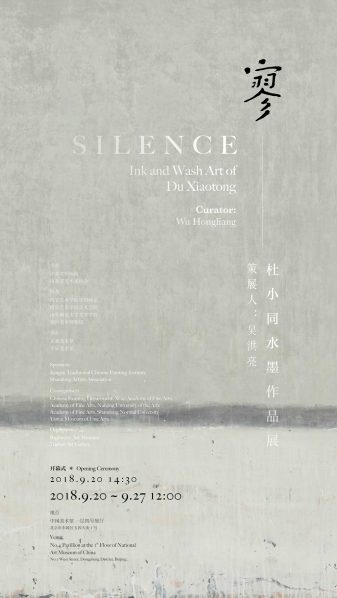 "Silence—Ink and Wash Art of Du Xiaotong" Exhibition will open 14:30 on Sept. 20, 2018, at NAMOC. This exhibition is sponsored by Jiangsu Traditional Chinese Painting Institute & Shandong Artists Association and co-organized by Rightview Art Museum & Yuchen Art Gallery. Vice president of Beijing Fine Art Academy, Mr. Wu Hongliang is the curator of this exhibition.
Du Xiaotong, born in 1970s, is a maverick artist in contemporary Chinese ink and wash art circles; the monological feature and alienated feelings in all his artworks could be concluded with one word: "Silence". "Silence sometimes means profound." "Though being silent and lonely, independence will never change" is precisely the temperament of Du Xiaotong. As an artist focusing on drawing ink and wash art, Du Xiaotong is still expressing his feelings in mountains and rivers. Rather than abandoning tradition, he has been trying to find the new boundary between ink, brushwork and artistic conception, showing his positive attitude in going deep into tradition and explore tradition. With seemingly soft and obscure pictures, he is actually guiding us to his meanings of "silence" in an unyielding and strong way. We could find the spirit of Dong Yuan, Ni Zan, Shi Tao and Zhu Da in his wide, cold and silent style; meanwhile, his attitude facing this mundane world and his calmness before art, and his courage to expand the grammer of ink and wash art, bestowed his art with the so-called global connotation of the 21st century.
Two series of his art themed "Sea, Coastal Beach" and "Bamboo, Stone" are selected to show in this exhibition. The tension and wideness in Du Xiaotong's artworks are the inspiration of curatorship. "Sea" was a theme once belongs to blue civilization and is rarely seen in Chinese ink and wash art, it is not proper to be displayed with Chinese writing brushwork with ink and wash. The endless and unpredictably changing sea brings us the suffering of monotonous feeling, adventure and crisis, which are obviously not the narrative direction of Chinese ink and wash art. Du Xiaotong studied this theme for many years and tried to make some new achievement. He draws coastal beach and the boundary between sea and sky, while people never appear in his pictures as characteristic personality, but rather, they look small in the endless sea water and give us a desolate feeling. Du Xiaotong is precisely expressing his deep feeling for the sea with personal ink and wash language. In this exhibition, an artwork titled "The Long Coastal Beach" (190x830cm)with the largest dimension well expressed this feeling that visitors would even feel like stepping into it. "Bamboo, Stone" is Du Xiaotong's new exploration into traditional theme after his "Sea, Coastal Beach" series. Comparing to his questioning to the sea, "Bamboo, Stone" are important objects in traditional Chinese art. As they are very mature in form, language and ideographic system, Du Xiaotong treats them in a very discreet way and keeps distance from them intentionally; his art echo them but never be same to them. His "Bamboo, Stone of Heaven Pool" series and "Tides" series, should be his fruits of his careful exploration and expression.
As for the design of layout of this exhibition, comparing with Du Xiaotong's exploration, we used a flashback structure with only three colors——black, white and grey——making this exhibition look simple and peaceful. Visitors will walk through the corridor between bamboos and enter his exhibition from a small space to view "Bamboo, Stone" first, then they come into a large pavilion to find the endless sea; the strong contrast may also be another perspective to interpret the title "Silence". All in all, both the transcendent feeling of "Bamboo, Stone" and the indifferent attitude of "Sea, Coastal Beach" are all metaphors of the collision and fusion of Du Xiaotong's "view of mountains and rivers" and "view of sea" in his art.
Courtesy of the artist and edited by Sue/CAFA ART INFO
Related posts: