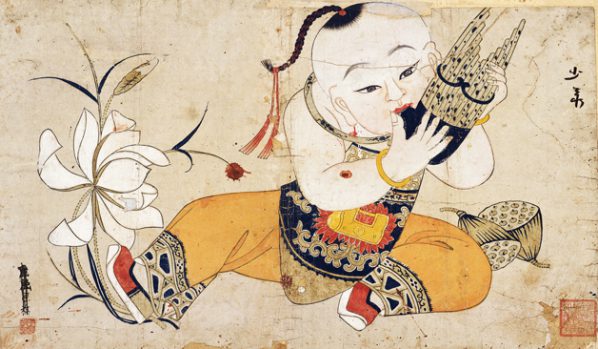 Folk New Year Painting is a kind of traditional art category closely associated with people's life, and a wide range of masses love to appreciate them. Among them, Yangliuqing New Year painting is the outstanding one. Yangliuqing originates from Tianjin. The printing of New Year paintings locally started from the middle and late period of the Ming Dynasty, reached its prime time in the reign of Emperor Qianlong and Jiaqing of the Qing Dynasty, in which the grand occasion that "every family is good at making paintings" could be seen. Through long-term development, in Yangliuqing New Year paintings, the unique skill in which printing and painting are integrated has been formed. With exquisite carving, delicate colored drawing, diversified painting samples and extensive influence, it can be called the great achievement in the New Year Painting art, and enjoys great prestige in history.
National Art Museum of China owns abundant folk art collections. At the "Classical and Vivid Collection" series exhibition, more than 100 Yangliuqing old edition New Year painting works are selected. Among them, there is no lack of draft sketches and the only existing copies. At the exhibition, comprehensive display is shown in the aspects of subject matter, function, skill and etc. Through the interpretation of the works, it aims to convey the folk traditional thinking mode and aesthetic conception contained herein, demonstrate the unique artistic charm of Yangliuqing New Year paintings, and carry forward excellent traditional culture and national arts in China.
About the exhibition
Dates: January 10th – March 26th, 2017
Venue: National Art Museum of China
Courtesy of the National Art Museum of China, for further information please visit www.namoc.org.
Related posts: