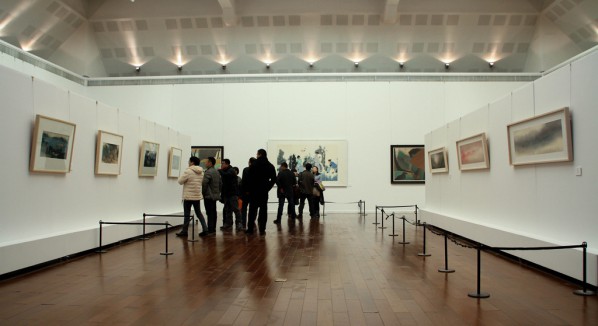 On the afternoon of December 20, 2015, "New Images with Ancient Implications: 2015 December Invitational Exhibition of Ink" opened at Yanhuang Art Museum, echoing the "2015 'Yanhuang's Contemporary Chinese Painters Spring Invitational Exhibition" held at the museum in the spring and it presents the works by more than 40 young contemporary ink painters, the exhibited works reflect the aesthetic features of traditional Chinese ink painting to a certain extent and also embody the painters systematical study of traditional Chinese paintings that practice the classical technologies of brush and ink, as well as the attempt and exploration of the language of the new ink painting.
Director of Yanhuang Art Museum Cui Xiaodong addressed the opening ceremony and said that it was the second round of the exhibition, and he hoped to continue to make it a brand, to support the young painters. At the same time, Cui Xiaodong also hoped the young painters can create calmly and with intent.
Traditional Chinese ink paintings attach a great importance to the inheritance of the predecessors, both the tangible "brush and ink" and the invisible "mental state" are crucial for artists. Living in the moment, the painters connect the remote "ancient implication" together with the works they also present the current fun of life. Through capturing the current fun of life, the painters cleverly blend this into paintings, so that the traditional classic beauty presents new contents within the "ancient implication". The presentation of these contents is mainly diverted from the painters' attention to the observation and experience of daily life. Through sketching the landscape on site, the artists inject a more diverse depiction of reality onto the canvas, so that these works of "ancient implication" are more vivid.
The participating painters have experienced a study of the system of the academy and are able to freely control and rein in the traditional techniques and materials, so that, their works might blend with the "new image" into the "ancient implication", or drift away from the "ancient implication" and "new image", in a word, they have a feeling of nostalgia and connect with current reality. The "New Images with Ancient Implication" is an interesting relationship, and it will be presented in various forms and content along with the elapsing of time. The exhibition invited 50 young artists that are active in contemporary painting circles and they inherit tradition in their own way, on the other hand, by constantly experiencing life, they blend new feelings into the works, so that we can see the coexistence and engagement of "ancient implication" and "new image".
The exhibition continues to December 28.
Text and photo by Zhang Wenzhi/CAFA ART INFO

Translated by Chen Peihua and edited by Sue/CAFA ART INFO
About the Exhibition
Title: New Images with Ancient Implications: 2015 December Invitational Exhibition of Ink
Host: Yanhuang Art Museum
Duration: December 20 – December 28, 2015
Venue: Yanhuang Art Museum, F1 and F2
Artists:
Cai Hanyue, Chen Zhao, Cheng Rui, Cong Yi, Dai Lingyun, Du Mingze, Guan Jian, Guan Yuan, Guan Minghua, Guan Yuzi, Han Tingting, Hao Wenjing, He Lixin, Hou Zhen, Huang Xueji, Jiang Yanan, Jiang Feiran, Jinze Youna, Kong Yan, Kong Linghai, Li Xia, Li Bona, Li Luyu, Liang Guifeng, Liu Xia, Liu Shaoning, Liu Shihao, Lu Ying, Lu Lu, Miao Tong, Pan Chuan, Pan Yu, Ruan Xiaohui, Shen Huiqin, Su Jun, Tu Yanli, Wang Fusheng, Wang Hongguo, Wang Huixiao, Wang Yuping, Xu Guangju, Yu Yang, Zeng Huiling, Zhai Jianqun, Zhang Chunqiao, Zhang Yishen, Zhang Xiaofang, Zhao Lina, Zhou Yanzhong, Zhu Ling
Related posts: