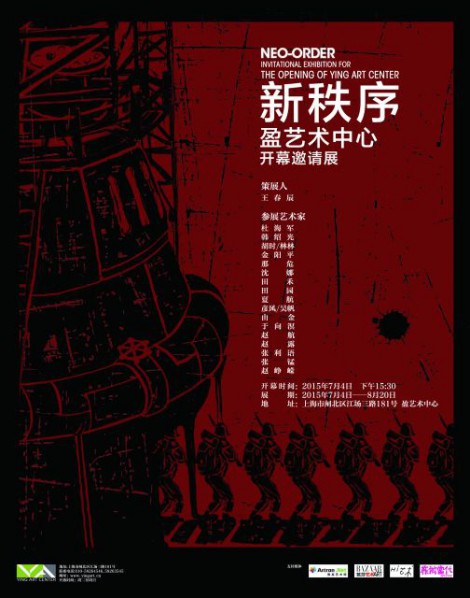 On July 4, Ying Art Center in Shanghai will present "New Order: The Ying Art Center Opening Exhibition." Curated by noted scholar and academic department director of the CAFA Art Museum Wang Chunchen, the exhibition features a dozen outstanding contemporary artists working in media ranging from painting to sculpture, video to installation. All of them reflect the artists' independent values.
Ying Art Center was established in early 2015, with a headquarters in Beijing and a branch in Shanghai. Ying Art Center curates art exhibitions, promotes unique contemporary artworks, and uncovers emerging contemporary artists, as a manager and promoter of contemporary art.
"New Order" is Ying Art Center's first attempt at examining art in a new context, and the show reflects Ying Art's desire to inject new life into contemporary art. Art has once again been given reflective value, and this is a project which we have been working on for nearly one hundred years. This is also the medium humanity has found to express its significance. "New Order" is a yardstick by which we can reevaluate and construct art, and one that provides the art world with a lasting goal. This is the historical process of the rewriting and redefinition of art. The new order continuously works toward creativity and reflection; it is the way in which art becomes real.
About the exhibition
Dates: Jul 4, 2015 – Aug 20, 2015
Opening: Jul 4, 2015, Saturday
Venue: Ying Art Center
Curator: Wang Chunchen
Artists: Du Haijun, Han Shaoguang, Hu Shi + Lin Lin, Jin Yangping, Na Wei, Shen Na, Tian He, Tian Yuan, Xia Hang, Yan Feng + Wu Fan, You Jin, Yu Xiangming, Zhang Meng, Zhao Hang, Zhao Lu, Zhao Zhengrong
Courtesy of the artists and Yin Art Center.
Related posts: