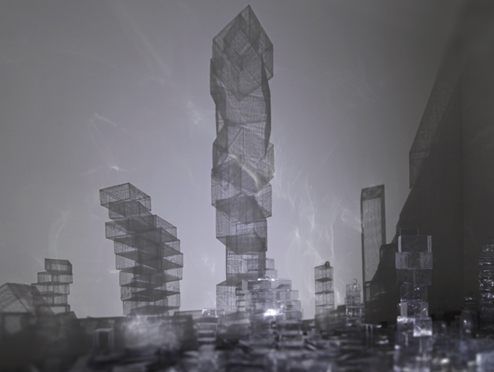 Chinese Arts Centre is delighted to bring you a fresh new partnership programme, Recalibrate, supported by Taiwan's Ministry of Culture. Working together with Peter Scott Gallery (Lancaster) and Site Gallery (Sheffield), the 3 venues will present the first UK solo showcase of Taiwanese artist Wu Chi-Tsung. Collectively showing a range of previous and newly commissioned works, the partnership will offer a unique insight and perspective into the artists' work and wider perspectives and trends of contemporary Chinese arts practice.
Chinese Arts Centre will be showcasing two key works by the artist, including a collection of cyanotypes from the series Wrinkled textures and a brand new commissioned installation, Crystal City 004. Both sets of work present two very different areas of interest for the artist, but both are inherently connected by his aspirations and fears for an ever changing world.
Crystal City 004 is an all-encompassing installation, where the audience becomes part of the work itself upon entry to the space. Filling both the room and therefore the audiences' environment with a moving and constantly shifting city scape, the audience are playfully introduced into a city which appears and disappears as regularly as the pace we see the rapid development of cityscapes in Asia today. Wrinkled textures, in comparison use the classic photographic technique of direct sun-light exposure to explore the aesthetics of traditional Chinese landscapes. Beautiful cyanotype prints will also sit within the gallery space as an alternative reflection of change and shifting landscapes across Asia and how this reflects global shifts for us all.
About the exhibition
Duration: 30 August – 12 October 2013
Venue: Chinese Arts Centre
Cyanotype Printing Masterclass
with artist Joe Ford
Saturday 5th October, 12.30pm – 3pm
Chinese Arts Centre
£15, 16+
In response to Chinese Arts Centre's first UK solo show of Taiwanese artist Wu Chi-tsung, artist Joe Ford will deliver a one-off Cyanotype Printing workshop alongside a Curator's tour of the exhibition.
Wu Chi-Tsung's Wrinkled Texture series are formed from cyanotype photographic techniques, exploring the aesthetics of traditional Chinese landscapes. In this session Joe will teach you the basics of the process and give you a brief summary of its history and use. You will then create a photosensitive cyanotype print, exposed with a choice of objects (photogram), an A4 acetate negative or a paper print.
By the end of the session you will have made a cyanotype print to take home and have the knowledge required to experiment with the technique further!
The Cyanotype Printing Masterclass will include a Curator's tour of the exhibition, a practical demonstration and workshop, and an open discussion of the artist's work.
This event is recommended for those with an interest in photography at any level who would like to be more experimental in their work, with no prior experience necessary.
Enquiries: hannah@chinese-arts-centre.org
E-Book Launch:
11th October texts by Rachel Marsden, Elizabeth Wewiora and Jiang Jiehong
Courtesy of the artist and Chinese Arts Centre, for further information please visit www.chinese-arts-centre.org.
Related posts: