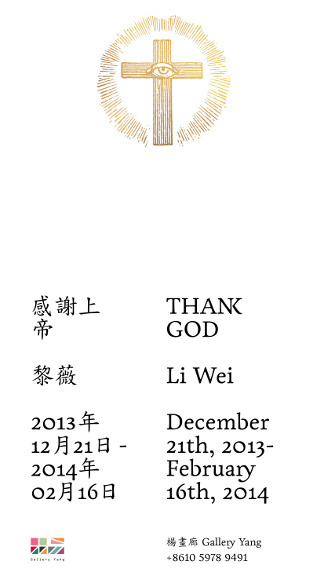 Thank God / Li Wei
Human beings have increasingly considered themselves the noblest of all creatures in the world. Correspondingly we have produced various beliefs, and made up all sorts of glory or maxims. Those thus produced or made up were constructed on an unfair basis at the beginning; and many beliefs in the name of love had gradually become pure chicken-soup-for-the-soul, which we love to disseminate yet never practice. For the only thing we do not believe in is life itself. So absurd a joke it is.
To live on, an unimpeachable belief of all creatures, is a prerequisite for everything in life. A maxim in the Bible reads: "A live dog is better off than a dead lion." More often than not, human beings do not trust their own thoughts; they must count on something else, something seemingly more solid, even if in fact it violently contradicts itself. For it seems safer to thank god than to thank ourselves.
Li Wei
1981 Born in Beijing, China.
2007 Graduated from the Third Studio of the Sculpture Department of CAFA, Bachelor's Degree.
Now living and working in Beijing.
Solo Exhibitions
2013 Confessionnal, A2Z Art Gallery, Paris, France
2011 Hero, Today Art Museum, Beijing, China
2010 Unpeaceful Christmas Eve-A Block Of Cake, Copy Café, Beijing, China
2009 The Hollow Men, Hanmo Art Gallery, Beijing, China
About the exhibition
Duration: Dec 21, 2013 – Feb 16, 2014
Venue: Gallery Yang
Opening: Dec 21, 2013 Sat 16:00
Tel: 010-59789491
Add: No.20, East of 798 Originality Square, B District in 798 Art Zone, No.2 Jiu Xianqiao Road, Chaoyang District, Beijing
Courtesy of the artist and Gallery Yang, for further information please visit www.galleryyang.com.
Related posts: