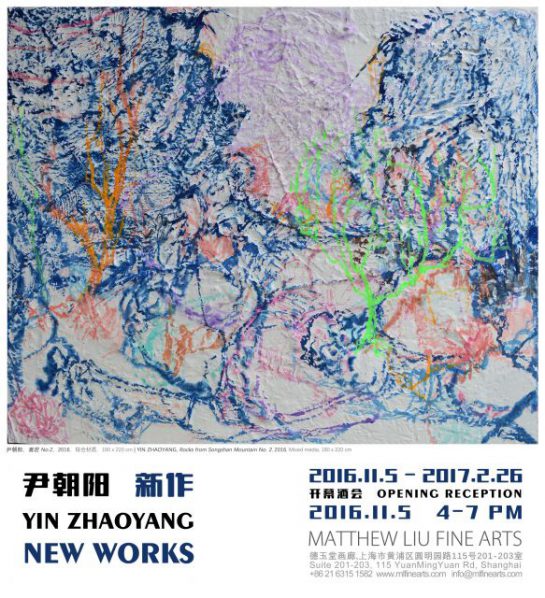 For over two decades, Beijing-based contemporary artist Yin Zhaoyang has been creating shockingly expressive and provoking works that explore the sense of anxiety, melancholic sentiments and bewilderment that young people experienced in the swiftly changing social environment in the post-Mao China. As a representative figure in the style known as Youth Cruelty that was developed among a group of contemporary Chinese artists in mid-1990s, Yin is best known for his realistic portraitures of youths, often his self-images or artists and poets from his circle of friends, with fierce or nonchalant expression.
In recent years, Yin's works have shifted towards representations of landscape and become increasingly abstract and conceptual. With bold colors, he expresses his individuality, inner feelings, thoughts, pursuits and state of mind through his expressive brushstrokes in depicting landscape in styles and manners that are reminiscent to the traditional literati painting. His several visits to the Songshan Mountains inspired him to create works that privilege spirit and brushwork over form-likeness, and value calligraphic expressiveness over mimesis. In this new body of work, Yin Zhaoyang transforms classical landscape styles into abstract brush idioms and by manipulating their thickening and thinning calligraphic elements, creating a fused, illusionistic, pictorial surface that allowed him to master both nature and history.
Boundless and vigorous, the splendid landscapes in the works in this exhibition are sensitive and dynamic in nature. The artist's bold and animated brushstrokes are effortlessly embedded with implications and wonderful subtleties. The fusion and overlapping of oil paints allows him to simultaneously present instant emotional outbreaks and deliberate thought, rendering the final images both visually intensive and full of delicate details. The mixed media works in the Rocks from Songshan Mountains series are executed in a special technique that the artist developed himself. Yin paints with ink and color on Xuan paper, and then casts layers of plaster before painting on the rough and uneven surface again. In the end, he employs scrapers and brushes to scratch through the painted surface to create a coarse texture. The compositions and the undulations evoke the lofty and abstruse interest of the spirit in traditional Chinese art. On the other hand, the lash and intensive colors that brushstrokes are in sync with the visual language in contemporary art, which renders the final imageries imposingly magnificent with exquisite ease. A collection of new works on paper is also on view, including Taigushan Mountain No. 1 (2016), Taigushan Mountain No. 2 (2016), and A Chilly Forest (2016). In sharp contrast to the strong palette he chooses for his oil paintings, these works are pure and fresh, fully elaborating his idiosyncratic expressions and calligraphic brushstrokes.
About the exhibition
Dates: Nov 5, 2016 – Feb 26, 2017
Opening: Nov 5, 2016, 16:00, Saturday
Venue: Matthew Liu Fine Arts
Courtesy of the artist and Matthew Liu Fine Arts, for further information please visit www.mlfinearts.com.
Related posts: