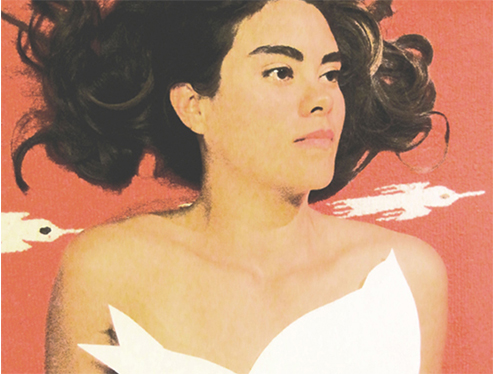 Nina Yuen is a Hawaiian-born artist who combines fictionalised personal memories and disparate accounts of the past to create alternative realities. She uses video as her medium of choice to create striking assemblages of performance, montage and melodic voiceovers. The works develop from a time consuming process which sees Nina immerse herself in constructed environments specific to her characters, with often moving results.
In the video work Alison, the loose narrative is inspired by a story of Yuen's childhood friend who one winter disappeared without a coat and was found dead months later. The piece incorporates the artist's voice-over of an excerpt from the missing persons report filed by his mother (Alison), a snippet of Virginia Woolf's suicide note, and a poem by Raymond Carver. As in many of Yuen's films, a dream-like quality pervades the fragmented stories and richly textured visual elements.
Heather Who is a video work which features Yuen's students from an elite private prep school. A full cast of teen girls portrays a single protagonist in Heather Who; they act out a symphonic series of introductions as a single voice narrates the film. Their stories illustrate the way the act of naming brands an individual to memory, and the complications this may lead to. Don takes as its subject the breakup of the artist's mother with her ex-husband. Yuen recorded her mother speaking about various relationships and memories throughout her life, which the artist then transcribed and taped to the ceiling of her studio as cue cards. Yuen narrates the piece by lip-synching her mother's words.
The artist plays multiple characters in the video, creating a temporal disjunction between the stories as recalled by her mother and Yuen's acting out their retelling. Various portraits will also be showcased within the gallery space, setting the scene or backdrop to the video works playing that will echo the working methods of the artist.
Yuen studied at Harvard University and the Rijksakademie, Amsterdam. She is represented by Lombard Freid Gallery, New York and Galerie Juliette Jongma, Amsterdam. Yuen has exhibited at Stetner Museum, Oslo, Norway; Stedelijk Museum, Schiedam, Netherlands; the New Media Festival, Seoul, Korea; Moscow International Biennale for Young Art, USSR and in 2013, will have a solo exhibition at De Appel Arts Centre, Amsterdam, Netherlands.
About the exhibition
Preview: 21 March 2013, 5.30-7.30pm
Exhibition: 22 March – 11 May 2013
Artist Talk: 22 March 3.30-4.30pm
Courtesy of the artist and Chinese Art Center, for further information please visit www.chinese-arts-centre.org.
Related posts: