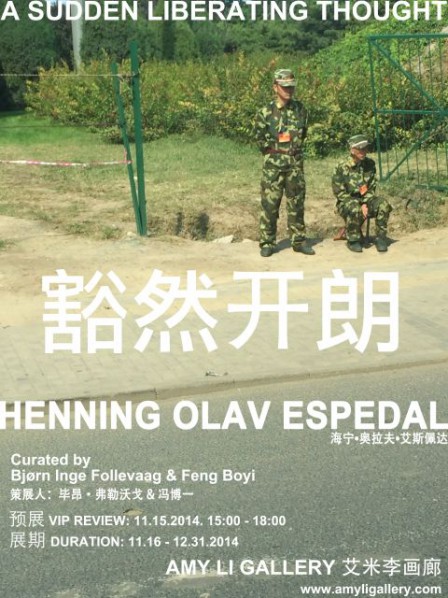 Amy Li Gallery proudly presents the Norwegian artist Henning Olav Espedal's exhibition "A Sudden Liberating Thought". Curated by Bjørn Inge Follevaag (Norway) and Feng Boyi (China). Supported by The Norwegian Embassy.
Henning Olav Espedal's work explores the cosmic perspective by juxtaposing it with an immediate and earthbound environment. This exploration is founded in the laws of physics as well as in obscure mystery, and embedded in the shroud of abstraction. He strives to give these hybrid ideas a humanized form. Most of the pieces in this show Espedal conceived by turning observations from his immediate surroundings into sculpture, sound, installation and painting. Further, the instrumental function of these pieces comes to life when it can stimulate to a contemplation on the magnitude of macrocosm, shifting the attention from the personal to the cosmic perspective. In Espedal's own words: I envision a passage, through my own mind and towards what lies beyond —"The percept is the landscape before man, in the absence of man." (Deleuze&Guattari, Qu'est-ceque la philosophie? 1991)
Henning Olav Espedal addresses themes such as predestination, determinism and the possibility of escape in his exhibition "A Sudden Liberating Thought". In a massive, industrial field installation of sculptures and sound as well as in his paintings, Espedal documents a state of collapse and constant regeneration.
If one agrees that ours is a culture dominated by insensitivity to pain and a loss of memory, it is also true that there is simply no laying to rest the scars of violence and the ghosts of past suffering. In his work Espedal epitomizes Hegel's thesis: "as long as there is an awareness of suffering among human beings there must also be art as the objective form of that awareness."
The exhibition will be on view from November 15th through December 31th.
About the exhibition
A Sudden Liberating Thought — Henning Olav Espedal
Curated by Bjørn Inge Follevaag (Norway) and Feng Boyi (China)
Opening: 15 Nov , 2014(Sat) 15:00 – 18:00
Duration: 16 Nov – 31 Dec (Tue-Sun 10:00 – 17:30)
Venue: Amy Li Gallery (No.54 Caochangdi, Chaoyang district, Beijing)
Tel: +86 10 64340616
E-mail: info@amyligallery.com
Courtesy of the artist and Amy Li Gallery, for further information please visit www.amyligallery.com.
Related posts: