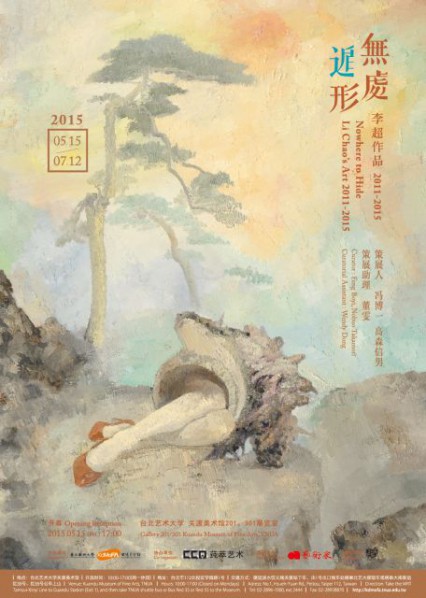 Preface
By Feng Boyi
The exhibition "Nowhere to Hide – Li Chao's Work (2011-2015)", sponsored by KdMoFA (Kuandu Museum of Fine Arts) of Taipei National University of the Arts and curated by Feng Boyi and Nobuo Takamori, will be held in the hall 202/301 of KdMoFA from 15 May to 12 July, presenting fifteen pieces of his oil paintings in recent years.
Li Chao graduated from the Mural Painting Department of CAFA (the Central Academy of Fine Arts, Beijing) in 2007. As one of representative and active artists among Chinese young generation, his visual schema seems realistic appearance, in fact, is a kind of fictional visual rhetoric. Through the virtual image of variation the fictional reality breaks the binary oppositions of reality and imaginary, and subversively misplaces the so-called reality. What he has focused is not just reality itself, but the survival experience with personal memory, because the reality is a sort of fact cognised and recognised, while the true state of survival is the living environment that have been covered in life. His art reconstruct and shape his awareness to realistic situation, present texture of oil painting language by variational, hybrid and fantastic images, which deduces eternal entanglement and confusion between the human and the fate.
This is the key point of this exhibition and also the visual mark of his work. Through realistic personal visual experience he has intentionally tailored the fragments of figures, landscapes and objects in order to release his experience, cognition, taste and confusion in hypothetical status. From this point of view, he has truly showed his fragmentary and painful perception and experience in the dairy life, urging us to think our anxiety attributed to realistic survival, emerging anguish and loneliness. Therefore, the significance of Li Chao's art is to seek a kind of "nowhere to hide" psychological projection in certain abstract reality of the inner refraction, rather than do in the corresponding realistic relation.
About the exhibition
Dates: May 15, 2015 – Jul 12, 2015
Opening: May 15, 2015, Friday
Venue: Kuandu Museum of Fine Arts
Courtesy of the artist and Kuandu Museum of Fine Arts, for further information please visit www.kdmofa.tnua.edu.tw/en.
Related posts: