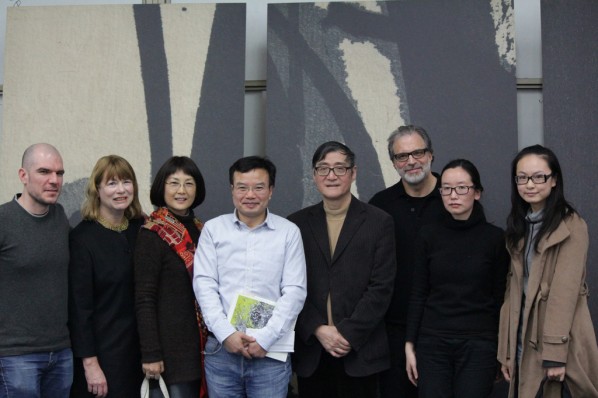 Jointly organized by the School of Arts of Peking University and the Central Academy of Fine Arts, the lecture "Observing Ink and Wash in the Cross-Cultural Perspective" was held at Guanghua School of Management of Peking University on November 15. Peng Feng, Professor of the School of Arts of Peking University, presided over the lecture and invited Pan Gongkai, President of the Central Academy of Fine Arts, and Cliff Ross, an American artist to discuss their artistic creation. Cliff Ross presented his latest series of works of video and installation, photographed and produced on the basis of an ink and wash painting, a gift by Pan Gongkai years ago. Professor Peng Feng made a brief speech, and said the creation by Cliff, produced by advanced digital art, broke through the limitation of traditional ink and wash, and achieved a fusion of antiquity and technology. And he hoped to seek a new possibility in developing traditional Chinese ink and wash through this dialogue.
Firstly, Pan Gongkai made a speech and said it had been an unsolved problem on how to change traditional ink and wash style to be modern, and Cliff, as an American artist, had done it in his own way, but he was still exploring, and the more people that joined the better.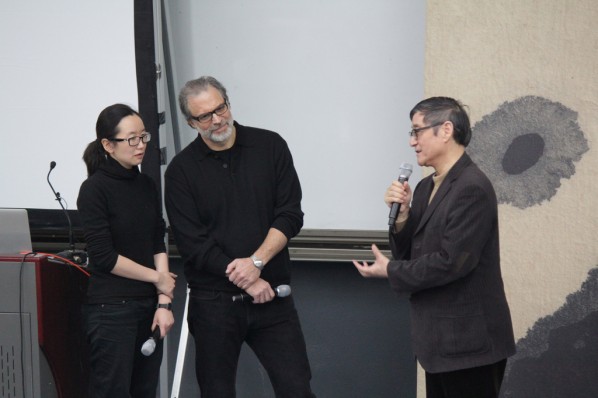 Cliff Ross fully agreed with Pan Gongkai's speech, and believed that not only can a Chinese artist discuss the transformation of traditional arts to modern arts, but also artists all over the world did. Cliff said, when he received and firstly saw the gift by Pan Gongkai, he saw not a small-sized ink and wash but a large-scale landscape. He found the charm of art was originated from double clues of cross-culture and cross-time. The charm of this works emerged through the paper and ink, and even the texture of the chapter. He had exaggerated these details as much as possible to perform the "poetic" texture. At the same time, he had succeeded in reprinting the works by woodblock, and he said he would go on exploring along this road.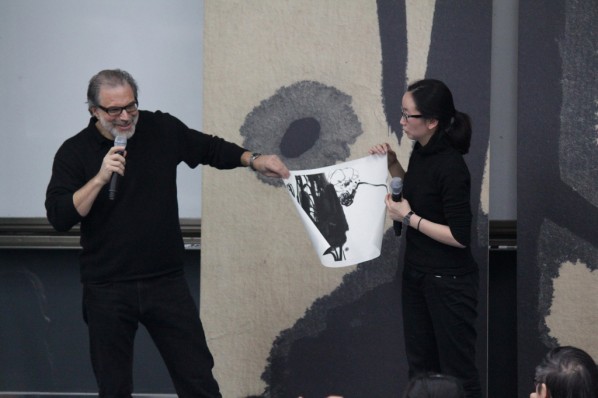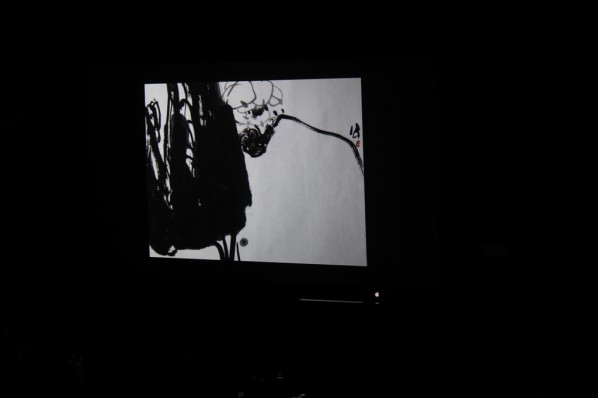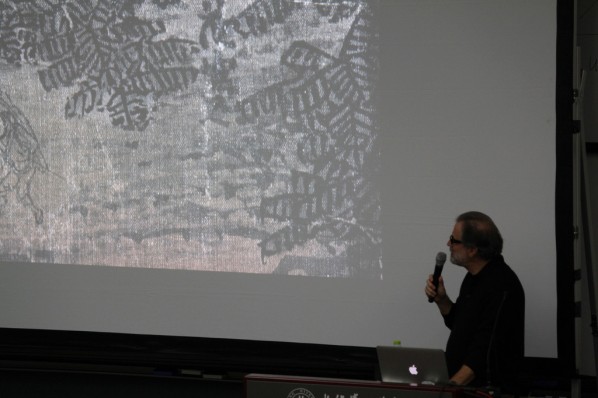 Prof. Peng Feng perfectly appreciated the transformation by Cliff, and he pointed out that people loved Chinese ink and wash painting because of their energetic language, and enjoy the interesting subject regardless of the painting's size. Pan Gongkai added that the way a Chinese artist created an ink and wash painting fulfilled Prof. Peng's view, "the performance of the artist's experience", that an artist's accomplishment and experience would be reflected through his or her works. Different from the "object-oriented material" of Western aesthetics, Chinese aesthetics treated aesthetics as a "process".
But Cliff believed that not only Chinese but also Western artists expressed their "process", and using digital media, he still paid attention to the "strokes" in the media, with his years of experience dealing with paintings and sculptures.
Some of the audience asked why we went on exploring the art of ink and wash painting, when we were living in an extreme impetuous era, and were no longer in the context of traditional ink and wash?
Pan Gongkai firstly admitted this fact, but argued that art was a way to find the Pure Land, a way to make up the shortcomings of life. Cliff agreed with Pan Gongkai's saying, and said the road of art was not simple, an artist should not only oppose the dark side of society but also work for his or her art, which pushes artists into different directions, therefore, there were different explorations.
Someone asked if Pan Gongkai' works portrayed to us a "big world" , which might be related to some ideas of Buddhism, while works by Cliff were performing another "world", a micro world, then how to find the consistency of these two "worlds"?
Pan Gongkai firstly pointed out that there was no need to find their consistency, and it was metaphysical to create a work, and hard to predict the result. But Cliff believed that the two "worlds" were consistent, and compared a traditional English proverb "See the world in a grain of sand" to "See a world in a flower", words of Chinese Buddhism. Prof. Peng Feng pointed out that the two worlds could not be exactly the same, but Cliff had shown us a way to see the "big world" in his works.
Lastly, someone asked how to continue your creations after finding a new way to develop ink and wash painting in a cooperative way?
Cliff believed that he had a chemical reaction with Chinese ink and wash when he produced his works, in which he was very interested, but still fascinated by other art objects and media, so, it did not affect his future creations. Pan Gongkai also said that they appreciated each other, but had different understandings of the works. And he believed that the traditional way of ink and wash should still be continued, which not only continued the way of painting, but also inherited the culture. The literati spirit was materialized to images in his painting.
Text by Sun Tianyi/ CAFA ART INFO, Photo by Dianzi
Translated by Chen Peihua and Edited by Sue Wang
Related posts: