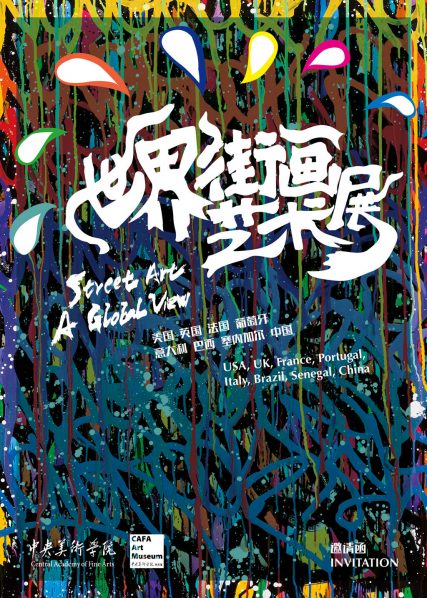 "Street Art – A Global View" was held at Gallery 3 of CAFA Art Museum from July 1st through to August 24th. This exhibition was sponsored by CAFA, organized by the School of Plastic Arts at CAFA and CAFA Art Museum, in cooperation with Magda Danysz Gallery. Tang Hui, the curator of the exhibition and Director of the Department of Mural Painting at CAFA stated that the mural painting was a specialty that enabled the study of public art and wall decoration, so it was natural that the Department of Mural Painting paid close attention to the form of street art. Along with the accelerated pace of China's reform and opening up, the growth of the youth is increasingly closely linked with the construction of the city, they need to liberate the mind, to express themselves, they need to constantly dialogue with the cities where they live.
In an exclusive interview, CAFA ART INFO took the opportunity to talk with Ms. Magda Danysz and several artists who participated in the exhibition.
Would you talk about your understanding of street art (graffiti) development from your own experience? How has street art changed your life?
Magda Danysz: I have written three books regarding on the topic of street art with its history and evolution from the 70s to the recent era. After studying street art for over 25 years, I can say that street art is like a big box with different terms. Graffiti is the beginning of street art and it got dissolved into different ideas. I want to focus on the concept of the big box for those individuals who know about graffiti and other things to make a link in expressing their fascinating ideas. The other important concept I would like to mention is the " Tree" model. Graffiti is like the root of the tree as it was expanded by the previous generation with its own unique style. It is essential for young individuals to find their own graffiti style to evolve the tree and allow it to grow different branches in diverse directions. The founding father planted the seed of graffiti and it grew into green leaves and the branches represent the new street art artists who express their ideas in a new distinctive and creative way.
NASTY: Yes, graffiti art has changed my life. When we were young, we did street art as a passion and it was charitable. When we do street art, we have no expectation in receiving rewards. Within time, there are people who are interested in graffiti art like Samantha. Someone like Samantha is able to change street art into a stable and predictable career. She introduces us to work on campus and in the museum then work is predictable. In a way, it changed my life because I never expected to become an artist and have the opportunity to travel around or receive invitations to different countries. Competitions in graffiti art are increasing as well due to the Internet. We have the chance to view a variety of graffiti art around the world because of the Internet.
YZ: If we place the focus on France, there are a lot of urban scenes that come from early 60s compared with the graffiti scene in the United States. There are already artists working on posters from the street and it started early in the 60s as well. The French scene is very active, especially in Paris. There are lots of artists that came from the graffiti scene and also specific history from France. In France, we have special relationships with the street such as the event of May 68. In France, we have people going on the street and creating posters with different utensils and techniques. I wouldn't put it that it changed my life, I have always been creative and for me it's a way to learn. As I grow older, I now have a more mature view of art. The cycle of the relationship of art and the street was aimed at people to enjoy the arts not for the idea of being famous. I would go to the street to get natural elements from the cities and bring them back to my studio for a new creation and return the work back to the cities. The idea is to focus on the city materials not show my work on the street.
Quik: Things change and move like a train. Many other things are developed like rock & roll music, adding snowboarding into the Olympics and street art is one of those many things that have been developed in New York. Graffiti art is an energetic activity, young people see that you can paint on the wall then they try to create art on the wall as well. In the past, usually people in the lower strata of the society will do Graffiti art. There are different ethnicities choosing to do graffiti art but they are mostly from working class backgrounds. In my generation, when we do graffiti art, the police chase after us but now its praised and is treated as art. What captivates the attention of street art was the European children that started doing graffiti art in different parts of the world. Then all of a sudden, the Caucasian kids are in the public eye but there are still a lot more fascinating productions of art that are not from the group of Caucasian kids. This is what I am interested in. I was not aiming to be famous, but after all these years people enjoy my work and I became who I am today.
What do you think is the most valuable part of street art?
Magda Danysz: It is difficult to analyze the most valuable part of street art. Through my perception, I think the dynamic, artistic ability of the global movement in art language and artistic techniques are the key valuable part of street art. In the approach of dynamics, I thought street art would freeze but as I mentioned earlier the tree has expanded because of the renewal of distinctive ideas created by different artists. Every year, I discover new talented individuals such as Shepard Fairey, Veil, and JR. In art history, street art has made fast developments and within such a short time it has widely spread throughout the world. Despite the diverse areas of the artists that are consumed by it, art allows them to speak a common language and gain global inspiration from each other. As I quote the sentence from Fan Yan " It's amazing because it's international, it's a real global movement, maybe in art history, it's the first time for such a short time that artists from all over the world speak the same artistic language." It removed the language barriers for all artists. Lastly, I would like to mention the artistic techniques of spray cans. The purpose of spray cans starts with car repairs but younger generations sparked the ideas in the usage of art tools in the 20th century. This unique art tool of spray cans allows artists to create a different aesthetic look compare to a paint brush.
NASTY: Being an artist, we have the opportunity to do anything we want. We have the freedom to choose what is good and express our imagination in a perfect way as we want it to be. Besides working alone, I enjoy collaborating with others and have the opportunity to learn from others and see what other artists are able to create. We are free to choose the colors and the material we want to draw. Thus, we are not only limited in drawing on canvas but also on maps and wood to create our design.
YZ: Every part is interesting in street art. When I start on a project, it's interesting to see all the different steps, but it's more fascinating when the idea you have becomes alive at the end of the project. As you put everything together and see the final results of the art, it's physically and mentally engaging which provides a positive feeling. I am also interested in the contextual work of art. Hence, I will always try to do some research on the place where I will be working. When I arrived in the city, the architecture, people and the history really captures my attention. The material that comes from the city offers a touching story behind each item. I really like it when there is a vibration in the art that I am working on.
Quik: I would say to express yourself and your inner thought through art. The ambition of starting art should be separated from business since it's an artistic development. I spend a lot of time in Paris and saw lots of street artists who are not able to step into the commercial aspect. They want to make money and become popular but it's a corruption of the artistic value. When we do art on the street, we want to express our ideas and creation on the wall. Yet, new generations will take photos and record everything then upload it online hoping to get recognized.
What do you understand as free imagination?
Magda Danysz: The new tool of the spray can resulted in a brand new idea for art. To design art with spray cans allows artists to express their abstract ideas to the most detailed part such as fine lines with their hands and imagination. These younger generations admire and learn from their founding fathers in graffiti art, yet they are able to go further and find something new to create a brand new imagination with graffiti art.
NASTY: Free imagination is one of the most valuable parts of street art. As I explained earlier, we have the freedom to express our imagination in different ways using different materials and colors. Every individual has their own distinctive ideas to express their works. I personally choose to design my art on maps while other artists choose to display their imagination on wood. I want to use maps to introduce the idea of my art and my country.
Would you introduce your work or your ideas? What is special about Beijing?
Magda Danysz: The types of arts that will be exhibited are old photographs; old shoes and spray cans from the 70s. There will be fifteen artists in the exhibition with private works and different collections on display. I have an art gallery in Paris, London and Shanghai.
I have tried my best to visit China at least once a month for the past 7 years. Tang Hui had invited me to host the first street art exhibition in Beijing. We wanted to see the famous Eastern and Western artists meeting and sharing their ideas among each other. The art school in Beijing CAFA is a beautiful school with a great architectural design. Besides the design of the school, I love the diversity of the show that is presented and it really gives inspiration to the two-tiered audience. It gives a chance for students to view different shows such as painting, video and street art. Especially the new department of CAFA which allows students to see the traditional perspective of mosaic from Roman Imperial art and makes its connection to street art. The department allows students to remember and understand the history of art.
NASTY: I love to do art with maps as I briefly mentioned earlier. Using maps of France to create art, I can make the connection with the audience who are viewing my works. I want to do something simple and educate people with the art from my country. I can make the connection with my audience and allow them to understand my art and see the positive side of Paris. Perhaps the audiences does not know much about Paris but through my works they can have a better understanding of my country and my art. I love Chinese culture and I know China is really far from France, as a result I want to show the art I love to a Chinese audience.
YZ: I really like to work with natural elements such as wood and other natural metals from the cities. I will find some really old wood and add different elements, like motorcycle or bicycle parts to decorate the original piece of wood. I have a project "Lost in the city" that focuses on the portraits on the building, lines and textures. I will use door metal, books and different elements to combine together with paint. CAFA in Beijing have the natural elements that I love such as the black stones that go around the school. The shape inside the building has clean and simple lines, which provide an aesthetic look. When we are able to collect the different elements that come from a city, we can have the visual history of the city.
Quik: I just hope everyone who comes to my exhibition can leave with a smile after they review my works. Beijing is a place full of inspiration. I draw inspiration from people and if I don't have inspiration, I just don't paint. I have been painting a lot in Beijing, the university gives me a lot of inspiration and the local community provides me with lots of energy. I have the idea but I need the stimulation and it is happening here.
What do you want to say to young Chinese artists?
Magda Danysz: It is very important for young Chinese artists to understand the history of street art. As they often admire certain artists but it is crucial for them to find their own style. China has an old art school, but I would like to see young Chinese artists bringing Chinese visions into street art. It will be amazing to witness the collaboration of Chinese visions embedded into street art.
NASTY: Inspirations is everywhere when we are creating art. We don't need to place too much pressure on ourselves and it is a question of mood that affects us. I really like Asian cultures including Chinese people because they are friendly, quiet and peaceful. When I am in a positive mood, I don't have any fear in creating my work. Even the color of the Chinese flag and the stars that are on the flag can be a source of inspiration.
Quik: My work comes from a Black American experience, anger, revolution and frustration. But I don't see it here; it's a different characteristic in art. When people are interested deep down in what they do, that is inspiration and they create their own art.
About the artists
Nasty begins graffiti in 1988 and quickly stands out with his impressive pieces on the Parisian metro. From 2000, he has been painting on the panels of the Parisian Metro, an essential element of urban signage. Nasty contributes to the recognition of the movement in Paris in its early hours. France became in the 80s and 90s a very important spot for graffiti. Numerous American famous graffiti artists travel there intensively. They get shows in museum, renowned art galleries.From this encounter a new generation appears. Some like French artist NASTY (born in 1975) do like their idols and cover full trains becoming legendary too.
As one of the rare women of the movement who made it to fame, YZ (pronounce "eyes") has a very poetic view on street art. Born in 1975, YZ ("eyes") becomes famous in 2003, thanks to
the "open your eyes" series. Paper, wood, zinc, chinese ink are at the hearth of her work. YZ seizes the space she builts and with which she forges a personal relation. Unquestionably, YZ's
work follows thematics whose human is the guiding line. She now lives in Senegal (Africa) and is one of the most active women in the Street art scene. She is well known for her poetic portraits and her exploration of the link between visual arts and literature.
'Quik' Lin Felton started tagging during the 1970's in Hollis (Queens, New York), the neighbourhood were he grew up. He's one of the few New York graffiti artists who made it to the art galleries and museums in the 1980's. His work has developed far beyond the original tagging and although he preserved the spirit of the graffiti, he expanded at the same time their conceptual limits by introducing both social and personal topics into his paintings.
Transcript by Anne Tan and edited by Sue/CAFA ART INFO
Courtesy of Magda Danysz Gallery, interview photo by Hu Sichen/CAFA ART INFO, for further information please visit http://magdagallery.com.
Related posts: