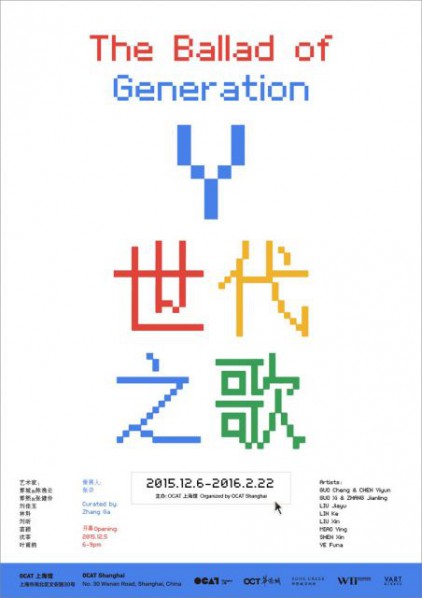 As the latest installment of OCAT Shanghai's annual OCAT Young Artist Project, this year's exhibition is curated by media art curator Zhang Ga. The exhibition incorporates video, electronic devices, installations, documentation, as well as other medium and visual tropes. A new generation of ten young Chinese artists will present eight media works in OCAT Shanghai's two galleries. The Ballad of Generation Y expands from Folklore of the Cyber World, Zhang's parallel online exhibition project conceived for the Chinese Pavilion at the 2015 Venice Biennale. The exhibition, which germinated in virtual cyberspace, will have its physical incarnation at OCAT Shanghai.
The participating artists in this exhibition have been active in recent years within the field of media art and are part of an emerging creative force. While Liu Xin displays the "tears" she collects from participants around the world via the Internet, Shen Xin assembles a stoic closed-door meeting that adapts symbols of traditional Chinese mythology into animation. After experiencing 86 long days adrift at sea, Guo Xi and Zhang Jianling present their accumulative work Grand Voyage, from traveling to material evidences, while blurring the boundaries between the virtual and the real in an attempt to establish a new order. Liu Jiayu's rhythmically breathing, mechanical petals poetically echo the pulsating narrative of the Great Voyage, as Guo Cheng and Chen Yiyun's "long-armed robot" explores the new index gauged by the conflux of mechanics, emotions, and life. Implementing various mediums on assorted screen sizes, Lin Ke launches into space travel out of the darkness of enclosed space that transcends material and conceptual limits. In contrast, Miao Ying utilizes simple GIFs to expose the crude real politics of cyberspace, while Ye Funa's "nail machine" transforms into an assemblage for aesthetics, collectivism, the Internet, and the tangible reality.
Under the conception of "Generation Y," the curator not only encapsulates the authoring environment and working conditions of a new Internet generation of media artists, but also accentuates the conundrum encountered by this new generation of artists—will the ever-changing media technologies propel creative inspiration or suffocate it all alive. Through this exhibition, OCAT Shanghai wishes that while the audiences try to comprehend the state of affairs of Generation Y, at the same time, the viewers will also experience the dynamic and seductive power engendered by the tension between the wanton reality and the role that media art plays.
About the exhibition
Date: Dec 6, 2015 – Feb 22, 2016
Opening: Dec 5, 2015, Saturday
Venue: OCAT Contemporary Art Terminal Shanghai
Curator: Zhang Ga
Artists: Guo Cheng + Chen Yiyun, Guo Xi + Zhang Jianling, Lin Ke, Liu Jiayu, Liu Xin, Miao Ying, Shen Xin, Ye Funa
Organizer: OCAT Contemporary Art Terminal Shanghai
Courtesy of the artists and OCAT Contemporary Art Terminal Shanghai.
Related posts: