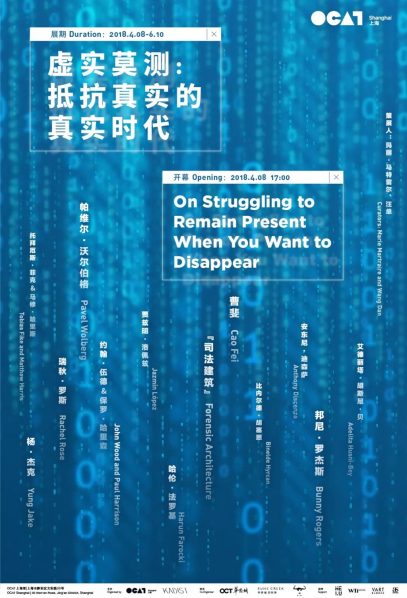 The exhibition On Struggling to Remain Present When You Want to Disappear opens on April 8, 2018, at OCAT Shanghai. In collaboration with KADIST, the exhibition brings together immersive video and sound installations as well as photographs by 13 artists from Angola, Argentina, China, Germany, Italy, Russia, the United Kingdom, and the United States. While the displayed works of art are from a wide variety of cultural backgrounds, the curatorial narrative of this exhibition brings them together into a cohesive presentation that explores the worlds of the formal, the imaginary, and the virtual. The concept of "real" goes beyond the simple definition of truth, to encompass and question the norms and perceptions associated with both tangible and intangible forms of existence, thereby allowing the viewer to re-investigate the actual implications of "The time of the Real" we are in.The dialectic of the real and the virtual are not recent ideas, as demonstrated by Plato in The Allegory of the Cave of the Greek classical age and more recently in Philip K. Dick's 1968 novel Do Androids Dream of Electric Sheep? and Jean Baudrillard's 1981 treatise Simulation and Simulacra. The present moment of ultra-rapid developments in technology has brought infinite possibilities to the development of human society, but at the same time, this speed of change demands introspective reflection on the times we live in. Does the virtual realm have the potential to fully replace reality, thereby possessing the functions of the real itself?

These thoughts and inspirations, which have touched upon philosophical and sociological concerns for centuries, are poetically anchored in this exhibition. If some of the works on view were produced over a decade ago, they offer new meanings about our current times in which the real and the virtual have grown increasingly indistinguishable. As these considerations continue unfolding, the fluidity between the real and the virtual reflect the increasing anxieties of these merging worlds.

OCAT Shanghai
The exhibition On Struggling to Remain Present When You Want to Disappear presents immersive video and sound installations as well as photographs by artists and institution from all over the world. Often played by children and teenagers, the protagonists on view take active part in physical or symbolic conflicts as they create alternative personalities, forge online relationships, or navigate across constructed environments. In these artworks, the boundaries between the tangible, the imagined, and the virtual become permeable. The porousness of these frontiers allows players to break out of traditional societal norms to explore new ways of dealing with their own realities.The exhibition is divided into two chapters. The first, presented in Hall B, features artworks by Cao Fei, Anthony Discenza, Binelde Hyrcan, Jazmin Lopez, Pavel Wolberg, and John Wood and Paul Harrison depicting what may appear as harmless games fusing reality, innocence, and violence. The second chapter, in Hall A, features artworks by Harun Farocki, Tobias Fike and Matthew Harris, Forensic Architecture, Adelita Husni-Bey, Yung Jake, Bunny Rogers, Rachel Rose, and John Wood and Paul Harrison. If, in the first section (Hall B), the alternative realities that the characters imagine translate their true desires, symbolic or physical combats become, in the second section, a metaphor for their unwavering attempts to resist, disturb, search for, or escape from a certain situation.In the exhibition, play and imagination turn into methods of survival by creating extended realities where the frontiers between fiction and nonfiction, fact and fabrication, material and virtual dissolve away. The fluidity and flexibility of these borders enrich the meaning of what is defined or accepted as real: from a physical and tangible environment, the "real" experience is thus simply what is "lived." Yet, instead of challenging the un/desirability of these blurring frontiers and their impact on the way we see the world, interact with one another, and define ourselves, the complexity of this newly-defined reality opens up new meanings about identity, community, and normality–a consideration all the more important in the context of a generation of children who have never experienced a world without the Internet.

Marie Martraire is a Curator and the Director of Asia Programs at KADIST. Previously, she has worked at various institutions including Asian Contemporary Arts Consortium (San Francisco), the Orsay Museum (Paris), and Institut Lumiere (Lyon). She has curated group exhibitions, solo exhibitions, performance & film programs with international artists such as Li Ran, Yin-Ju Chen, Dina Danish, Emilija Škarnulyte, Monila Bonilla, Leila Pazooki, Moe Satt, Hong-Kai Wang. Her writings have been published in Journal for Curatorial Studies, Journal for Chinese Contemporary Art, LEAP, Art Practical, SFAQ.Wang Dan, the chief editor of ePublicArt, researcher of International Public Art Assiscation. She was awarded the Young Curator Fellowship organized by Wu Zuoren Foundation and Kadist. She has curated exhibitions including Developed from Residual Light-Shen Linghao Solo Exhibition (Frank F.Yang Art and Education Foundation, Shanghai, 2017); Journey to the West: Gu Wenda (Shanghai 21st Century Minsheng Art Museum, 2016); Urban Life and Public Art of Shanghai Design, Power Station of Arts ( Shanghai, 2013); Invisible City, Shanghai South Railway Station (2010).

KADIST believes contemporary artists make an important contribution to a progressive society, and their work often address key issues of our time. KADIST is a non-profit organization that encourages this engagement and is dedicated to extending the reach of artists represented in its collection to a global audience, thus facilitating new connections across cultures. Its programs develop collaborations with artists, curators and many art organizations around the world. Local programs in KADIST's hubs of Paris and San Francisco include exhibitions, public events, residencies and educational initiatives. Complemented by an active online network, they aim at creating vibrant conversations about contemporary art and ideas.Wu Zuoren International Foundation of Fine Arts (WIFA) was created by Wu Zuoren in 1989. It is China's oldest, largest and most influential independently registered non-profit art foundation. Its mission is to promote the development of Chinese art and the creation of Chinese contemporary art as well as the exchanges of research and collaboration between China and the world in this era of globalization. Its motto is "Chinese View Modern Perspective." Young Curator Fund is a Non-profit subsidiary fund of WIFA and founded in 2012. Its mission is to support and cultivate Chinese young Chinese curators in their professional and international developments.

OCT Contemporary Art Terminal (OCAT) Shanghai is the first non-profit art institution focusing on media art and architectural design in China, located in the Suzhou Creek area of Jing'an district, Shanghai. OCAT Shanghai aims to become an influential, socially aware and interactive art institution with exhibitions, research, communication, education, publishing and international artist residencies. Artist Zhang Peili is the current executive director of OCAT Shanghai. As the first branch of OCT Contemporary Art Terminals, OCAT Shanghai was inaugurated on 29 September 2012, since then it has already organized a series of influential exhibitions. OCAT Shanghai is hosted in a four-storied, European style building from the 1930s, which formerly served as the China Industrial Bank Depot. It has 1600 square meters of exhibition space, divided into exhibition hall A and B, retaining the original texture and structure of the building. The new museum of OCAT Shanghai will inaugurate in the OCT Suhe Creek Area, it will cover over 8000 square meters.About the exhibitionArtists: Adelita Husni-Bey, Anthony Discenza, Binelde Hyrcan, Bunny Rogers, Cao Fei, Forensic Architecture, Harun Farocki, Jazmín López, John Wood and Paul Harrison, Pavel Wolberg, Rachel Rose, Tobias Fike and Matthew Harris, Yung Jake

Curators: Marie Martraire and Wang Dan

Exhibition Duration: April 8, 2018 to June 10, 2018

Opening Reception: Sunday, April 8, 5.00pm

Venue: OCAT Shanghai, 30 Wen'an Road, Jing'an District, Shanghai

Organizers: OCAT Shanghai, KADIST (Paris/San Francisco)

With the support of: Wu Zuoren International Foundation of Fine Arts (WIFA)

Opening Talk

Speakers: Marie Martraire (Curator), Wang Dan(Curator), Anthony Discenza (Artist)

Time: 3:00–3.45p.m., April 8, 2018

Curator's Tour

Time: 4:00–4:30p.m., April 8, 2018

Courtesy of the artists and OCAT Shanghai, for further information please visit www.ocatshanghai.com.
Related posts: