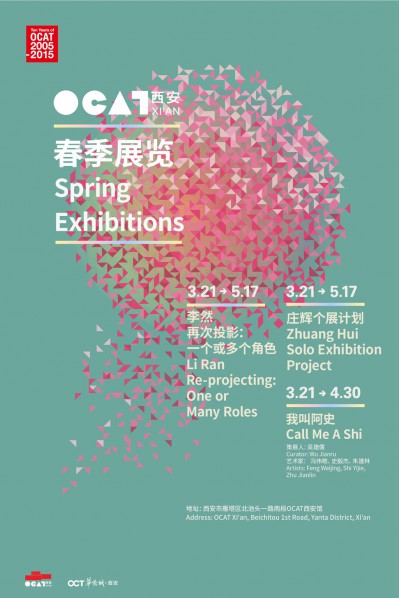 OCT Contemporary Art Terminal in Xi'an (OCAT Xi'an) will present its spring exhibition project with three dynamic exhibitions by artists of very different experience, age and approach. The exhibitions will be held from March 21 to May 17, 2015. The trio begins on the ground floor with "Re-projecting: One or Many Roles", a major solo exhibition for Li Ran, one of China's leading young artists.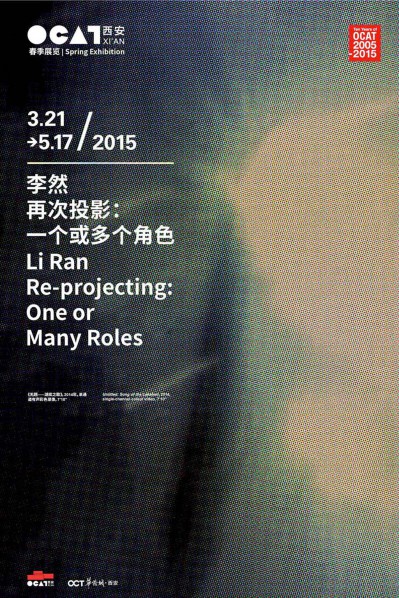 Known for conflating video with performance, and for moving images installations that speak directly to the times, Li Ran captures the mood of his generation. "Re-projecting: One or Many Roles" brings together a retrospective selection of critically-acclaimed works together with two new pieces shown for the first time. In the space of a few short years since his debut in 2011, Li Ran has participated in numerous notable exhibitions in China and abroad. Recognising his influence, he was one of eight nominees for the inaugural OCAT-Pierre Huber Art Award held at OCAT Shanghai in December 2014. OCAT Xi'an is delighted to be presenting the artist's first institutional exhibition.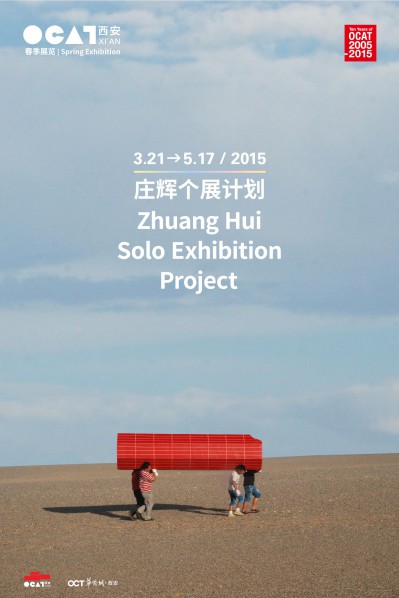 The second floor presents an extraordinary contemporary journey to the West, an odyssey, physical and artistic, aimed at recapturing art's mystery and its place in the world today. "Zhuang Hui Solo Exhibition Project" was first held in the Gobi Desert in the far west of China in September 2014 under the title "Zhuang Hui Solo Exhibition". The works were placed in the beautiful wide open space of the natural setting. No audience was present except for the artist and his team and the big open sky. A conceptual artist whose major works include performance, photography, and sculptural installations, Zhuang Hui is a highly respected artist whose contribution to contemporary art in China spans two and a half decades. He continues to be an inspiration to many artists at work today. The "Zhuang Hui Solo Exhibition Project" is the latest, and to some most extreme, attempt to consider, amongst other things, the value of art to society today.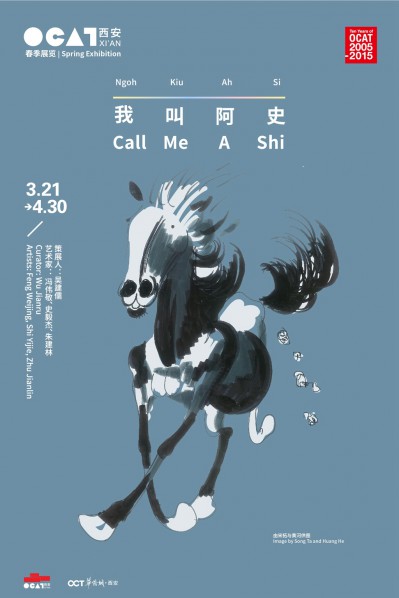 The lower galleries play host to a dynamic curatorial project, conceived by art critic and editor of LEAP magazine, Wu Jianru. She chose to invite three Guangdong-based artists, Feng Weijing, Shi Yijie and Zhu Jianlin, to collaborate on a presentation. The result is "Call Me A Shi", a humorous but earnest experiment in collective creativity. "Call Me A Shi" is a project specially curated for OCAT Xi'an as part of our Young Curators Programme.
About the artists
Li Ran (b.1986, Hubei) graduated from Sichuan Fine Arts Institute in 2009. He currently lives and works in Beijing. His recent solo exhibitions include: "One Man One Night", 2014,Kadist Art Foundation, San Francisco; "Archive 23", 2014, Video Bureau, Beijing; "I Want to Talk to You, But Not All of You", 2012, Goethe Open Space, Shanghai; "Pretty Knowledge", 2012, Aike-dellarco, Shanghai; "Mont Sainte-Victoire", 2012, Magician Space, Beijing. Selected group exhibitions include: "Looking Forward", La Biennale de Montréal, 2014, Musée d'art contemporain de Montréal, Montreal, Canada; "Biennale Of Moving Images 2014", 2014, Centre d'Art Contemporain Genève, Geneva, Switzerland; "Sights and Sounds: Global Film and Video", 2014, The Jewish Museum, New York, USA; "Many Place at Once", 2014, CCA Wattis Institute for Contemporary Arts, San Francisco, USA; "FORMER WEST: Documents, Constellations, Prospects", 2013, Haus der Kulturen der Welt(HKW), Berlin, Germany; "ROUNDTABLE, " The 9th Gwangju Biennale, 2012, Gwangju, Korea.
Zhuang Hui (b.1963, Yumen, Gansu) learned art in the school of life. He currently lives and works in Beijing. His solo exhibitions include: "Zhuang Hui Solo Exhibition", 2014, Platform China Contemporary Art Institute, Beijing; "Yumen 2006-2009: Photography Project Zhuang Hui and Dan'er ", 2009, Three Shadows Photography Art Center, Beijing. "Zhuang Hui: Ten Years", 2003, Courtyard Gallery, Beijing. Selected group exhibitions include: "Guan Xi: Contemporary Chinese Art", 2011, Guangdong Museum of Art, Guangzhou; "The Second Academic Exhibition of Chinese Contemporary Prints: Print·Concept", 2011, Today Art Museum, Beijing; "Re-Imagining the Real Photography Show", 2010, Yuz Art Museum, Jakarta; "Displacement", 2010, Nasher Museum of Art at Duke University, North Carolina; "The Real Thing – Contemporary Art From China", 2007, Tate Modern, Liverpool.
Feng Weijing (b.1989, Shunde, Guangdong) graduated from Studio No.5 of the Oil Painting Department of Guangzhou Academy of Fine Arts in 2012.
Shi Yijie (b.1989, Zhanjiang, Guangdong) graduated from Studio No.5 of the Oil Painting Department of Guangzhou Academy of Fine Arts in 2012.
Zhu Jianlin (b.1988, Wuchuan, Guangdong) graduated from Studio No.2 of the Oil Painting Department of Guangzhou Academy of Fine Arts in 2012.
Wu Jianru is a critic and a senior editor of the Beijing-based art magazine LEAP. She graduated from Guangzhou Academy of Fine Art in 2010, and currently lives and works in Beijing.
Ten Years of OCAT 2005-2015
First established in 2005, in April 2012 OCAT became a registered, independent non-profit organisation and began building a group of contemporary art museums across China. As an art institution sponsored by the state-owned OCT Group, which is headquartered in Shenzhen, the OCAT museum group comprises OCAT Shenzhen, OCT Art & Design Gallery (Shenzhen), OCAT Shanghai, OCAT Xi'an, and OCAT Institute (Beijing). OCAT is a non-governmental art institution working to international standards with the goal of promoting cross-platform exchange between the Chinese and global contemporary art communities. With the sustained investment of OCT Group, and support from society, Its influence has developed through exhibitions, research projects, academic exchange, public education, publication, and international artist residencies using core values of public service, professionalism, and independence. OCAT's primary focus is contemporary visual art and through the recent decade, OCAT has been party to the greatest period of change in Chinese contemporary art. But its activities also extend into other fields such as experimental theater, music, film, design, and architecture.
On the occasion of this ten year anniversary, to introduce the OCAT museums, highlight the achievements and experiences over the past decade and lay out future development for the organisation, OCAT is hosting a series of celebrations under the title "Ten Years of OCAT". We will also use this opportunity to thank all those who have supported OCAT over the years and to build new ties for academic exchange. Events will be held throughout 2015, the central event being the launch of OCAT Institute (Beijing) in October.
Spring Exhibitions
Date: March 21 – May 17, 2015
Opening: March 21, 3pm
There will be an artist talk with Shi Yijie and Zhu Jinlin together with guest curator Wu Jianru at OCAT Xi'an, Sunday, March 22 at 3pm.
Courtesy of the artists and OCAT Xi'an, for further information please contact Shi Na, 029-85529445 / ocat-xian@ocat.org.cn.
Related posts: