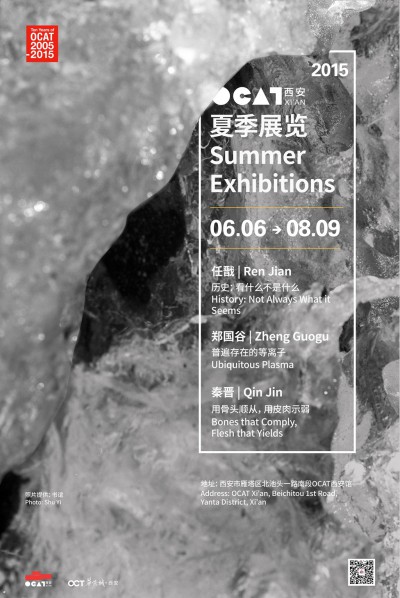 From June 6 to August 9, 2015, OCAT Xi'an will present the summer programme "Three Projects about Time and Life". The title is inspired by a range of topics that are current to art in China now. Artists have always dealt with larger issues of life that underscore human existence, but in recent years a significant number of artists in China appear in their work to be dealing with questions of both "time" and "life"; a response, precipitated perhaps, by the pace of life today and a search for meaning in a world ever more material in substance. In their own unique way, Ren Jian, Qin Jin and Zheng Guogu commit a significant amount of their time to seeking out answers to life in relation to time.
About the programme
Ren Jian
"History: Not Always What it Seems"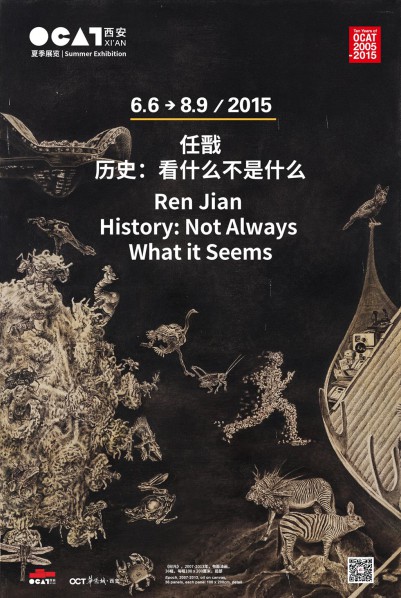 OCAT Xi'an is particularly honoured to present Ren Jian's major 36-metre painting Epoch. This masterwork is the culmination of a decade-long rereading of world affairs from the period of the Enlightenment in the 18th century through to the dawn of the 21 st, by one of China's leading artists of the '85 New Wave. Ren Jian rereads history through the prism of human achievement and the accompanying problems that have arisen in tandem with every step forward. His vision of the process of modernism encompasses developments in socio-cultural history, technology, science and philosophy as well as the unfolding dramas of socio-political shifts in thinking. Epoch perfectly fills the second floor gallery, creating for visitors an entire world of its own.
Qin Jin
"Bones that Comply, Flesh that Yields"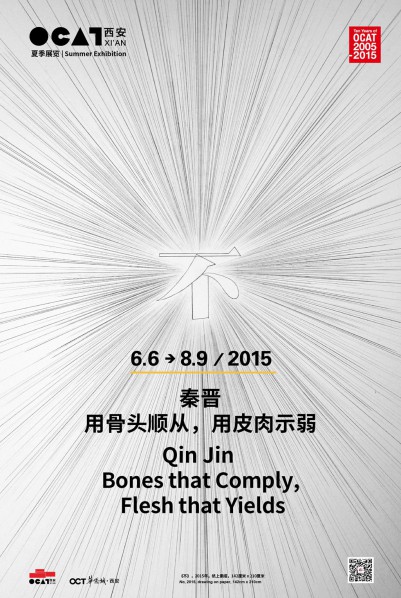 Qin Jin's solo exhibition "Bones that Comply, Flesh that Yields" is a world of moving images centred on the film work When I am Dead, her first large-scale video installation, completed in 2014. Video is also a central component of her two installation works, the minimalist installation and video titled 29 Years, Eight Months and Nine Days (2009) and the chromatic drawn installation titled Taking my Pelvic Bone for a Walk, from 2012. Qin Jin's art offers an intensely personal, intimate and emotional expression of the passage of life and time.
Zheng Guogu
"Ubiquitous Plasma"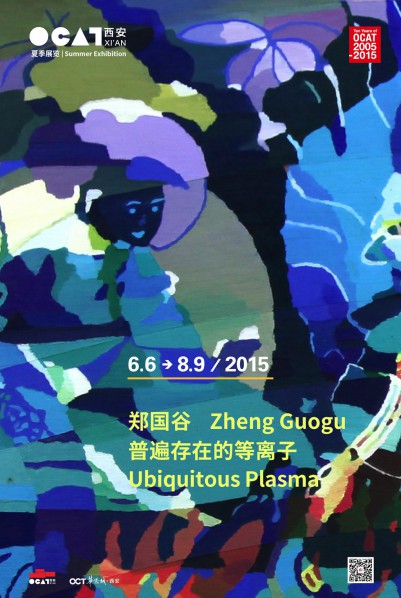 In his work, Zheng Guogu creates a world in which visual intensity has a particularly cerebral accent. The range of pictorial images that he presents in "Ubiquitous Plasma" make striking use of colour, but the message here is only superficially sensual. Colour, combined with mesmerizing patterns, works to draw viewers into Zheng Guogu's spiritual realm, drawn in parallel with a worldview predicated upon the graphic form of mandala painting found in Tibet and Nepal, blended with motifs from folk-religious iconography. These are presented in a garden-like arrangement that leads viewers through the artist's reflections upon the world; a dazzling surface, indeed, but what of what lies beneath?
About the artists
Ren Jian (b.1955, Harbin) graduated from Luxun Academy of Fine Art in 1983. He currently lives and works in Beijing and Dalian. Exhibitions include: "Myth/History: Yuz Collection of Contemporary Art", 2014, Yuz Museum, Shanghai; "Re-view", 2014, Long Art Museum (West Bund), Shanghai; "Ink Art: Past as Present in Contemporary China", 2013, Metropolitan Museum of Art, New York; Kwangju Art Biennial, 2002, South Korea; "Inside Out: New Chinese Art", 1998-2000, Asia Society Galleries, San Francisco Museum of Modern Art, New York; "Post 1989; China's New Art", 1993, Hong Kong; "Modern Art Exhibition", 1989, National Art Museum of China, Beijing.
Qin Jin (b.1976, Guangzhou) graduated from Guangzhou Academy of Fine Arts with a Masters degree in 2003. She currently lives and works in Guangzhou. Her recent solo exhibitions include: "When I am dead", 2015, SOME/THINGS Gallery, Paris; "For Those Who Are Superstitious, Sacrifice Is Real", 2014, OCAT Shenzhen; "When I am dead", 2014, Art Museum of Nanjing University of the Arts, Nanjing; "My dear, please close your eyes", 2011, Tengnuo Space, Guangzhou; "Getting To Know You Again", 2009, Magician Space, Beijing; "Delete", 2006, Art Museum of Guangdong, Guangzhou. His selected group exhibitions include: "Institution Production", 2015, Guangdong Art Museum, Guangzhou; The 10th China Independent Film Festival, 2014, Xiamen; "History Lessons: Reflections on OCAT Publishing", OCAT Shenzhen; "Do my stuff", 2010, 53 Art Museum, Guangzhou; "Departure—Guangzhou, Shenzhen, Hong Kong and Macao Contemporary Art Exhibition," 2008, He Xiangning Art Museum, Shenzhen.
Zheng Guogu (b.1970, Yangjiang, Guangdong) graduated from the printmaking department of the Guangzhou Academy of Fine Arts. He currently lives and works in Yangjiang, Guangdong. His recent solo exhibitions include: "Visionary Transformation", 2015, VeneKlasen/Werner Gallery, Berlin, Germany; "Actions for Tomorrow" (Cooperation with Yangjiang Group), 2014, Sydney, Australia; "Images of Magnetic Resonance", 2014, Tang Contemporary Art Center, Beijing; "Fuck off the Rules: Yangjiang Group" (with Yangjiang Group), 2013, Minsheng Art Museum, Shanghai; "After a Meal, Calligraphy at the Cricket Pavilion" (with Yangjiang Group), 2012, Birmingham, UK; "Spirits Linger with Dust", 2012, Vitamin Creative Space, Guangzhou. His selected group exhibitions include: "15 Years Chinese Contemporary Art Award" (CCAA), 2014, Power Station of Art, Shanghai; The Fifth Auckland Triennial, 2013, Auckland, New Zealand; "The Unseen", The Fourth Guangzhou Triennial, 2012, Guangzhou; Documenta 12, 2007, Kassel, Germany; The Fiftieth Biennale di Venezia, (Canton Express), 2003, Venice, Italy.
Ten Years of OCAT
2005-2015
First established in 2005, in April 2012 OCAT became a registered, independent non-profit organisation and began building a group of contemporary art museums across China. As an art institution sponsored by the state-owned OCT Group, which is headquartered in Shenzhen, the OCAT museum group comprises OCAT Shenzhen, OCT Art & Design Gallery (Shenzhen), OCAT Shanghai, OCAT Xi'an, and OCAT Institute (Beijing).
OCAT is a non-governmental art institution working to international standards with the goal of promoting cross-platform exchange between the Chinese and global contemporary art communities. With the sustained investment of OCT Group, and support from society, Its influence has developed through exhibitions, research projects, academic exchange, public education, publication, and international artist residencies using core values of public service, professionalism, and independence. OCAT's primary focus is contemporary visual art and through the recent decade, OCAT has been party to the greatest period of change in Chinese contemporary art. But its activities also extend into other fields such as experimental theater, music, film, design, and architecture.
On the occasion of this ten year anniversary, to introduce the OCAT museums, highlight the achievements and experiences over the past decade and lay out future development for the organisation, OCAT is hosting a series of celebrations under the title "Ten Years of OCAT". We will also use this opportunity to thank all those who have supported OCAT over the years and to build new ties for academic exchange. Events will be held throughout 2015, the central event being the launch of OCAT Institute (Beijing) in October.
About Summer Exhibitions
Date: June 6 – August 9, 2015
Opening: June 5, 4pm
T: 029 85529445
E: ocat-xian@ocat.org.cn
Add: Beichitou 1st Road, Yanta District, Xi'an, 710061
There will be an artist talk with Zheng Guogu and Li Feng, deputy director of 21st Century Minsheng Art Museum, Shanghai, at OCAT Xi'an, on Saturday June 6 at 3pm.
Courtesy of the artists and OCAT Xi'an, for further information please contact Shi Na, 029-85529445 / ocat-xian@ocat.org.cn.
Related posts: