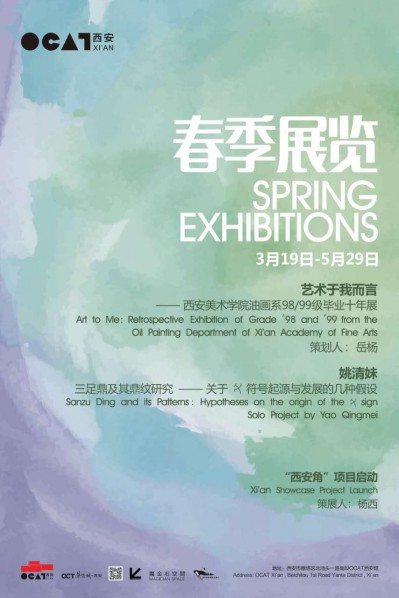 As an allegory of life, spring equates to youth, the age when ideas flourish, each individual personality "blooms", and we begin to find a place in society. Education plays a primary role in this process, especially university studies. How is what we learn of help to our future life, both in terms of a career and an understanding of the world? This spring, OCAT Xi'an exhibition programme explores this question.
"Art to Me" looks to the skills that are acquired within an art academy – here, the oil painting department of Xi'an Academy of Fine Arts (XAFA) – by students who studied at XAFA between 1998 and 2003. The works on display reveal how the experience of learning presents innumerable possibilities for each student and, as a result, achieves an endless variety of experiences once the students graduate. Not least, the diverse ways in which the skills acquired have been applied since.
Continuing the annual programme at OCAT Xi'an of critical engagement with a topical issue of art today, Yue Yang, a former student of the oil painting department of Xi'an Academy of Fine Arts, presents her perspective "about" art education.
The choice of study at university study level can determine a person's entire future. This may be obvious if the subject is law, accounting, medicine, which are typical choices for Chinese students. But what if that subject is oil painting? What sort of future might the student anticipate? With the exhibition project "Art to Me", Yue Yang presents works by graduates who entered the oil painting department of Xi'an Academy of Fine Art in 1998 and 1999. A decade and more after their graduation, how, she asked, had their careers evolved? How had the study of art been of benefit to them in the passage of time since and for the role they play in society today?
"Art to Me" answers this with a diversity of works produced by these graduates in the period since they graduated to now. Alongside the works, each participant contributed a short text describing their experiences, many of them rather moving responses to questions Yue Yang posed. The majority affirms the importance of their study at Xi'an Academy of Fine Art as a starting point for their careers, in whatever form that career has evolved. In their words, we find reasonable proof that the study of oil painting enriched their lives. The singular significance here in the project "Art to Me" is how it has resonance today for the thousands more graduates who depart art academies across China each year for what are uncertain and increasingly competitive future career opportunities.
"Sanzu Ding and its Patterns: Hypotheses on the origin of the
sign" looks at how learning provides a methodology that can be applied to the kind of professional studies used by, say, an archaeologist or scientist. Specifically, as they are applied here, by Paris-based Yao Qingmei, for her investigation of a recent rare archaeological find discovered right here in Xi'an.
Continuing the theme of education as a process of learning, OCAT Xi'an invites the young Paris-based artist Yao Qingmei to return to China for a period of residence and study in the deeply historic environs of Xi'an and its great museums. For the project "Sanzu Ding and its Patterns: Hypotheses on the origin of the
sign", she deploys her singular approach to unearthing new and distinctive interpretations of history through an exploration of the wealth of cultural relics that can be found in Xi'an.
Yao Qingmei applies the faultless rational logic of scientific methodology to the line of her deductions giving us an unfaultable line of reasoning for her hypothesis. The outcome clearly departs from accepted fact but does that make the artist a genius or a knowing charlatan? Yao Qingmei demonstrates that where the accepted readings of cultural hieroglyphs and iconography are concerned, the facts are not quite as indisputable as some historians would have us believe.
Yao Qingmei presents her findings in the form of a multi-textural installation, which includes a thoroughly researched archive of the materials she procured in the course of carrying out her methodical groundwork. The form and nature of the installation reflects the paradoxical blend of sobriety and humour she brings to her practice. Yao Qingmei is also known for a diverse range of performance and pseudo-performance works which see her play the role of familiar cultural icons and social stereotypes, in sequences bent to her own distinctive view of the world. The "Sanzu Ding and its Patterns: Hypotheses on the origin of the
sign" is a fine example of the lengths to which she goes to illustrate that worldview.
Xi'an Showcase is not just the name of a new project for OCAT Xi'an, but a new space inserted into the exhibition hall; a special "corner" dedicated to use for the project. In geometry, a "corner" is formed at the vertex of two lines or rays emanating from it. The Greek, mathematician Euclid proposed that a corner or angle represents a relationship between the two rays. A century later, philosopher Proclus suggested that this type of elemental relationship could be quantified. The "corner" itself thus becomes the carrier of multiple relationships, which are embodied in the Xi'an Showcase project.
Xi'an Showcase focused on local artists and art groups. The sequence of presentations will rotate at a relatively faster pace then the main exhibitions at OCAT Xi'an, and thus contain an intensive energy. The project unfolds through a series of four different "relationships" that begin from the site itself, the "corner" of the museum, to explore possibilities for the project itself in relation to social, economic and aesthetic issues, and the relationship between artists and curators. Xi'an Showcase is intended to inspire local artists to new fields of creativity, rooted in their knowledge structure, understanding and personal methodology concerning traditional art. Each will use different media and vocabularies to explain the relationships that exist within their daily discoveries. The approach is a process of natural growth rather than resorting to a conscious formula to advance the concept of art. There are multiple layers of meaning in daily relationships that can be covered and which include that between life and art.
Xi'an Showcase is not just a visual presentation. It also seeks to reflect the mindest of artists working in Xi'an. Xi'an Showcase is the first step in a series of project created by OCAT Xi'an to support local artists. The first project of Xi'an Showcase is The Test Lab by Cai Longfei. This new series of paintings by Cai Longfei offers us a dispassionate presentation of disturbing visual fragments. The artificial leg, the light flashing over the operating table, the inexplicable gesture…all of which suggests a threatening potential disorder to our daily lives. Risk is implied, yet we have little clue that this risk could be.
About the curators
Yue Yang was born in Xinjiang in 1981. She graduated from Xi'an Academy of Fine Art, oil painting department with a master's in 2007. She is currently completing a Ph.D. in painting. She lives and works between Beijing and Xi'an.
Yang Xi, graduated from Art History Department of Xi'an Academy of Fine Arts with master degree in 2015. He currently works as an independent curator, whilst pursuing his interest in art history.
About the artist
Yao Qingmei was born in Wenzhou in 1982. She graduated from Limoges-Aubusson in 2011, before receiving a master's degree from Villa Arson, Nice, France in 2013.
About the exhibitions
The exhibition runs from March 19 to May 29
3.19 Exhibition Opening
15:00 Exhibition opening ceremony
15:30 Introduction to "Art to Me" programme by Yue Yang
16:00 Introduction to Xi'an Show Case by Yang Xi
16:30 Introduction to Yao Qingmei's Project;
"Professor Yao gives a lecture" (20min)
18:00 Closed
​3.20(Afternoon)
"Professor Yao gives a lecture" by Yao Qingmei
Opening Times: 10:00-17:00, Tuesday to Sunday (last entries 16:30)
Address: OCAT Xi'an, Beichitou 1st Road, Yanta District, Xi'an, Shaanxi
Tel: 029-85529445
Email: ocat-xian@ocat-xian.org.cn
Official Sina Weibo: @OCT当代艺术中心西安馆
WeChat Subscription: ocat-xian
Courtesy of the artists and OCAT Xi'an, for further information please visit www.ocat-xian.org.cn.
Related posts: