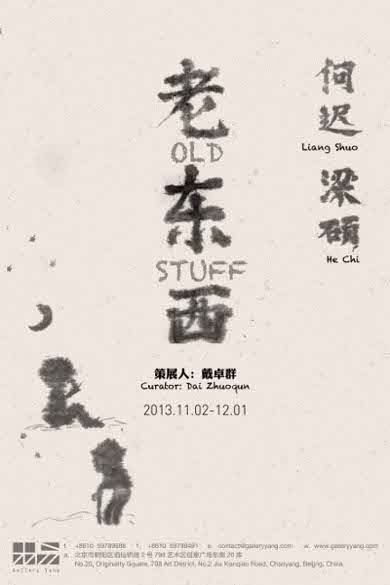 Old Stuff, He Chi & Liang Shuo / By Dai Zhuoqun
At the end of 19th century, the Western Imperialism had been relentlessly intruding into China, by virtue of warships and guns. Thus the old China fell into decay day by day. Chinese people were forced to rethink their age-old culture. It started with the introduction into China of western sciences. In 1919, the May 4th Movement broke out, the cultural part of which was the New Culture Movement. It was a watershed. The old culture proud of being old, and the new culture proud of being new, decisively parted. The new one preponderated. Since then, again and again the standard of "new" has been wielded as weapon of Truth, directing against everything "old". The one-sided value-judgement system results in a fatal defect of today's culture in China. The contemporary Chinese culture has become increasingly frivolous, thin and acquisitive, whereas the core of the ancient culture serves as a helpless victim of the inexorable Modernization.
The outlook of "Old" has such aesthetic characteristics as accumulation, serenity, diversification, uselessness and amateurism. Now they are thoroughly abandoned in a extremely impatient and acquisitive society. Much more desirable are those which are direct, useful, adhering to time, clear-outlined, and flashy.
"Lao Dongxi"(literally "old stuff") is a Chinese slang. While used to designate person, it roughly means someone who experiences,sees and engages much of the world, and who is stubborn and complicate. Usually, this kind of person are not successful, hence not shallow. Though not dazzling, they have more depth and longlasting charm. They preserve and guard themselves, endure patiently, and do not perish even if invisible.
He chi and Liang Shuo greatly differ in terms of personality and artistic ideas. But I think both are artists with outlook of "Old". They have accumulated for years, silently forging works which are clear, coherent, and varied. They are wittingly cautious of the danger of being labelled or being symbolized, in sharp contrast to the pomp of many young artists who are now popular, and who are controlled by the current institutions of exhibition and review. He chi and Liang Shuo are perfect "Old Stuff"s. To the increasingly internationalized vanity fair of contemporary art, they seem reckless, rustic, and unpleasant, though not annoying.
Born in the county of Tong Wei, Gansu Province, He Chi grew up on Loess Plateau. His career was not smooth. After graduation from a teachers college, he spent few years teaching in a rural middle school. But he could not settled. After several attempts of application, at last he went through, and got into the Chinese Painting Department of Xi'an Academy of Fine Arts. An ancient town alongside the Silk Road, the county of Tong Wei had a renowned reputation for poem and painting. Surely He Chi learned much from this tradition. After graduation from XAFA, however, he departed from the orthodoxy and language of Chinese painting, joining into the camp of the avant-garde art which is seen as reactionary in China. Nevertheless, as far as I could see, what He Chi cannot get rid of are his thick rusticity and traditional bookishness. His works mostly originated from reconstruction of poem and calligraphy. Such a temperament is destined for entanglement and aloofness in the current reality and practice, leading to sharp conflict and stunning tension.
Liang Shuo constantly shows off his outlook in terms of "Zha"(literally "residue, waste, scum"). And he does this straightforwardly. He always describe his body and behavior by "Zha". For him, "Zha" is not only a kind of substance, but also an attitude, a taste. His fundamental attitude towards things can be clearly manifested in his resistance to the empirical world and the familiar logic. This means negation, means rejecting definition.
Liang Shuo received an orthodox education in sculpture. Even in his early works, "Urban Peasant-workers", the focus was not sculpture itself any more; instead, he endeavoured to appreciate the lives of low-ranking persons, and rebelled against the tradition by weakening the quality and the artistry of the sculptural language. Before long, he began to regard sculpture itself as a restriant. He made some attempts of newspaper clipping, and soon was infatuated with the folk art which was contempted by the elite. The status of a solemn "artist" disaffected him, and he wanted to dig out more possibilities in light of simplicity and humbleness. What art really means to him, it seems Liang Shuo has gradually realized. Thou art can't solve our practical problems, we must react to our own lives, and seek for roads to freedom for our spirits.
He Chi
1978 Born in Gansu, China.
2002 Graduated from the Xi'an Academy of Fine Arts.
2007 Founder and member of Xiong Huang Group.
2011 Founder and member of Nanshan Painting Group.
Currently lives and works in Beijing, China.
Liang Shuo
1976 Born in Jixian of Tianjin Province.
2000 Graduated from the Central Academy of Fine Arts, Sculpture Major.
2002-04 Teacher of Tsinghua University – Academy of Arts and Design, Sculpture Major.
2005-06 Resident Artist in Rijksakademie, Amsterdam, Netherlands.
2009 Teacher of Central Academy of Fine Arts, Sculpture Department.
About the exhibition
Curator: Dai Zhuoqun
Duration: Nov 2 – Dec 1, 2013
Venue: Gallery Yang
Opening: Nov 2, 2013 Sat 16:00
Tel: 010-59789491
Add: No.20, East of 798 Originality Square, B District in 798 Art Zone, No.2 Jiu Xianqiao Road, Chaoyang District, Beijing
Courtesy of the artists and Gallery Yang, for further information please visit www.galleryyang.com.
Related posts: