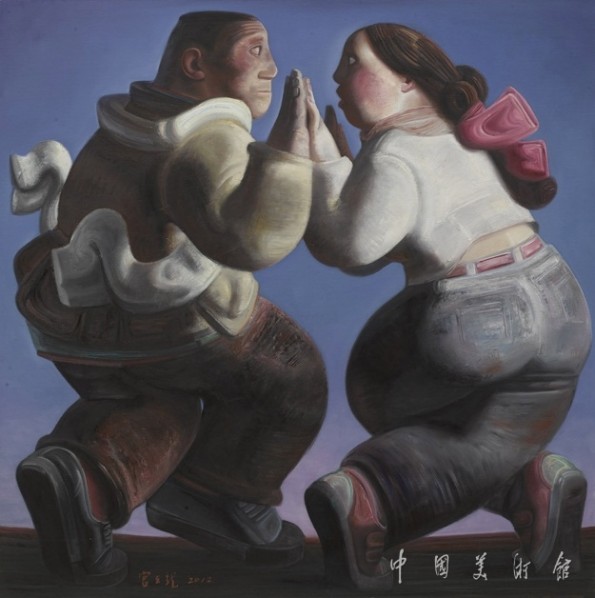 'Creative Cities Collection Fine Arts Exhibition London 2012' , i.e. 'Olympic Fine Arts 2012 (London)' (hereinafter referred to as 'Exhibition') is scheduled to be held on August 1-7, 2012 in London, which will exhibit the paintings of 500 famous artists from home and abroad. The 'Exhibition' has been authorized to use the logo of 'Inspire' by London Organizing Committee for Olympic Games (LOCOG), marking that this activity has officially been included into the projects of cultural activities for the London Olympics. The 'Creative Cities Collection Fine Arts Exhibition London 2012', i.e. 'Olympic Fine Arts 2012 (London) Invited Exhibition in Beijing', as an important part of the activities and a promotional activity before the Exhibition, it is aimed at promoting the Olympic spirit, propagating the Olympic culture and creating a good atmosphere for this activity.
All of the over 130 Chinese paintings, oil paintings and mixed media paintings exhibited at the Invited Exhibition in Beijing come from well-known and talented painters. These works give full expression to the unremitting exploration of art by painters expressing their love for the world and admiration for the Olympic culture.
The Chinese market for art, both antique and contemporary, is among the fastest-growing in the world, attracting not just domestic but international buyers, and considerable sales at the largest fine-art auction houses. Alongside this, there has been an increasing appreciation of the range and complexities of China's evolving visual arts sector, which is establishing a body of work distinctive from that of the West while also increasingly engaging and drawing upon developments in the US and Europe.
Within the UK, this was acknowledged by the "between past and future" photography and media exhibition at the V&A in 2005, in which many young and emerging Chinese artists were introduced to UK audiences. This was followed by the "The Real Thing" at Tate Liverpool in 2007. The first comprehensive exhibition of contemporary Chinese art in the UK, the exhibition generated significant critical interest and a sense that Chinese art was developing a critical strand based upon but also in an important respect breaking from its more traditional heritage, with a new emphasis not simply on technical craftsmanship, but also preoccupations such as commercialism, irony and political expression more usually associated with contemporary Western art.
The Creative Cities Collection exhibition in 2012 will build upon these, providing an unprecedented channel and opportunity for dialogue between both contemporary Chinese and UK-based artists, in which traditional and contemporary approaches will be juxtaposed and encouraged to collide. This is intended to provoke discussion and debate, and to provide the basis for ongoing communication between the UK and Chinese arts sectors, in which artists, commentators and curators can learn from one another and inform their practice.
About the Exhibition
Dates: July 11th-19th
Venue: Hall 13-17, the National Art Museum of China
Courtesy of the artists and the National Art Museum of China, for further information please visit www.namoc.org/en.
Related Report: www.creativecitiescollection.org.
Related posts: